Mill Creek surprises employees with dismissals
By JORDYN GRZELEWSKI
jgrzelewski@vindy.com
YOUNGSTOWN
Mill Creek Metro Parks Cuts Employees

Video
At least 8 Mill Creek Park employees were let go today.
Mill Creek MetroParks Cuts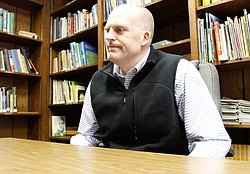 Video
Mill Creek MetroParks dismissed several employees Friday in what officials called an "internal reorganization." A Vindicator reporter and photographer, while working on an unrelated assignment at Fellows Riverside Gardens Friday morning, observed park police officers supervising the dismissal of at least two park employees there.
In what Mill Creek MetroParks called an "internal reorganization," several employees were summarily dismissed Friday.
The Vindicator witnessed some of the firings firsthand. A Vindicator reporter and photographer, while working on an unrelated assignment at Fellows Riverside Gardens on Friday morning, observed park police officers supervising the dismissal of two park employees there.
That included Keith Kaiser, longtime horticulture director for the park who headed the team at the gardens. Kaiser was seen clearing out his office while police officers stood nearby.
Kaiser, who appeared stunned and angry by the dismissal, nevertheless remained composed while declining to comment.
He did note his 27-year tenure with the park.
David Nelis, who worked as a ranger for the horticulture department, was spotted exiting the building after telling a co-worker that it had been nice working together.
Nelis said he got the impression the dismissals were "strictly about the money."
"The more employees they cut, the more other employees will have to take on, and we're short-staffed as it is," he said.
On a personal note, he said he enjoyed his job and met many people through the park that became friends.
"It's going to hurt me financially, but it's not going to kill me. ... I will land on my feet," he said.
Shortly after leaving the gardens, Executive Director Aaron Young and the park police arrived at Ford Nature Center.
There, outdoor education manager Ray Novotny learned his 30-plus-year tenure as park naturalist was to end.
Novotny was not permitted to speak with The Vindicator, but he appeared stunned and teary as he exited the meeting with Young.
Some people who were fired were offered an entry-level employment opportunity. Others – Kaiser and two part-time employees ­— were offered a severance package, Young said.
"A large portion of the people we met with today were offered other positions within the MetroParks," Young said. "We didn't just fire them without any disregard to fully exploring what options we had available. ... If there was a position we were looking to fill that we felt these individuals were qualified to fill, we offered them the position."
In an interview with The Vindicator in December about the park's 125th anniversary, Novotny reflected on his personal relationship to the park.
"Mill Creek Park especially, and Mill Creek MetroParks overall, have been my life, for most of my life. I wanted to work here since I was a kid. I've worked here for three decades now, and hope to work here a little bit more. It's essentially my life," he said at the time.
"I've loved this park my entire life, and it's been such an honor and privilege to be associated with it all these decades. It's so wonderful when I can share my love with the people who visit here, and perhaps engender those feelings within them as well," he added then.
The Vindicator learned through a public-records request the names and positions of others who were informed of their dismissal Friday. In addition to Kaiser, Novotny and Nelis, the park fired five members of its operations team: Operations Director Perry Toth, part-time custodian Tom Chizmar, construction crew supervisor Bob Carbon, shop supervisor Dennis Fahndrich and forestry supervisor James Brammer.
The positions of those who were fired have been eliminated, a park spokeswoman said.
Everyone who was let go Friday was told that it was their last day on the job, park officials confirmed.
The park says "internal reorganization" will save $13 million over 15 years, money which will "significantly reduce the anticipated $15 million capital improvement shortfall that was projected over that same time period," according to a news release.
According to salary information previously provided by the park, 2015 salaries of those six full-time employees who were fired were: shop supervisor, $47,840; outdoor education manager, $52,650; operations director, $73,840; horticulture director, $67,080; forestry supervisor, $45,500; and construction crew supervisor, $53,040.
The park in November passed a 15-year, 1.75-mill renewal levy paired with an additional 0.25-mills. The additional millage will generate $15 million over that period of the roughly $30 million needed for the park's planned improvements.
"During the recently successful levy campaign, Mill Creek MetroParks identified that passage of the 1.75-mill renewal with 0.25-mill additional levy would allow the organization to be sustainable but would also require it to be more organized, efficient and proactive. In keeping with that commitment, Mill Creek MetroParks is currently undergoing an internal reorganization," the park said in its Friday release.
"This reorganization is the result of over 12 months of evaluation of our internal operations and another necessary step in ensuring the long term viability of the MetroParks," Young said in the release.
"It further demonstrates our commitment to our mission and to the community of being sound financial stewards of their tax dollars."
Young, who took over as executive director at the beginning of 2015, told The Vindicator in a interview for an Oct. 4 story about the levy that he would consider staff and salary cuts.
He said taxpayers should be able to expect a leaner, more efficient administration, meaning, "Less overhead. Whether that's materials and supplies, or salaries and wages, we need to re-evaluate everything we do and how we do it."
At the time of that interview, the park employed roughly 65 full-time, 100 part-time and 110 seasonal employees.
The park board, at Young's recommendation, earlier this week approved elimination of wage step increases for seasonal and part-time workers.
The board also approved a 2016 budget that again trims spending; it appropriates $9.4 million out of the park's general fund, down from $9.6 million in 2015 and nearly $9.8 million in 2014.
Of that $9.6 million, $6.3 million is allocated for salaries and wages.
Board president John Ragan expressed support for the "reorganization" decision in the park's release, saying, "The Board of Park Commissioners fully supports this reorganization as part of our commitment to efficiency and appreciates the positive results that are already being realized under Aaron's leadership as Executive Director."
As for the possibility of future layoffs, Young said: "We are always going to look for ways to be more efficient."
More like this from vindy.com