DeBartolo inducted into Hall of Fame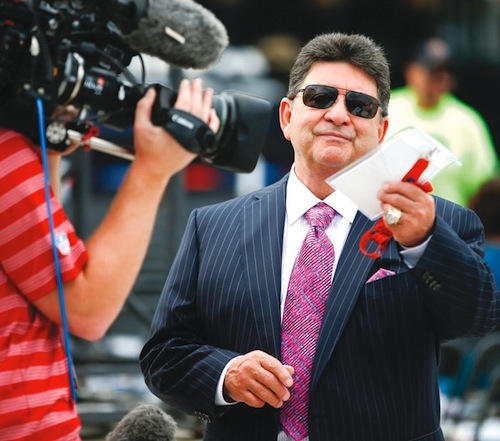 ---
Staff/wire report
SAN FRANCISCO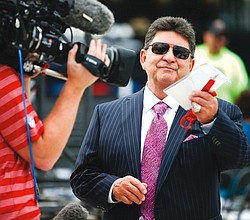 Photo
The only NFL owner ever to be presented with five Lombardi Trophies will soon have his bust in Canton.
Saturday, Eddie DeBartolo Jr., 69, was one of eight men elected into the Pro Football Hall of Fame's Class of 2016.
Next August, DeBartolo, a graduate of Cardinal Mooney High School, will be inducted into the Canton museum about an hour from his hometown of Boardman.
The 49ers' website said DeBartolo will be presented by his eldest of three daughters, Lisa.
"We're just so thrilled for my dad," she said. "Nobody deserves it more than he does."
Brett Favre and the late Ken Stabler, a pair of kindred-spirit quarterbacks who each won a Super Bowl, headline the class.
Also voted in were modern-day players Kevin Greene (linebacker), Marvin Harrison (wide receiver) and Orlando Pace (tackle); coach Tony Dungy (Buccaneers and Colts); and senior selection Dick Stanfel (guard).
The vote was announced in the city where DeBartolo owned the San Francisco 49ers from 1977 to 2000.
During his tenure, the 49ers won Super Bowls in the 1981, 1984, 1988, 1989 and 1994 seasons. He's the only NFL owner to win that many championships in the Super Bowl era.
DeBartolo's daughter plans on emphasizing her father's generosity on and off the field in her speech.
"I think what is legacy is, not only how he was with the football team, but also what he does now as a good person," she said. "And the good human being that he is now for people, not just for his players, but for people in general. I think that's what he wants everybody to know."
The 49ers are owned by DeBartolo's sister and husband, Denise and John York of Canfield. Their eldest son Jed is the team's CEO.
"On behalf of my family, the San Francisco 49ers organization and our Faithful fans around the world, I would like to congratulate my uncle, Eddie DeBartolo Jr., on his selection to the Pro Football Hall of Fame," York said on the website. "There could be no more appropriate setting for this honor to be bestowed on him than during the 50th anniversary of the Super Bowl in the region to which he delivered five Lombardi Trophies.
"Uncle Eddie's impact on the game of football runs much, much deeper than simply the championships won by this franchise," York said. "He is the best owner in the history of the NFL because of the culture he created and how it still impacts the game to this day.
"Just walking through the city with him this week, you could see the love that remains for him from his former players, those his teams competed against, and fans from around the league. I think I speak for them all when I say, congratulations 'Mr. D.' We love you."
In 1979, two years after buying the team, DeBartolo hired Bill Walsh as coach and drafted quarterback Joe Montana, leading to an unprecedented run of success.
DeBartolo became embroiled in the corruption case against former Louisiana Gov. Edwin Edwards and was suspended for the 1999 season by the NFL after being found guilty of failing to report a bribe. After the suspension, DeBartolo gave control of the team to his sister.
The freewheeling Favre, as expected, was a first-ballot entry, a reward for a long and distinguished career, mostly with the Green Bay Packers, that included three consecutive NFL MVP awards from 1995-97 and a championship in the 1997 Super Bowl.
More like this from vindy.com