Youngstown Chapter of Links hosts gift gathering luncheon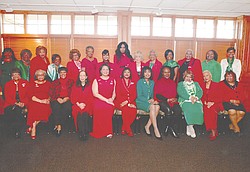 Photo
SPECIAL TO THE VINDICATOR Members of Youngstown Chapter of The Links Inc., in front from left, are Juanita Williams; Sarah Brown-Clark, central area parliamentarian; Ursula Perdue, financial secretary; Margaret Person, treasurer; Monica Hoskins-Vann, vice president; Margaret Staples, president; Ruthie King, parliamentarian; Dr. Sabine Barlatt, corresponding secretary; Janice L. Beachum, recording secretary; Dr. Virginia Banks-Bright, chairman HIV-AIDS National Executive Council; and Juanita Davis. In back are Atty. Dayna Terrell, Shelley English, Wanda Smith, Brenda Moore, Anne R. Cobbin, Atty. Sandra Thompkins, Dr. Krishmu Shipmon, Lenora Hill, Anne Gillian, Mary E. Patterson, Julie Greene, Dr. Ruth Quarles, Theresa Yarboro and Allyson Wynn. Other members are Atty. Carla Baldwin, Brenda Martin and Dr. Joan Boyd.
Staff report
WARREN
The 15th annual gift-gathering luncheon sponsored by the Youngstown Chapter of The Links, Inc. took place Dec. 11 at Avalon Inn and Resort, 9519 E. Market St. The event provides gifts and toys to agencies who serve children who are under served. In the past, donations have been made to the Rescue Mission of the Valley, Beatitude House, Needles Eye, A Home for Kids, Boys and Girls Clubs and others. This year, the recipients were the Black Knights and Sojourner House. Approximately 300 guests brought donations of toys, and proceeds from a cork raffle also were donated. Howard and the Point 5 Band entertained.
Dr. Joan Boyd, mistress of ceremonies, was honored for achieving platinum member status. She has been a member since 1977 and is a professor in the science department of Youngstown State University. Dr. Martha Jones also is a platinum member.
The Youngstown Chapter has two members who have attained positions at the central area and national levels. Dr. Dee Banks-Bright, infectious disease specialist, serves on the National Executive Council and is the national chairman of HIV-AIDS/Hepatitis C, and Sarah Brown-Clark, Youngstown clerk of courts, serves as central area parliamentarian.
Lenora Hill was chairman of this event and Margaret Staples is the chapter president. Alumnae members include Betty Armstrong, JoAnn Blunt, Dr. Mabel Paige, Doris Perry and Elaine Wilson.
More like this from vindy.com