SEE ALSO:• Soaring hotel prices, reduced flights, among concerns for travelers to Cuba
• 2 companies get OK for Cuba cruises
By Kalea Hall
HAVANA
Welcome to Cuba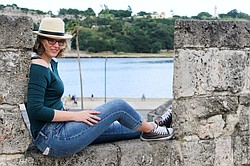 Video
Kalea Hall, business reporter for The Vindicator, traveled to Cuba on Dec. 1. While there, she saw what life is like in the beautiful country, witnessed firsthand the relationship forming between the U.S. and Cuba and finished off her experience with a cigar and mojito.
A bike taxi driver showed off his city as he pedaled down a street, sweat dripping down his neck into his dark T-shirt.
He was taking two Americans to the historic Hotel Nacional de Cuba – so they could get their mojitos and cervezas.
Fidel Castro's death Nov. 25 put a damper on the Cuban experience for tourists visiting the Caribbean island.
The government prohibited partying. That meant no music and no drinks, unless you went to the hotel.
The taxi driver says the short prohibition hurts his country's economy.
"Amo el capitalismo," he says, expressing his love for capitalism.
He's proud of Cuba, but he knows the country lags more than other developed nations. He points out random spots throughout the city where people go to get their Wi-Fi.
At these spots, the people converse with an occasional burst of laughter as they get their hour or so of access to the world. Dancing and bottles or boxes of rum would have probably been a part of this picture, too, but not until after the mourning of Cuba's revolution leader.
This was just the beginning of my six-day Cuban adventure. I witnessed history. I didn't plan to go to Cuba right after Castro's death, but I'm glad I did.
I saw two sides of the country: When the salsa stopped, the country paused to reflect on its history.
Despite the politics that have divided the U.S. and Cuba for decades, the Cuban people exude resilience. They embrace their relationship with Americans and take pride in what their country has to offer.
LET'S GO TO CUBA
Just 90 miles away from Florida is the crocodile-shaped country that is slightly smaller than the state of Pennsylvania. Despite its proximity, for five decades commercial flights to Cuba from the U.S. were not allowed. Diplomatic relations with Cuba were severed in January 1961 after Castro's revolution.
Change came under President Barack Obama's administration.
In December 2014, Obama and President Ra ∫l Castro, Fidel's brother, announced the countries would work on a new relationship. In July 2015, the U.S. embassy reopened in Havana, and the Cuban embassy reopened in Washington, D.C.
This past August, the first commercial flight landed in Santa Clara, Cuba. The U.S. expects up to 110 flights a day to Cuba. In October, Obama lifted the $100 limit on bringing in Cuban rum and cigars into the U.S.
But you still cannot just go to Cuba for "tourism." Your reason for going to Cuba has to fall under one of the 12 categories for general licenses set by the U.S. Department of Treasury. The licenses include family visits, educational activities, public performances and journalism.
For me, I wanted to tell a story about this country that has been so elusive during my 25 years. So, when mi novio (boyfriend), Justin, talked about planning a trip to Cuba, I jumped at the thought.
Before we knew it, we had purchased tickets, found a nice Airbnb place to stay and were jetting for the sun, new friends and an experience.
Getting there is easy and not expensive (my flight was $217 round trip). I checked that I was going to Cuba for journalism when I bought my ticket, purchased international travel insurance and when I landed in Florida, I bought a visa for $50. It's much easier for us to get there than it is for Cubans to get here.
DAY 1: THE CUBA EXPERIENCE
Justin and I arrived to our home of six days to find a welcoming blue door. Inside was an even more welcoming family that included Reysa, our Airbnb host, and her sons, Jos and Marco.
They quickly embraced our presence, grabbing our bags with smiles across their faces. Inside was an indoor garden on the left and three rooms on the right for rent.
Reysa informed us of the sad circumstances: no partying until Monday.
But that didn't stop Cuba from being alive.
We walked to the Malec ≥n – Havana's boardwalk. We breathed in the salty air, listened to the ocean and snapped some pictures. We would have to wait until later to post our arrival on social media. We were disconnected from the world, and it felt good.
Jos told us the country hasn't had access to Wi-Fi for long. In fact, just last year the country opened 35 public Wi-Fi areas throughout the island. The cost: $2 per hour. For her Airbnb business, Reysa went to a nearby hotel with good connection multiple times a day. She told us she was concerned she wasn't responding fast enough for her American visitors. But we were actually surprised at how quickly she got back to us, and ended up feeling a bit guilty for not responding to her as quickly as we could have, given her obstacles.
DAY 2
Cuba feels like one big family. Everyone seems to know everyone, so they know when someone is new.
On the second day, we decided to just take a stroll and explore. Many houses in Havana open with grand archways. These homes aren't new. Many are crumbling and are in need of repair, but it seemed everywhere you looked there was someone fixing something on their home.
Later we learned that it's not easy to get construction materials. You can't just drive down the street to pick up tile, paint or furniture. It takes time. Our host tells us she will sometimes have the money to buy what she needs, but those items simply aren't available.
We made friends as we walked down the street. For a small fee, they would show us their country. One guy introduced us to a taxi driver and wanted to take us on a tour. Our taxi driver, Samil, spoke no English. I took six years of Spanish, but I can only speak the basics. Samil called his friend Rolando, who knew some English that he picked up through music, movies and working with tourists. Together, they showed us some significant sites and took us to a beautiful house-turned-restaurant. On the menu: rice and beans with your choice of poultry or fish. We would find this to be the usual meal at Cuba's restaurants.
It was what you always want to have when you are on vacation: delicious food, a picturesque view and good company.
DAY 3
Every morning, Reysa and her workers cooked us a breakfast complete with fruit, eggs, toast, yogurt, cereal, fresh-squeezed juice and very strong coffee. The breakfast always gave us a push to get out the door and see more of beautiful Cuba. We started to feel more comfortable in our home away from home, and then we made yet another friend. Robert started talking to us in perfect English as we walked down the street. He learned his second language in college. In Cuba, college is free, but it's not like in the U.S., where it's considered a necessity to have a collegiate or trade-school education.
Robert tells us he knows a restaurant where we can get a mojito, even though at this point it is still prohibited.
We walk into another house/restaurant to find the walls filled with dishes, cups and pictures. Imagine an Italian grandma's house at holiday time. It felt homey.
We drink mojitos and talk with Robert about life here ,and he offers Justin $10 CUCs (basically $10 U.S. dollars) for his button-down shirt. In Cuba, a shirt like this would cost $70 CUCs, which isn't conceivable for most Cubans.
In July, the Miami Herald reported an income survey of 1,067 Cubans that found 27 percent of Cubans earn under $50 per month; 34 percent earn the equivalent of $50 to $100 per month; and 20 percent earn $101 to $200. Just 4 percent said their monthly earnings topped $500.
DAY 4
We passed the grand Capitol and saw several images that paid homage to Fidel Castro. Flags were at half-staff except at the American embassy.
We happened upon the Museo de la Ciudad and it was surrounded by different vendors selling what appeared to be everything in their family's jewelry box and library. The items had to be pre-revolution offerings. As collectibles, they were expensive, but much cooler to bring home than a basic tourist gift.
We moved on to a much larger market with several vendors that all sold the same items: shirts, hats, knickknacks, humidors and lots of leather gifts.
We searched for something with Fidel Castro's face, but found nothing.
After our shopping excursion, we hopped in a 1960s convertible Dodge Coronet with its original V8 engine driven by a guy named Se ±or David.
While everyone has seen images of vintage cars in immaculate condition in Cuba, here's what we learned: These old cars aren't driven by residents. Cubans take the bus or walk.
The old cars are driven by taxi drivers, who are usually also mechanics. We had to wait a couple of minutes for David to get a part from a friend. Since he makes the parts he can't find, he needed to borrow the part to replicate it to fit his car.
Many of these cars are vintage on the outside, but feature new or rebuilt motors. You can tell as they roar through the city with grace.
DAY 5
On this day, we took a two-hour trip to Vi ±ales, which has mountainous terrain with tobacco field after tobacco field. Our taxi driver, Samil, and his friend Rolando took us on the day trip for $120.
We met a tobacco farmer who proudly displayed images of the revolution on his farm. The farmer and his family donned shirts with Ernesto "Che" Guevara's face. Guevara was a Marxist revolutionary ally of Castro's during the Cuban Revolution.
The tobacco farmer explained the lengthy process of making the perfect cigar that includes using honey, pineapple, lemon and rum during the fermentation process.
"It's the world's best warm mojito," the farmer tells us.
He's right.
Dip the end of the cigar in honey and you feel a smooth burn in your throat, just like a mojito.
DAY 6
We capped off our trip with three – now legal – mojitos each and left the country with $5.
It's impossible to get money out of the ATM machines or the banks here, so make sure to bring enough to get you through your stay.
Cuba is a beautiful country that I hope I visit again. While I was writing this story, Southwest added flight service to Cuba. Only time will tell what else is to come in future relations.
More like this from vindy.com