---
Friday, December 16, 2016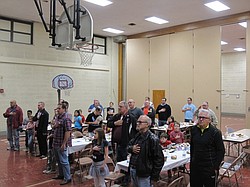 Photo
Neighbors | Alexis Bartolomucci.Students at Stadium Dr. Elementary stood with the veterans who attended the veterans day breakfast event on Nov. 11.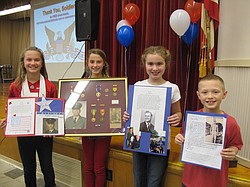 Photo
Neighbors | Alexis Bartolomucci.Fourth-grade students from Market Street Elementary School held up their projects from their .Veterans Day presentations on Nov. 11. Pictured are, from left, Alex Ward, Megan Faubel, Haley Eynon and Cameron Keffer.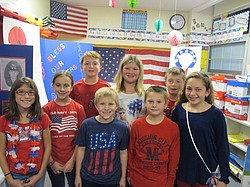 Photo
Neighbors | Alexis Bartolomucci.Students from Robinwood Lane Elementary put together a TV program for Veterans Day on Nov. 11 to show to the school and veterans who attended.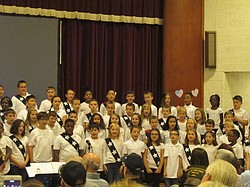 Photo
Neighbors | Alexis Bartolomucci.The third-grade students at West Boulevard put on a Patriotic Music Celebration on Nov. 11 for veterans and family members.

Photo
Neighbors | Alexis Bartolomucci.Students at West Boulevard put on a presentation for other students and veterans during the Veterans Day lunch on Nov. 11.
By ALEXIS BARTOLOMUCCI
Boardman School District's four elementary schools hosted special events for Veteran's Day on Nov. 11.
Breakfast with veterans was the start to the day at Stadium Drive Elementary. This event has been occurring at Stadium for several years and approximately 100 veterans attend. Students shared a breakfast with veterans and provided patriotic musical entertainment from each grade.
The next event took place at West Boulevard Elementary. There, veterans came to enjoy a lunch with the students. The veterans shared personal stories with the students over lunch. Around 80 veterans attended the lunch. Lunch was followed by a musical celebration put on by the third grade. The students sang patriotic songs and shared a video thanking the military for their service.
Market Street Elementary students shared a snack with the veterans and three fourth-grade students gave a presentation about their family members who are veterans.
"I was really nervous and excited because our teacher was picking who would talk. I stayed calm and practiced when she told me she picked me," said fourth-grader Alex Ward.
"I knew that our teacher was going to choose someone, but I didn't know it was going to be me so I dressed nice so I would be ready and when I found out I was so nervous," said fourth-grader Haley Eynon.
"When our teacher picked me, I was practicing until now," said fourth-grader Cameron Keffer. "My legs are still shaking."
All three students were happy with their presentations and enjoyed going through their family histories to learn more about their ancestors.
Robinwood Lane Elementary ended the school day with a special veterans TV program the students put together with the help of Jeff Hammerton. The students did a live TV show at the end of the day for the other students and veterans to watch. Students worked with Hammerton throughout the week to prepare for the show.
"It went better than I thought it was going to. I didn't stumble like I thought I was going to," said fourth-grader Jase Carkido.
"It helps the little kids to understand," said fourth-grader Noah Gonzales.
The Boardman School District enjoyed putting together the celebrations to honor the veterans.