Consistency up front helps fuel YSU's run game
OT Justin Spencer speaks on Eastern Washington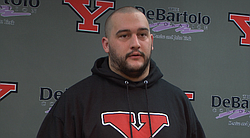 Video
YSU offensive tackle Justin Spencer on the Eagles defense, O-Line coach Carmen Bricillo, and continuity along the O-Line.
By Charles Grove
Youngstown
A lot has been said about the challenge the Youngstown State defense will face come Saturday against a powerful spread attack featuring one of the best wide receivers in all of college football.
But YSU's offense has a similar test against one of the most effective defenses this year in the FCS.
After giving up 14 points in their second-round win over Central Arkansas, the Eagles (12-1) shut down the Richmond Spiders, pitching a shutout in a 38-0 win.
The Eagles have had an impressive run this postseason in stopping the run. Central Arkansas was held to 129 yards in their contest while Richmond managed just 48 yards on 37 attempts.
The Wofford defense that YSU pounded into submission behind Jody Webb's 213 rushing yards ended the year giving up just 101 total rushing yards per game, and that's with Webb's yardage factored in.
And if Webb can replicate his performance from the Wofford game, it'll make that front five's job that much easier, said YSU offensive lineman Justin Spencer.
"It's really easy with the backs we have," Spencer said. "They make us right if we make a mistake up front. When [Jody] gets in the open field it's just fun to watch him run and see how far he'll go."
Spencer said one of the keys for this year's offensive success, is the blocking scheme of offensive line coach Carmen Bricillo.
"Coach Bricillo is big on teaching us roles instead of teaching us how to block a look," Spencer said. "As long as we know the roles, we can block any look."
That blocking scheme will come in handy with numerous looks Eastern Washington gives up front.
"They play a lot of different fronts," Spencer said. "As long as we're able to execute, we'll be able to have success if we execute our best."
The health of the offensive line this year, in stark contrast to last year's injury-filled season, has made it easier for Bricillo to get a group of guys who know the system and have a weekly rhythm with it.
"We've had the same five this year and the chemistry is great," Spencer said. "It's nice to have everyone healthy."
Seeing Red
Some viewers on Saturday may feel the need to adjust the color on their televisions during the game. Eastern Washington and Youngstown State both wear red and white and the Eagles' field is red instead of the traditional green.
Linebacker Armand Dellovade said if it were up to him, the Penguins would be wearing all red on Saturday.
YSU head coach Bo Pelini will make sure whichever wide receivers play get some time prior to Saturday catching footballs in a slightly different atmosphere.
"At some time we'll get our guys out there so we can catch some balls and see if there's anything with the background," Pelini said.
Still, Pelini doesn't think it'll be much of a major contributing factor.
"I've played teams on the grass who wear green and it didn't affect us much," Pelini said. "You can sit there and overthink things all the time."
More like this from vindy.com