Pelini mum on team suspensions, gun charges
RELATED: YSU pass defense to be tested
YSU TB Incident Report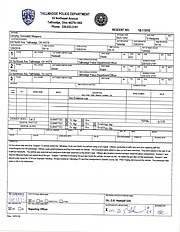 Document
Incident No. 16-11019 report and supplemental information from the Tallmadge Police Department regarding YSU football player.
Bo speaks on Eastern Washington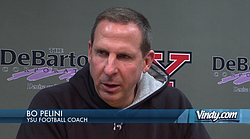 Video
YSU Football head coach Bo Pelini spoke on potential suspensions and a date with Eastern Washington.
By CHARLES GROVE
cgrove@vindy.com
YOUNGSTOWN
Sources have told The Vindicator that Martin Ruiz, 21, a Youngstown State University senior running back, is one of five players suspended from playing Saturday in the FCS national semifinal game against Eastern Washington.
While sources said Ruiz is one of five players who failed NCAA substance testing, The Vindicator also obtained records from Stow Municipal Court that show Tallmadge police arrested Ruiz after a traffic stop for making an improper turn about 12:20 a.m. Dec. 6 – three days after the Penguins' victory over Jacksonville State.
A report from Tallmadge police said officers smelled marijuana inside the car after the traffic stop. Police made Ruiz and a passenger get out of the vehicle so they could search it.
Reports said suspected marijuana residue was found on the driver's seat and a loaded handgun was found in the glove compartment.
Ruiz told police the gun was not his, though he did know it was in the car, reports said. Reports said Ruiz also told police the gun did not belong to the passenger who was with him.
Ruiz was taken to the Summit County jail before appearing via video arraignment later Dec. 6 in Stow Municipal Court.
He was released on his recognizance after his arraignment, according to court records.
Summit County court records show Ruiz is charged with carrying a concealed weapon and improper handling of a firearm in a motor vehicle, both felonies.
His case has been bound over to a Summit County Common Pleas Court grand jury for further action.
Ruiz, from Tampa, Fla., had just one carry last week in the Penguins' FCS playoff quarterfinal win over Wofford College and was only on the field for a handful of plays.
There has been no explanation from head coach Bo Pelini as to why Ruiz had only one carry.
Amid reports of the other suspensions, Pelini refused to discuss the situation Tuesday at his weekly news conference.
"I protect our kids," Pelini said while admonishing some members of the media and explaining he won't discuss possible suspensions.
Pelini went on to say that holding players accountable is taken care of internally on teams he coaches.
"I don't confirm, deny or talk about our discipline, our internal policies or what we do," Pelini said. "I don't talk about it with the media. I haven't for two years. It's always been my policy, and we're not going to talk about it."
YSU had practice Tuesday indoors at the Watson and Tressel Training Site. A Vindicator reporter was asked to leave and was informed the practice was closed to the media. Frequently, only The Vindicator covers team practices.
More like this from vindy.com