Johnny's Fine Food & Spirits Casual intention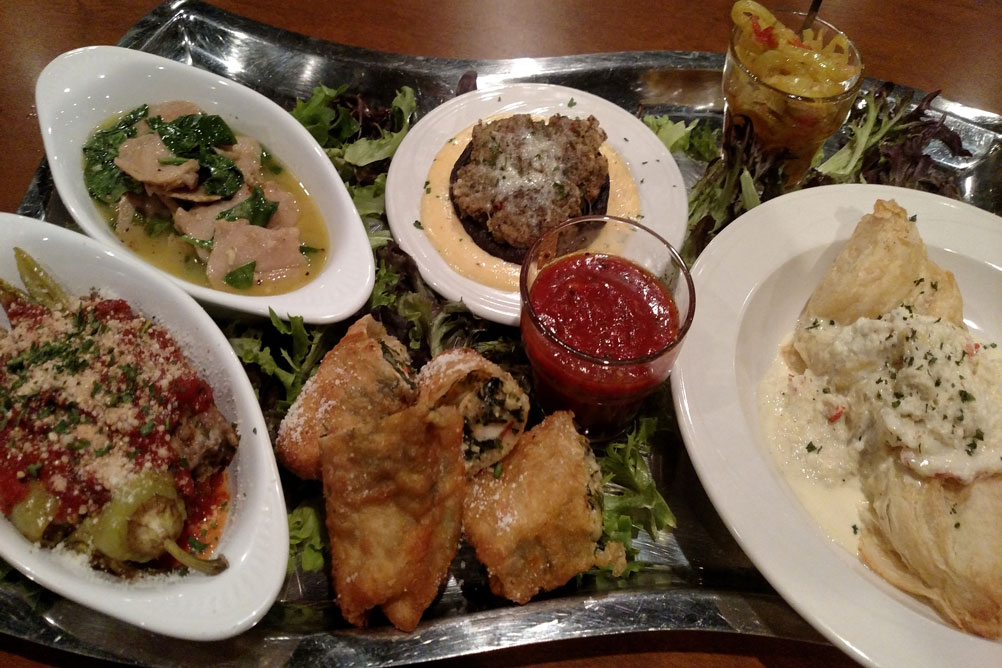 ---
If You Go...
Where: Johnny's Fine Food & Spirits
Address: 7807 Market St., Boardman
Phone: 330-758-8262
Website: johnnysboardman.com
Hours: Monday, 11:30 a.m. to 9 p.m.; Tuesday to Thursday, 11:30 a.m. to 10 p.m.; Friday, 11:30 a.m. to 11 p.m.; Saturday, 3 to 11 p.m.; and Sunday, closed except for private parties.
SIGNATURE DISHES
By Mark Smesko and Michael Vallas
It's the eve of election night as the final edits are being made to our monthly masterpiece; it's hard not to think of how the choices ahead of us will influence the coming years. The dearth of civil discourse is polarizing to say the least, but also leaves us hungry for something good, something to nourish the soul. So you have to find comfort where you can, and for us, it is often in a good meal.
Our visit to Johnny's was encouraged by friends who frequent the Boardman establishment. Everyone has a go-to place; this was theirs. We met up with Adam Witzeman, the general manager for the last five years. Adam gave us the history of Johnny's, from its start back in June 2000 by owner John Berndt at its original location on Midlothian in Youngstown, to its move to Market Street in Boardman where it has been operating for 11 years now.
Adam explained that Johnny's is intent on giving its patrons a casual, fine-dining experience. The staff members pride themselves on offering a significant variety of menu selections, and being able to create off-menu dishes for those that want something a bit different. To that end, Adam set us up with some of both.
Our meal began with a large platter with samplings of some of their most popular appetizers. One of their Signature appetizers is the Italian Chicken Egg Rolls. Seasoned chicken, spinach, Monterey jack cheese and tomato rolled in dough then deep fried and served with house-made marinara. The crispy shell contrasted the soft, tasty filling. These were surprisingly good and one of our favorite starters.
Next was the Stuffed Portobello Mushroom. A mushroom cap is stuffed with a mixture of Gruyere cheese, bread crumbs, peppers, onions, garlic and white wine, and then baked until tender and served over a roasted red pepper cream sauce. The sauce was flavorful but didn't overpower the subtle flavors of the cheese bread crumb mixture. The mushroom was tender. A very nice appetizer.
We then moved on to the clam filets prepared the "old way." This is an off-menu dish. The "old way" is to take the middle neck clams and sautee them in a white wine butter sauce with spinach. This dish was fantastic. The clams were perfectly tender and plump. The butter wine sauce was bursting with flavor and we gladly sopped it up with the house-made bread.
The last app we sampled was Italian Stuffed Hot Peppers: Hungarian wax peppers stuffed with a sausage mixture and topped with marinara and cheese. A very nice version of a classic Italian dish.
We have had many tastings of wedding soup over the last three and a half years but Johnny's version may have been one of the best: escarole and endive greens, chicken, meatballs, pastina and vegetables in a savory broth. A perfect dish on a cold autumn day.
In addition to the extensive menu, Johnny's also has specials. We sampled four entrees, three of which were on the Specials menu. The first entree was Baked Whitefish Florentine. This menu item consists of an Atlantic cod filet baked with an herbed garlic butter crust, topped with a roasted tomato compote and served on a bed of creamed spinach. The light crust on the fish had a hint of garlic and contrasted the flaky fish which was perfectly cooked. The tomato compote added nice acidity to contrast the creamy spinach. A well-balanced, light dish.
Next was another fish off the Specials menu, Salmon Caprese. It was a generous piece of grilled salmon, topped with a basil pesto crust and served on a bed of sliced tomatoes. The filet is then topped with fresh mozzarella cheese and drizzled with a balsamic glaze. The tanginess of the glaze and the herbaceous flavor of the pesto made this dish pop.
The third entree was Chicken ala Pesa: crispy panko-coated chicken breast topped with Asiago cheese, served over house greens on a bed of homemade vodka cream sauce with hot peppers. The chicken was juicy and tender. The hot peppers gave the sauce a little spice. The greens had a nice garlic flavor. A nice alternative for people who love chicken parmigiana to try something a little different.
Our last entree was Southwestern Flank steak. Marinated flank steak is grilled to temperature and served with dirty rice (rice with sausage and Southwestern spices). This is topped with a black bean corn salsa, homemade cheese sauce and fried jalapeno slices. The flank steak had great flavor from the marinade. The salsa was a little sweet from the corn. The jalapeno slices provided some heat. Well-rounded and delicious.
Adam introduced us to Executive Chef Jordan Freudenberg. Chef Jordan said he had been working on some pies and asked us to sample a slice to wrap up our meal. A large slice of coconut cream pie appeared. The pie was rich but not overly sweet, and the crust was flaky. If you say you don't like coconut, this could change your mind. It was outstanding.
Whether you are looking for a dinner out with family or friends, hosting a banquet (from 20 to 125), or a gift card for the holidays, consider Johnny's.
They get our vote. Hopefully, it's something we can all agree on.
More like this from vindy.com