Benjamin helps YSU women beat Saint Francis
YSU vs Saint Francis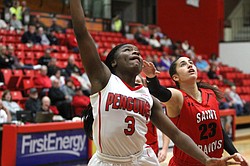 Gallery
By Greg Gulas
YOUNGSTOWN
Youngstown State's Indiya Benjamin likes having the ball in her hands when the game is on the line.
Her coach, John Barnes, doesn't seem to mind a bit.
Benjamin scored a game-high 21 points, but it was her seven consecutive points during a 33-second span with a little over a minute to play that turned a five-point deficit into a two point lead. The Penguins then held on to defeat Saint Francis 69-68 Saturday night at Beeghly Center.
It was YSU's third win in their last four outings after an 0-3 start.
"It was a time in the game when we were struggling, not doing much so I said to myself, 'It's my junior year, I have to do something to get us going,' " Benjamin said. "This reminded me of our game in Hawaii with Sacramento State in that it was up and down the entire four quarters. Our last game we didn't rebound too well, so we went over that in practice this week and did much better tonight in that area."
The Penguins were outrebounded 51-29 during Monday's 70-49 loss at Northern Arizona.
On Saturday in the friendlier confines of Dom Rosselli Court, they controlled the boards by outrebounding the Red Flash, 48-31 for a plus-39 turnaround.
"The game plan is defense every day and we've been struggling early on. We're getting better and today I thought we executed the game plan really well," Barnes said. "We also did a good job on their shooters."
The Red Flash came into the game averaging 87.6 points, but a strong defensive effort by YSU (3-4) held them 19 points below their average.
Saint Francis (2-4) offense was anything but sluggish at the outset however, as it raced to an early 11-2 advantage barely three minutes into the game.
Seven points by Benjamin keyed a 13-5 by YSU as the Penguins pulled even at 21-21 heading to the second stanza.
Benjamin's effort, both early on and in the closing moments, did not go unnoticed by her coach.
"Indiya was huge tonight. We got ourselves in a little hole, she made a big three, a couple of short shots and a few lay-ups while handling their pressure," Barnes added. "She took the bulk of it and I just thought she did a great job."
In a game that featured nine ties and 11 lead changes, the Penguin defense stepped up in the second period as they limited the Red Flash to just 14 points, going on an 8-3 run over the last three minutes as they built a 40-35 halftime advantage.
Two triples and eight points after intermission by the Red Flash's Katie Reese would cut the YSU lead to 53-51 heading to the final quarter of play.
A bucket by Jessica Kovatch with 1:20 remaining gave Saint Francis its largest lead of the second half at 64-59, but seven straight points by Benjamin helped YSU pull ahead for good, 66-64 with just 35 seconds remaining.
A free throw by Ace Harrison pulled the Red Flash to within 66-65 with 23 seconds left, but a free throw by Mailee Jones and two more charity tosses by Jenna Hirsch in increased YSU's lead to 69-65 with three ticks remaining.
It was a good thing that Hirsch converted both of her free throws as Saint Francis' Halee Adams hit her half-court shot as time expired.
Jones added 13 points for the Penguins. Harrison had a team-high 18 points for the Red Flash .
More like this from vindy.com