Spartans roll East in home opener
Brian Dzenis live from Boardman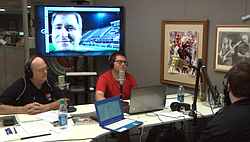 Video
Brian gives a wrap-up from the field to the Blitz Live hosts. Youngstown East 0 Boardman 41.
Blitz Live | August 26, 2016

Podcast Episode
High school football has kicked off in the Valley. Relive week one as Corey Crisan, Greg Gulas, and Sean Ferguson provide insight into the week's ...
By Brian Dzenis
BOARDMAN
Despite never facing East before, Boardman's drubbing of the Panthers was like old times.
Friday night's 41-0 Spartan victory was the first in program history against the present-day East. The last time they faced a Youngstown City School, it was Chaney in 2009, when Boardman won 52-6.
Boardman was aided by a defense that held the Panthers 86 total yards on offense and running back Koby Adu-Poku's explosive first half.
The senior back ran for 186 yards and four touchdowns on 19 carries. The tailback said he liked the play-calling Friday night, but isn't one to demand the ball.
"Whatever works, if you need to pass, then pass. If you need to run, run," Adu-Poku said. "I think what we did worked well."
Boardman took control of the game on its first drive. Faced with a fourth-and-10 from the East 15, the Spartans elected to go for it. The gamble paid off as quarterback Mike O'Horo found Gavin Strines in the back of the end zone.
Adu-Poku took over the second quarter, punching in a short touchdown run in the first few seconds of the period.
After having two touchdown passes between O'Horo and Travis Koontz called back on penalties on consecutive plays, the Spartans handed off to Adu-Poku, who scored from 14 yards.
His next two carries resulted in trips to the end zone, a 55-yard run and a 12-yarder on which he evaded would-be tacklers with a spin move near the goal line.
"His legs don't quit and tonight was an obvious example of that," Boardman coach Joe Ignazio said.
While Adu-Poku had 173 rushing yards in the first half, East had one yard as a team.
The Panthers finished with 33 rushing yards and their 85 yards in penalties almost matched their total offensive output. Those penalties include an ill-timed targeting penalty that led to Adu-Poku's second TD.
As the game went on, the Panthers seemed to get more unravelled.
"They started to fight with themselves," Adu-Poko said. "We didn't let it faze us, but it fazed them."
East, which went 2-8 in 2015, had a repuatation for being a tough out despite its record. That came from single-digit losses to Poland, Canfield, Hubbard and Howland in 2015. Ignazio knew that heading into the season opener.
"We had to shut down their speed. It was our biggest concern on film," Ignazio said. "They've got athletes all over the place. I thought we were fairly physical up front and that was good for us."
East coach Jerron Jenkins made his head-coaching debut with the Panthers and left Spartan Stadium unhappy with his team.
"I think we got big-headed. When we played in our scrimmages, we did well and they thought that was good enough," Jenkins said. "It's not good enough for me and I'm not going to let that happen anymore. The ones who don't want to play got to go.
"I'm very disappointed in these young men because I know we have the talent."
After a scoreless third, Boardman emptied its bench. Junior running back Kelley Williams entered the game and rushed for 34 yards, including a 6-yard touchdown run.
More like this from vindy.com