Columbiana outguns Western Reserve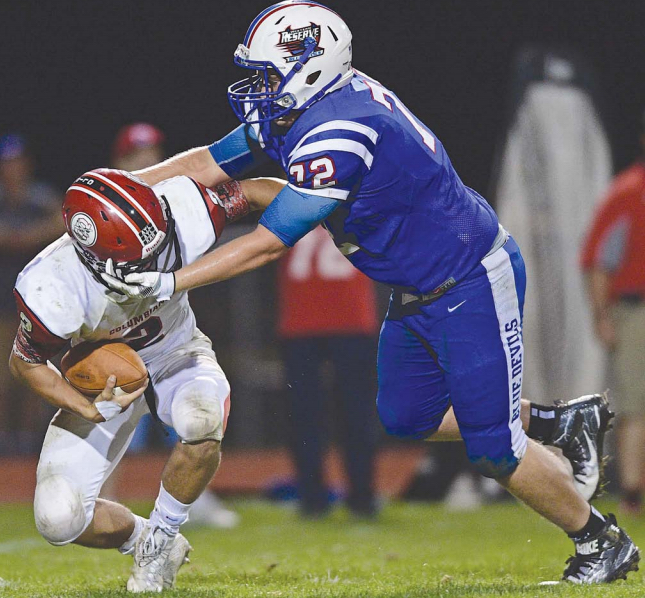 ---
Charles Grove live from Western Reserve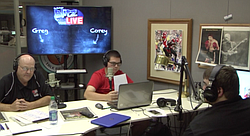 Video
Charles gives a recap on Blitz Live after a very busy night...Columbiana 63 Western Reserve 52.
Blitz Live | August 26, 2016

Podcast Episode
High school football has kicked off in the Valley. Relive week one as Corey Crisan, Greg Gulas, and Sean Ferguson provide insight into the week's ...
BERLIN CENTER
If you thought last year's 44-37 contest between Columbiana and Western Reserve was a shootout, you'd be at a loss for words this time.
The Clippers and Blue Devils combined for 115 points and 1,089 yards in Columbiana's 63-52 win Friday night.
Columbiana quarterback Mitch Davidson threw for 164 yards and threw for three touchdowns but his real threat was his legs. Davidson racked up 153 yards, 142 in the second half, and four rushing touchdowns in a wild Week 1 contest.
"No. 2, it was him," Western Reserve coach Andy Hake said referring to Davidson. "He's one of the best players in the state."
But it wasn't all Davidson early. Western Reserve quarterback Wyatt Larimer, who combined for 271 yards and three scores, led the Blue Devils down the field on the opening drive for a touchdown within two plays.
After Columbiana answered on its first possession, Western Reserve's Austin Seifert went up the middle for a 46-yard score and Jack Cappabianca's 34-yard run a few minutes later and the Clippers were looking at a 21-7 deficit.
"I told our guys, 'We're going to have to take their best shot early,' " Columbiana head coach Bob Spaite said. "They tried to knock us out in the first and we had to withstand it."
The first of two costly mistakes happened in the second quarter when Larimer was trying to throw a ball away, but it found the hands of a defender and a play later, Davidson ran for the first of his four touchdown runs.
But Western Reserve had plenty more punches. Its strong offensive and defensive lines had their way with the Columbiana front seven for much of the night. The Blue Devils opened holes for their running game and limited Davidson to just 11 yards rushing in the first half.
"Their size was a tremendous factor," Spaite said. "When they're fresh and really, really running hard they're really difficult to bring down."
You would've hardly recognized Davidson from the first half to the second half. He came out on the opening drive of the second half and picked apart the Blue Devils, eventually finding Connor Stacey for a 20-yard touchdown.
From there, Davidson found Stacey again from 23 yards and had touchdown runs himself from 42, 26, and 1 yard out. Tanner Pearl added a 77-yard touchdown run himself. The Blue Devils nearly had an answer to every Clipper score. Seifert went untouched for a 65-yard score up the middle, Cappabianca capped off a long drive with a 1-yard dive and Larimer had a 43-yard scamper as the teams traded leads.
But the biggest blow came when Western Reserve was stopped on a fourth down in the red zone when Dominic Velasquez was sacked. Pearl's long run came one play later to give Columbiana the 63-52 margin.
"We just have young kids and we made some mistakes, that's it," Hake said. "But we're going to bounce back. Believe me, we'll be around when it's all said and done."
Spaite said he knew this game was going to come down to who could come up with the few stops needed to give themselves just enough separation on the scoreboard.
"We got a couple stops.Nnot many but that's all it took," Spaite said. "That's what it was going to come down to. They didn't quit and we didn't quit. It was just a question of just getting one or two key stops."
Davidson said his coaches found a weakness in the Blue Devil defense that allowed him to start bouncing to the outside and picking up big yards on the ground.
"Our coaches saw an advantage on the outside and our game plan really worked out for us being able to run to the outside," Davidson said. "They're a big team so if you block them high they're just going to run you over. We knew we had to start hitting them low."
Hake knows his team will have to learn from this loss quickly as the Blue Devils will have to travel to South Range next week.
"We've just got to learn from this loss but there's no rest for the weary," Hake said.
More like this from vindy.com