Students display skills at Robotics Camp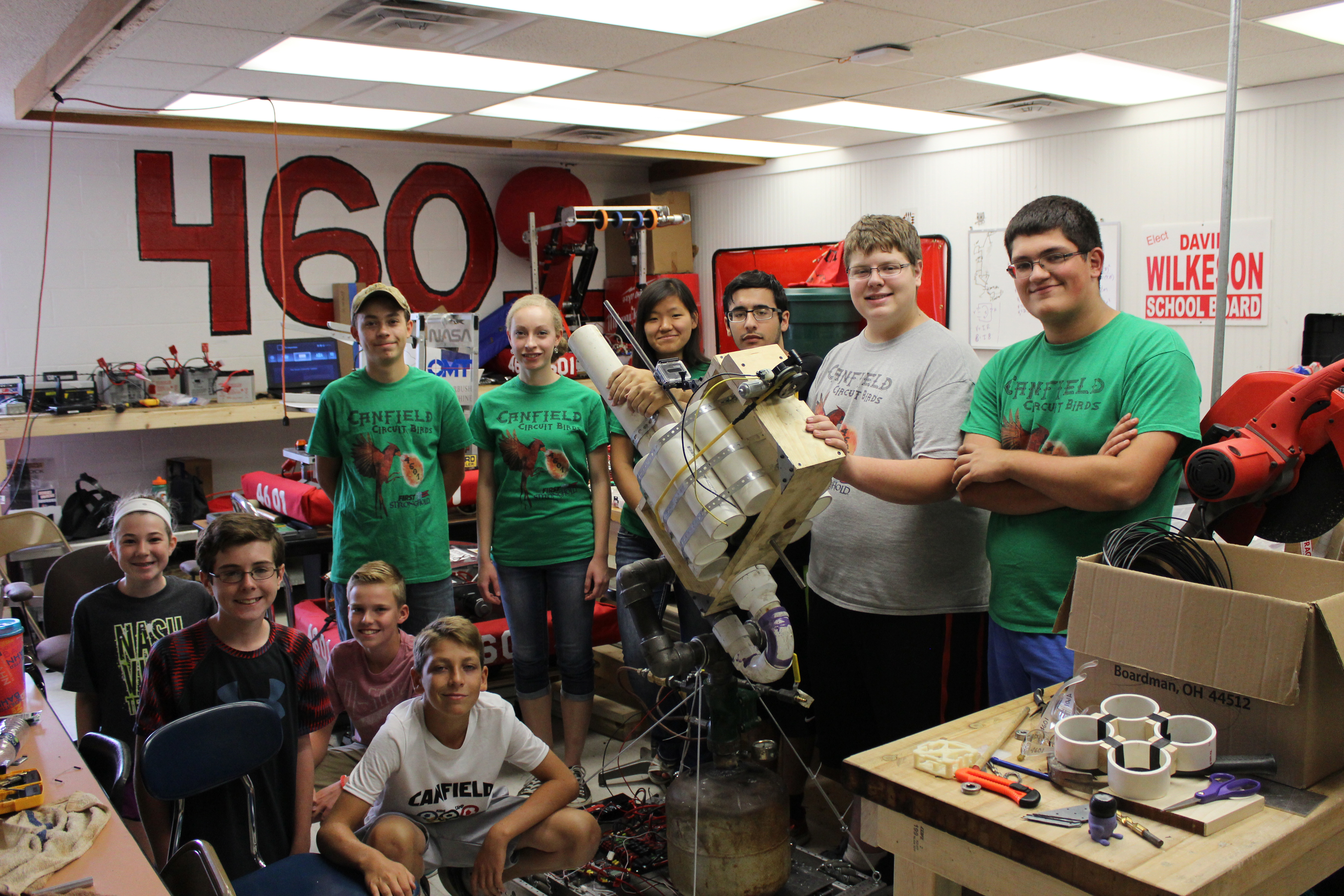 ---
By ABBY SLANKER
The third annual Robotics Camp for fifth- through eighth-graders took place at Canfield High School Aug. 1-5, with approximately 40 first-year, second-year and third-year students attending.
The camp was taught primarily by Canfield High School teachers, graduates, students and community volunteers, including Nick Crescimanno, Elijah Mr. Castle, Mario Ramunno, Paul Ugolini, CHS CAD and engineering graphics teacher Don Crum, Steve Bennett, YSU physics professor Dr. Mike Crescimanno and YSU computer science professor Dr. Bonita Sharif.
Throughout the week, the first-year campers were taught how to use hand tools and computer programs to build and program their own robots. The campers built their robots from a kit, including soldering wires and adding LED lights, while applying the concepts they learned.
The second-year campers used what they had learned last year and built remote controlled robots, while the third-year students concentrated on modifying an existing robot, built by the high school robotics team, into a t-shirt shooter.
"Each year level concentrated on their own projects. The projects get more advanced as the year levels go up. The second year campers don't have to go back to square one, they get right back into it and pick up where they left off last year," said Nick Crescimanno.
Not only were the students able to build their own robots, they were also treated to an eye tracking demonstration by Dr. Sharif. Much to their delight and awe, several students were even able to try out the eye tracking program on a laptop.
Crescimanno said the purpose of the camp is to get the students interested in robotics at a young age.
"The purpose of this camp is to expose young students in grades five through eight to robotics and STEM elements, which they are not otherwise exposed to. This is a chance for them to get their feet wet. It's a fun way for them to learn about programming, robots, applications and have hands-on physical interaction. They are at a young age and now is the time to get them involved and excited about robotics and plant the seed," Crescimanno said.
Case in point is CVMS fifth-grader Erica Kovach.
"This is my first year coming to this camp. I wanted to come because the camp sounded cool and interesting and I wanted to learn how to program stuff. I am having fun and I am learning," Kovach said.
Crescimanno stressed the importance of the need for parental and community volunteers to help make the camp a success.
"We want to grow the program and make it even better. To accomplish that, we really need parental involvement and volunteers of both parents and community members. The camp is always the first week of August, and this year we had to turn some applicants away because we don't have enough adult volunteers. We would be very thankful for any help with the camp so we can accommodate all the interested students," Crescimanno said.
More like this from vindy.com