Thunderstorm suspends Liberty's visit to Struthers for opener
Struthers v Liberty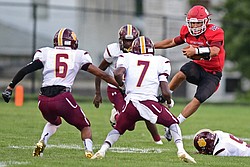 Gallery
Thunderstorm suspends Liberty's visit to Struthers for opener
By Tom Williams
STRUTHERS
Mother Nature was the only winner at Thursday's high school football opener at Struthers High School's Fedor Field.
Struthers had a 14-6 lead on Liberty with 30 seconds remaining in the first quarter when lightning was spotted west of the stadium.
Patrons were told to take shelter (visiting fans to the high school, home fans to either their cars or the school) as the 30-minute countdown clock was launched.
It never reached zero, causing the game to be suspended until today at 7 p.m.
Because school is in session today, Struthers head coach Curt Kuntz said officials weren't willing to resume the game once the delay hit the hour mark.
He was disappointed, not in the decision to suspend but in how his Wildcats couldn't continue their hot start.
"Tonight, we had things starting to roll," Kuntz said. "I wanted to finish it.
"We had the ball past midfield with second down," Kuntz said.
"We wanted to go out and finish the drive."
Instead, the Leopards, Wildcats and their fans sought shelter.
The Wildcats dominated on their opening possession, marching 89 yards on eight plays plus one 15-yard penalty on the Leopards. Tailback Regal Reese broke loose for a 34-yard touchdown.
Conor Calabrette's extra-point kick made it 7-0.
The Wildcats' second series did not go as well. On fourth-and-1 from the Struthers 34, a high snap sent punter A.J. Musolino scrambling for the ball near the goal line. The Leopards pinned him at the 10, setting up Dra Rushton's 5-yard touchdown run.
"I probably should have taken the safety," Musolino said. "I was just trying to get the ball into my hands so they didn't score on that play."
Musolino's spirits were immediately lifted when teammate Willie Mitchell raced 86 yards with the Liberty kickoff.
"I was really excited," Musolino said. "It was wide open and he just took off with the ball."
Kuntz credited assistant coach Paul Hulea for improved special teams play.
"I owe him a Pepsi," said Kuntz, explaining that kicks have not been a strength is his four seasons as head coach. "He didn't win a state championship by accident — what he brings to us is awesome."
The Wildcats forced a punt and were driving when the game was suspended.
Kuntz said his staff advised his players earlier in the week that a weather delay was possible.
"I 100 percent knew this was going to happen," said Kuntz despite Thursday afternoon's sunny skies. "It wasn't going to miss us."
He expected a restless night awaiting the game's resumption.
"Sleep is overrated for me now," Kuntz said. "We want to get this first one under our belt."
Musolino said the players wanted to continue once the storm ended. Instead, another day of classes awaits.
"We've just got to adjust," Musolino said of the unusual circumstance. "It's not going to be hard to get up for tomorrow."
More like this from vindy.com