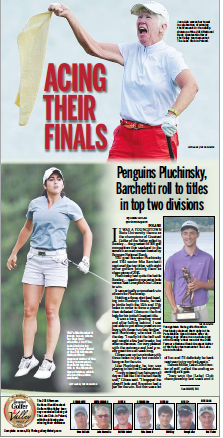 ---
Penguins Pluchinsky, Barchetti roll to titles in top two divisions
By Greg Gulas
POLAND
It was a Youngstown State University theme as the champions of Greatest Golfer of the Valley rolled in Sunday — the greatest of 300 golf competitors this weekend in the seventh annual contest hosted by Farmers National Bank.
YSU grad Brandon Pluchinsky and YSU senior Mia Barchetti captured the top titles, with eight other golfers joining them as champions of 2016.
Pluchinsky had quite the battle Sunday — needing one extra hole versus East Liverpool's Joe Cilone to win.
It was actually a comeback win of sorts for Pluchinsky.
Holding a three-shot lead heading into Sunday's finale, he had to birdie both the 16th and 17th holes in order to force a playoff, then defeated Cilone on the first hole for his initial Greatest title.
"It was a long, grueling round and after falling behind, I was just able to put some pressure on Joey with those two late birdies," said Pluchinsky, who shot 73 on the day. "I really hit the ball well and caught a few bad breaks, but offer no excuses. I'm very pleased with the outcome and had a really great time all week long."
Cilone was up two strokes with three holes to play but couldn't hang on for the win.
Like Pluchinsky, he, too, was playing in his first Greatest event.
"I only missed two fairways all day so I felt like I hit the ball really well," Cilone said. "I bogeyed the playoff hole and Brandon had a par for the win. But this was a lot of fun and I'll definitely be back next year to try my luck again."
Dennis Miller, Lake Club director of golf, called the ending as exciting as it gets.
"Joey won the [Lake] Club championship last week and it marked the first time in eight years there was a champion other than Jonah Karzmer," Miller said. "It was fun to watch Brandon drive the ball and then watch both players go at it in the end.
"There was a lot of talent out here today with everyone happy that the weather cooperated."
It was not the only title to need a playoff.
In the day's other playoff, Keith Schubert (74—229) defeated Brad Barringer (79—229), also on the first hole to come from five strokes back and capture the Men's 5-8 Division.
It was redemption for Schubert, who lost on the last hole a year ago after heading to the final pin holding a one-stroke lead.
"I hit a terrible 5-wood off the tee to within 100 yards to start the playoff," Schubert said. "I then pushed it a hair, the ball hit the green and rolled off, but I was able to chip it to within three feet of the cup for par.
"Losing last year bothered me quite a bit, so this was definitely a bittersweet moment."
Barringer was playing in his fourth Greatest event with this year's runner-up finish his best showing.
"This is typical of golf as I putted past the hole, then missed the putt for par," Barringer said.
In women's Open action, Barchetti (75—226) led from pillar to post for an eight-shot victory over 2015 champ Ariel Witmer-Adams (75—234), as did Joan Ash (80—239) to capture the women's 9+ over Patty Brant (87—260).
"This tournament allowed me to get in some competitive rounds before our fall season and it was really nice to play the different courses, especially Mill Creek where we will host our 'Kick-Off Tournament' on Sept. 5-6," said Barchetti, a Pittsburgh native. "I want to be a leader this year and this will help me in that area."
Ash, who has played in every Greatest tournament since its 2010 inception, won for the third time and the second consecutively in 9+ play.
"I had 35 putts today, 29 yesterday and that was the biggest difference for me the last two rounds," Ash said. "I struggled at Mill Creek on Friday, but came alive yesterday and today. As always, I had a great time and God-willing, will be back next year to defend my crown."
New Waterford's Matt May was playing in his fifth tourney, having qualified for Sunday play on two occasions but never seriously contending for a title.
He defeated Carmine Petrillo by a stroke, 239-240 to capture Men's 9-12 laurels.
"I am speechless as this is a crazy, great feeling," May said. "I was down three strokes on No. 12 and thought that I was out of contention. I was literally frozen and nervous as I was standing over my last putt."
Fred Fisher's (86—246) round was good enough for a six-stroke victory over Rich Perrine in the Men's 13-16 division while Corey Keller (90—167) held on by two shots to capture the Men's 17+ final.
"I missed the cut last year, but this year was able to manage my emotions much better. I play a lot of golf, but an event like this still gets your nerves and adrenaline flowing," Fisher said. "Making a lot of putts on Saturday helped to keep my score down."
Keller also failed to qualify for Sunday's final round last year, stating he didn't sleep much this weekend.
"Nerves also got me last year and I did have a few sleepless nights this year, but managing those nerves while blocking out any other distractions was the key," he said.
Geno Bellatto (77—220) was a two-stroke winner over Jim Lessick in the Seniors Open Division. Pete Bennett (81—237) captured the Seniors 10+ by a stroke over Don Newell, Sr. (80—238). Rounding out tourney play was John Scarsella (76—222), who won the Super Seniors by nine-strokes over Dominic Vechiarelli (75—231).
"I had a big lead and played good enough to win," Bellatto said. "It was windy, wet and the pin placements were also a big challenge."
Bennett, a breast cancer survivor who was exposed to Agent Orange while serving in Vietnam, won the Greatest in 2012.
"I was sick last fall and the Veterans Administration, in both Youngstown and Cleveland, has provided excellent care so that I can get back to full strength and play in this year's tournament," Bennett said. "They're keeping me alive and this tournament is keeping me motivated."
Scarsella, who has had both knees replaced, credits an early morning tip from Tippecanoe PGA Golf professional Michael Spiech that helped him win for a second straight year.
"It was just a minor adjustment, but kudos to Michael because it worked. This tournament is so well-organized, I now have the opportunity next year to go after Ed Antonelli's record three consecutive tournament wins," Scarsella said.
More like this from vindy.com