YSU's Barchetti, Pluchinsky lead on Day 1
By Greg Gulas
BOARDMAN
GGOV Round 1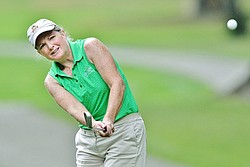 Gallery
Under par is a rare score in any round of Greatest Golfer of the Valley. Friday's opening round netted two such scores — and they were in the same group.
Brandon Pluchinsky carded a 4-under par 66 to take the first-round lead in the Pete Mollica Men's Open Division. Scott Porter, playing in the same group, posted a 68 and is two shots off the pace, with Joey Cilone shooting a par 70 to hold on to third place after 18 holes.
They powered the way for nearly 300 golfers in the seventh annual Farmers National Bank Greatest Golfer of the Valley competition Friday at Mill Creek's North and South courses.
Pluchinsky, the 2016 Horizon League Player of the Year with Youngstown State and the recent Ohio Public Links champion, noted that the goal now is to follow Friday's opening round with another solid round today.
"I wouldn't say that I expected to shoot 66 today, but I did come in expecting to play well," Pluchinsky said. "The course was in good shape for as much rain that we had."
Pluchinsky's round included an eagle, three birdies and a bogey. The Open field will take to Avalon Golf and Country Club today.
"The key Saturday will be to hit it straight because even par at Avalon is a good score," he added. "I'll need to hit the greens and then two-putt for par in order to make a run."
In Ladies Open action, YSU junior Mia Barchetti shot 75 for a two-stroke lead over Ariel Witmer-Adams, the defending division champion.
"I felt like I played pretty good as the course played shorter. I honestly didn't use my driver much, positioning myself with my five wood," Barchetti said. "I will play at Avalon on Saturday and that is a completely different course than Mill Creek. The back is open, but there are still a lot of trees and a little more water. One of my strengths is being able to transition from course to course and I will need to do that tomorrow while blocking out any distractions."
In Men's 5-8 action, Brad Barringer and Dan Stanton shot 72 to tie for the lead with Andy Demofonte and Daniel LaPolla a stroke back.
Struthers product Dan DiLoreto carded 77 to take a one stroke lead in Men's 9-12 play with Rich Perrine's 80 good enough for a one-shot advantage in Men's 13-16 play.
Sean Tisone and John Elias each carded 84 for a two-stroke lead in Men's 17+ action.
Hubbard athletic director Chuck Montgomery holds a two-stroke advantage over Skip Watt and Jim Lessick after carding 74 in the Senior Open Division.
Montgomery's round included 15 pars and three bogeys.
"I came in with the mindset that I had to keep the ball in the fairway and hit the greens. This was a first-time experience and I must say that the competitor came out in me today," Montgomery said. "I hit the ball well and chipped well and didn't make any costly mistakes. I'll need to play as good, if not better on Saturday if I expect to make it to Sunday's finals."
In Senior 10+ play, Don Newell Sr. is at the top of the leaderboard after carding a 72. In Super Senior Division action, John Scarsella's 74 is a stroke better than Gary Woods with Donald Sicafuse, who are two strokes back.
Greatest Golfer veteran Joan Ash shot an 83 for a one-stroke lead over Abby Cook and two-stroke margin over Marilyn Woods in Ladies 9+ action.
"Given the course conditions, I was happy with my play," she said. "I don't hit it long and I don't hit a lot of greens, so I had to rely on my short game. It's just a lot of fun to play in this tournament."
Andy Santor, the Mill Creek PGA head golf professional, thought the scores were good with plenty of competition in all divisions.
"Brandon is an excellent player and that is reflected in the 66 that he shot today," Santor said. "Scott [Porter] and I are both Kent State Golden Flashes and his 68 was just as impressive."
Todd Franko, The Vindicator editor, added that the Greatest event seems to bring out the competitor in everyone.
"The enthusiasm that the players show seven years into this event continues to impress us. There are a lot of bumps in any such event, as usual, but that's why it's spelled 'golf' and not 'love,'" he said.
The 54-hole competition continues today with second-round play slated for Avalon, Oak Tree Country Club, Youngtown Country Club and Tippecanoe Country Club serving as host sites.
The field will then be paired to the final 96 for Sunday's championship round at The Lake Club.
All information can be found on vindy.com/golf.
More like this from vindy.com