Devellins' 50th honored with dinner party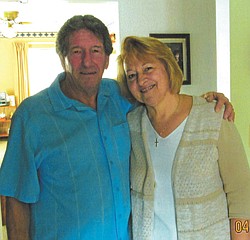 Photo
Mr. and Mrs. Ronald Devellin
YOUNGSTOWN
Ronald and Patricia Devellin of Youngstown were honored for their 50th wedding anniversary at a dinner party on June 25 at the Holiday Inn in Boardman. It was hosted by Linda and Lee Merlo; their daughter, Marci Devellin of Hubbard; and Dan Candiotti.
The former Patricia Ponzianna and Mr. Devellin were married June 25, 1966, at Sacred Heart Church.
Mrs. Devellin is an insurance verification representative for Surgical Hospital at Southwoods in Boardman. She is a member of St. Christine Church.
Mr. Devellin retired in 2000 from General Motors Lordstown where he worked as an assembler. He is an Army veteran and served in Vietnam from 1966 to 1968.
More like this from vindy.com