First DOYO Live conference draws crowd of 200 to YSU
DOYO Live Marketing Conference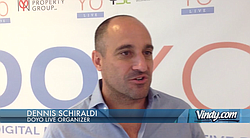 Video
Dennis Schiraldi, Joe Pulizzi, and Danny Catullo discuss social media and marketing at DOYO Live.
YOUNGSTOWN
Be strategic.
Differentiate yourself.
Build an audience.
Then – and only then – try to sell your product.
That's the marketing advice of Joe Pulizzi, a leading professional on content-marketing strategy whose expertise has taken him around the world.
On Thursday, it took him to Youngstown State University's Williamson College of Business Administration, where he delivered the keynote address to the first DOYO Live marketing conference.
The conference drew a crowd of 200 people, an audience that exceeded the expectations of organizer Dennis Schiraldi, founder of local firm CYO Marketing.
"My goal is that it brings up the competency level of marketing and business professionals on these topics in the world of marketing today. ... That's the most-important thing for me to be able to deliver," said Schiraldi. "But also making sure that we stand to our mission and help stimulate the economy by bringing 200 people to the Williamson College of Business. Show this place off. Go to lunch at a restaurant downtown. Hire a couple of people. Freelance some work out. We're very committed to that."
He organized the conference because there's a lack of professional development opportunities such as this for the 200,000 to 300,000 marketing professionals who live within a 65-mile radius of Youngstown, he said.
"This is really the first full, comprehensive marketing conference that is taking place in the Youngstown, Ohio, area," Schiraldi said.
He was excited he was able to bring to town Pulizzi, whom he described as "world-class." Participants also took part in breakout sessions with other speakers, networking opportunities and panel discussions.
Among the workshop speakers was Danny Catullo of local butcher shop Catullo Prime Meats. He spoke about "disrupting traditions."
"My small business has been using digital marketing and social media to take an old-fashioned butcher shop and move it into the new world of e-commerce, and building a sense of followership from our existing clients, but then also to their families who have moved across the country," he said.
His company used content-marketing strategies early on to grow a widespread, loyal following, he said.
"I built a sense of apostles and people that were talking about my brand, so when I did start shipping [products], people already knew about us," he said.
It's exactly the strategy that Pulizzi advocates.
He described content marketing as an "approach where we're going to try to create valuable, relevant, compelling content on a consistent basis to that particular audience we're trying to target. If we do that really well, consistently over time, like a media company would, they [the audience] come to know, like and trust us. If they know, like and trust us, they're more likely to buy our products and services."
It might sound simple, especially given all the social media platforms companies have at their disposal, but Pulizzi explained the pitfalls of relying on, say, Facebook posts to market your company.
"What I see in most companies out there is, they're like, 'Oh great, we can use all these social channels and we're going to spread them out wherever we can – basically throw up on our audience – with information they don't really want,'" he said. "The better thing is to really focus and be strategic about it."
To that end, he suggests that businesses target a specific audience and come up with something unique they can offer to that group – not just content for content's sake, a common mistake he sees from many companies.
From there, he said, it's crucial to be patient. It's not a six-month-long campaign, but a yearslong process to build an audience that will become customers.
"In this area you have a lot of small and midsize business. You have a lot of manufacturing business. Service-based businesses. It's honestly all the same," Pulizzi said. "You're just looking at, 'Who is that particular audience?' And we want to go niche of a niche. We want to go as small as we possibly can. I don't care if that audience is 100 or 1 million.
"Really focus on the needs of that audience, and then give them something amazing on a consistent basis. It's not rocket science."
More like this from vindy.com