---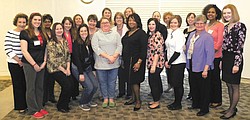 Photo
Members at the April meeting of the Junior League of Youngstown joined in planning the seventh annual Kentucky Derby party. From left, they are Deb Hartig, Paige Rassega, Paula Gilliam, Danielle Surko, Kristen Miller, Lauren McNally, Sara Wenger, Kim Urig, Heather Elder, Maggie Matune, Pam Nock, Beth Drennen, Cheryl McArthur, Laura Rumble, Anna Masi, Cathy Campana, Jennifer Soloman, Kelly Kiraly, Susan Stewart, Kera Simmons and Tara Mady.
Staff report
BOARDMAN
The Junior League of Youngstown is planning its seventh annual Kentucky Derby Party on May 7 at The Embassy, 5030 Youngstown-Poland Road.
The community is invited to join the Junior League members to raise funds to support Junior League endeavors.
The fundraiser will feature a simulcast of the race, hat contest, photo booth, bag raffle, silent auction, 50-50 raffle and dinner and dancing.
Emcee for the event is Stacia Erdos of United Way of Youngstown and the Mahoning Valley.
For tickets or information about joining the Junior League of Youngstown, visit www.jlyoungstown.org or call 330-743-3200.
The Junior League is creating a scholarship fund that will provide a $1,000 annual scholarship to a female residing in Mahoning, Trumbull or Columbiana counties, who volunteers to improve her community.
The international affiliation is The Association of Junior Leagues International Inc. (AJLI), an organization of women committed to promoting volunteerism, the potential of women and communities through effective action and leadership. Education and charity are its exclusive purposes.
The Junior League of Youngstown has been serving the Valley for 86 years and its work includes projects such as Hope House Visitation Center, Oh WOW! Children's Museum, Daybreak, Ronald McDonald House, Woman-to-Woman, Leadership Mahoning Valley, Akron Children's Hospital Healthy Kid's Coalition and other community organizations.