The Courthouse Inn & Restaurant Verdict favors vegetarian fare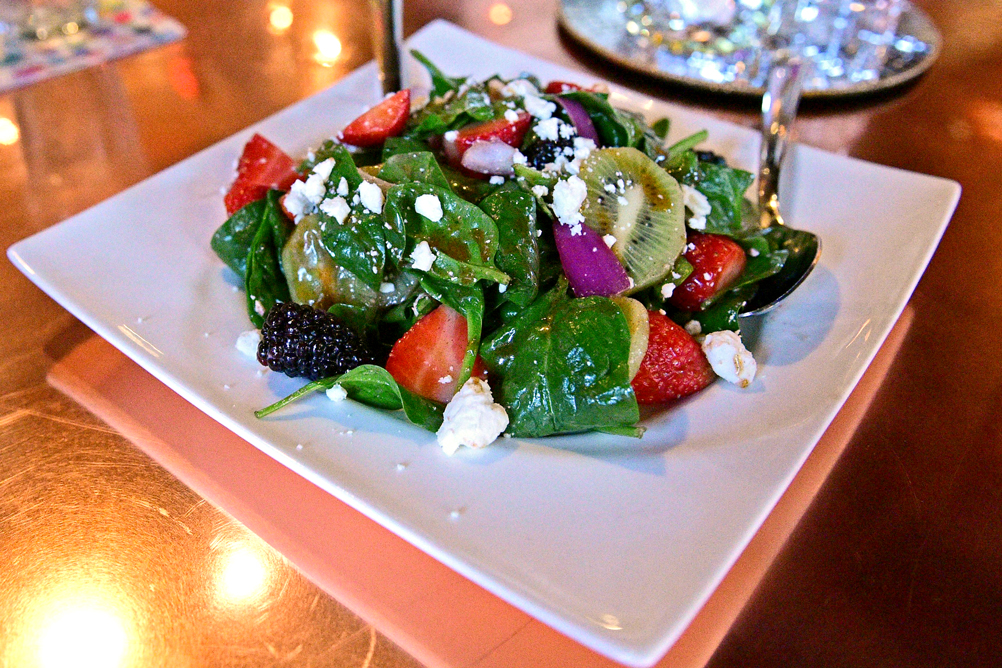 ---
If You Go...
Courthouse Inn & Restaurant
Address: 116 W. Lincoln Way, Lisbon
Phone: 330-870-4216
Hours: 7 a.m. to 10 p.m. Monday through Thursday; 7 a.m. to midnight Friday; 8 a.m. to midnight Saturday; and 8 a.m. to 10 p.m. Sunday
Signature Dish: Vegetarian
Website: thecourthouseinnandrestaurant.com
LISBON
From the entry doors to the courtyard in the rear, each step within the Courthouse is a feast for the eyes.
A copper-top bar, hand-made floor tiles, rich wood on the inside and jade stone tables and chairs outside, the attention to detail is amazing. Built in 1802, the Courthouse Inn on Main Street in Lisbon is the oldest brick building in Ohio.
After 11 years of painstaking renovation, the restaurant and bed and breakfast opened in January by owners Renee Lewis and Michael Spirtos. On our visit, we were fortunate to be led on a tour by Renee, who explained the historical roots of the building as she enthusiastically pointed out the details of each room and corridor. She clearly has invested much more than money in the walls and fixtures; this was a labor of love.
Once seated in the dining area, we were joined by Jennifer Pitts, who manages the facility. Jennifer explained that Chef Christopher Jenkins has developed a vegetarian menu that showcases fresh, local ingredients. The Courthouse Inn serves breakfast, lunch and dinner, and will change its menu to match seasonal offerings.
Our loyal readers – all three of you – certainly know that we are carnivores at heart. Admittedly, neither of us have much experience with vegetarian food, and we were a bit uncertain of how the meatless courses would satisfy.
But with open minds and empty bellies, we were ready to sample.
Every dinner table gets a complimentary appetizer of Fried Sweet Potato Chips served with a mirin cream sauce. Mirin is a type of rice wine with a low alcohol but high sugar content. This is mixed with brown sugar and Vegenaise to make the sauce. Vegenaise is an organic sandwich spread and dressing that delivers the taste of mayonnaise without eggs, dairy products, refined sugars or preservatives. The crispy, slightly salty chips paired well with the sweet creamy dip to make for a nice starter.
A wonderful Bruschetta was served next. That consisted of crostini topped with olives, feta, garlic, tomatoes, onions and parmesan cheese, and was topped with a dressing made of blueberries, balsamic vinegar and sugar that is pressed to concentrate the flavor.
You get an array of tastes with this dish. Saltiness from the cheeses, sweetness from the dressing and some acidity from the tomatoes. The crunchy bread provided texture. A well rounded, delicious appetizer.
Next up was a Spinach Salad. This course really highlighted the quality of the ingredients used by Chef Jenkins: a generous amount of fresh spinach topped with red onions, blackberries, kiwi, strawberries and feta with a blueberry vinaigrette.
The dressing was slightly tart to contrast the plump, sweet berries. A simple salad elevated by the freshness of the ingredients, and visually appealing.
Our entree was then presented: Eggplant Milanese over risotto topped with arugula salad.
Chef Jenkins uses thin slices of eggplant that are breaded with a mixture of fresh basil, cilantro, parsley, parmesan and bread crumbs. This is pan-fried until brown and crispy.
The risotto was prepared with vegetable stock, white wine, butter and parmesan.
The arugula was mixed with parmesan and toasted pine nuts. The dish is then finished with a lemon sherry butter sauce.
The risotto was creamy and cooked perfectly. The eggplant had great flavor and texture. The arugula was fresh and added a nice peppery flavor. The lemon butter sauce was the perfect complement. The citrus added a nice pop to enhance the flavor of the other ingredients. It was a well-constructed, superbly executed dish that satisfies.
Our table seating gave us a direct view of a large display of house-made desserts.
Mike couldn't keep his eyes off the German chocolate cake, so it was quickly evident we couldn't leave without trying the decadent sweets.
Actually, we sampled three.
First up was the aforementioned cake – dense with great chocolate flavor topped with the traditional coconut frosting. We also tried a healthy slice of peanut butter pie and red velvet cake. Both were rich and delicious.
Be sure not to skip dessert when visiting The Courthouse Inn and pair it with a coffee from the in-house coffee shop. A sweet ending to a great meal.
The Courthouse Inn and Restaurant serves up attention to detail in its food and atmosphere. Take a trip to Lisbon to enjoy a delicious piece of history.
If you have a favorite place, please email us at brothersinfood@gmail.com with your suggestion.
More like this from vindy.com