---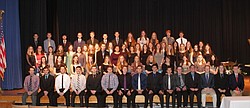 Photo
Neighbors | Submitted.Students inducted into the National Honor Society at Poland Seminary High School display quality of character, scholarship, service and leadership through community service.
Sixty -five juniors and seniors from Poland Seminary High School were inducted into the National Honor Society at the NHS induction Ceremony. A candlelight ceremony was held on Feb. 17.
The inductees were all admitted based on the qualities of character, scholarship, service and leadership. The newly inducted students displayed all these characteristics through many hours of community service. The students also were required to have a minimum grade point average of 3.5 to be considered for the honor of being inducted.
These new inductees now will continue with their community service in order to make our town a better and more beautiful place.
This year's new members are Sarah Albert, Shelby Berend, Melanie Black, Layne Black, Avery Blasko, Rachel Boano, Sarah Burkert, Emily Cammack, Angela Cherol, Tony Chiaro, Andrew Comstock, Gavrielia Constantine, Elise Cowles, kara Detoro, Marc DiGregorio, Camryn Doctor, Jordon Downie, Christopher Economus, Jennifer Eich, David Esarco, Sydeny Frost, David Gessler, Amber Green, Seth Hammond, Nora Hernon, Jacob Hackensmith, Zachary Jacobson, Jacob Jeges, Michael Kluchar, Peter Koulianos, Logan Kountz, Justine Kramer, Kara Kushner, Dominic Lattanzio, David Leach, Noah Lee, Anthony Lefoer, Brendan McBride, Kyle McCree, Marina Mediati, Macy Metzger, Jack Minehart, Claire Morris, Anthony Murcko, Briana Musolino, Nathan Nord, Connor O'Kane, Padraig O'Shaughnessy, Heather Peloza, Jillian Penman, Isabells Ricottilli, David Robich, Alyssa Romito, Audrey Schweers, Paige Shoemaker, Juliana Sienkiewicz, Noah Smith, tessa Snider, Rachel Stahl, Sarah Swogger, Gina Ungaro, Kasey Valentini, Mary VanSuch, Juliana Villani and Amanda Wire.
Gwyn Basista is the advisor of the NHS, an organization that continues to make a positive impact in the community and school.