Bourbon House 45 offers wood-fired burgers ... Southern STYLE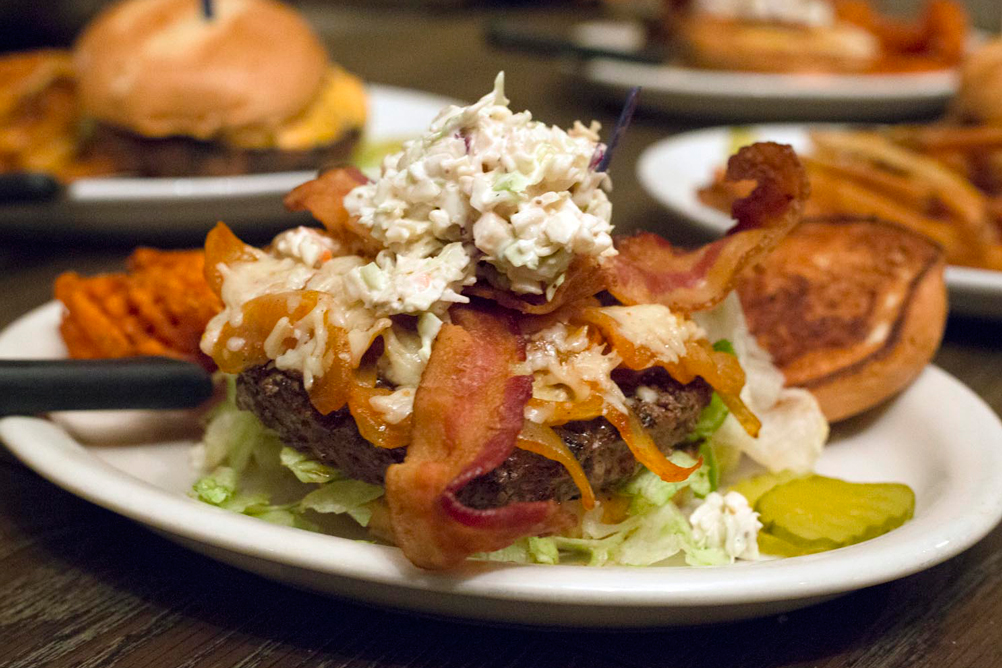 ---
If You Go...
Bourbon House 45
Address: 775 Mahoning Ave. Warren, Ohio
Phone: 234-223-2730
Hours: Mon: Closed, Tues - Thurs: 11am - 10 pm, Fri - Sat: 11am - 11pm (bar open until 2:30am), Sun: 11am - 9pm
Menu: 6 burgers ($8 - $10)
Website: www.Bourbonhouse-45.com
Rating: 4 1/2 stars
BurgerGuyz@hotmail.com
It's been said you have to go to the DEEP South if you want authentic Southern cuisine. You have to go beyond the French Quarter and past Bourbon Street to find the hidden gems.
Looking over the menu at Bourbon House 45 there are some tempting Cajun, Blackened, Creole and Bourbon-glazed dishes - and you can also try alligator. So we knew we found our area's version of the Deep South.
Brittney Parker greeted us and told us a little about the Southern foods available, and then put us in the capable hands of our server Brandon Brazina.
Though alligator sounded tempting, we flipped to the burger section of the menu. Offering six half pound Angus burgers, we each found one that suited our tastes: All American Cheese Burger (topped with American cheese, lettuce, tomato, onion, on a grilled hard roll); Dirty South Cajun Burger (Cajun spiced and blackened in a cast iron skillet topped with lettuce, tomato, red onion and our Cajun remoulade sauce on a grilled hard roll); Pulled Pork Burger (topped with our BBQ pulled pork on a grilled hard roll); Bourbon House Deep South Burger (loaded with grilled bourbon onions, bacon, and a mix of Asiago & Mozzarella cheese, topped with coleslaw all stacked on a grilled hard roll); Bourbon Glazed Black Angus (brushed with our signature sweet bourbon glaze topped with lettuce, tomato, on a hard roll); and the Texas Burger (topped with bacon, American cheese and our bourbon BBQ sauce and onion rings).
All the burgers come with your choice of hand cut fries or sweet potato fries.
While we waited for our burgers we enjoyed some delicious home made corn bread.
I went with the Bourbon House Deep South and thought the wood-fire grill gives the burger a great flavor. It resonates on your taste buds with each bite. When you combine that with the perfect amount of spices, you take a bite, close your eyes and you might think you hear zydeco music in the background. The meat was cooked medium with a juicy strip of pink in the middle, and tender as can be. The bourbon grilled onions and Asiago/Mozzarella cheese mix added a nice double shot of flavor. Rounding out this great burger for me was a side of sweet potato fries. They also were cooked perfect, with a soft center and a crispy outside. I was more than happy with everything about this burger.
Knuckles had the Pulled Pork Burger, and remarked, " This 1/2 lb Black Angus burger was topped with Bourbon House BBQ pulled pork on a grilled hard roll. Hoping that a BBQ place with steaks, ribs, burgers as well as "gator wings" on their menu would know how to cook a burger, I ordered my Burger medium, and upon cutting into the great looking burger, that is exactly what I got! A perfectly cooked Medium burger smothered in great looking pulled pork. First bite and the wonderful smoky flavor and juicy beef blended nicely with the juicy pulled pork although something about it was a bit on the salty side. I separated the Burger and Pulled pork and again, the flavor and juicy burger were perfect. A TRUE 5 KNUCKLE Burger!! The Pulled Pork on the other hand was very tender but salty, but adding an additional amount of their Bourbon BBQ toned down the salt and allowed the pairing of Pork and Beef to become friends again. All in all, the Bourbon House Pulled Pork Burger gets a 4 Knuckle punch as their wood fired Burger is one that you would return again and again for!"
Eric went with the Bourbon Glazed Black Angus, and said, "Being a fan of both burgers and bourbon, this was a magnificent pairing. The beef itself was cooked to temperature exactly as I had requested, and had a really great flavor. I could definitely tell it had been cooked over the wood fire, as that just added a very unique flavor that you don't see too often from any establishment. The bourbon glaze itself was also something different and did nothing but complement an already delicious burger."
Johnny "Gotham" went with the Dirty South Cajun burger, noting, "It was cooked to a perfect medium temperature. The Cajun spices along with the Cajun sauce was a perfect mixture to bring a little taste of the South to the Mahoning Valley. This burger was accompanied by fresh hand cut seasoned fries which were also very tasty. It was almost like having fair fries."
Spatman had the Texas Burger and said, "This burger is a robust blending of a 1/2 pound black Angus patty, nicely seasoned and grilled over a wood fire which sealed in the flavor and kept it juicy. Topped with a great combination of bacon, American cheese, BBQ sauce and onion rings, it delivers a flavor that the taste buds savored. It was served on Texas toast and sided with seasoned fries and it delivers on the motto -- Remember the Texas Burger. A high 4 out of 5 on my wet-nap scale.
If you are driving through Warren, look for the Bourbon House 45 sign. It's not the Deep South, but after you walk in, sit down and try some of this food, you may think twice what part of the country you are in.
Cheeseburger Madness
We hope you've been following The Meat 16. You can keep up with all the results on the BurgerGuyz Facebook page and www.Vindy.com/weblogs/burgers
Keep reading the Valley food section each Wednesday for the best food the Valley has to offer.
If you think you know where the next Burger of the Year is, send the info to BurgerGuyz@hotmail.com, or on our Facebook page BurgerGuyz
More like this from vindy.com