Published: Wed, September 23, 2015 @ 12:00 a.m.
If You Go...
Just Fred's
1472 Churchill Hubbard Rd
Youngstown, Ohio 44505
Phone: 330-759-2789
Hours: M - F: 7 am - 8 pm
Sat - Sun: 7 am - 3 pm
Menu: 8 burgers on the regular menu, and 8 more on Just Fred's Burger Night (Wednesdays)
$5 - $9.95
Facebook: Just Fred's
Rating: 4 1/2 stars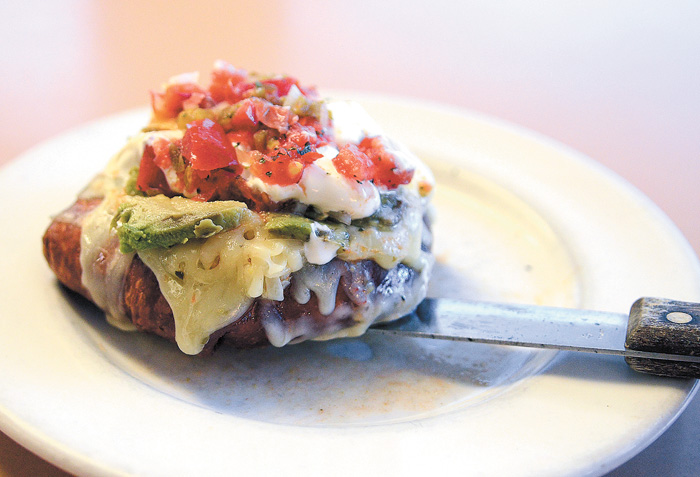 Photo
The "Fiesta Burger" at Just Fred's features 1/2 lbs taco seasoned burger wrapped in fried tortilla and topped with sour cream, pepperjack, lettuce, guacamole and homemade pico de gallo.
By Anthony M. Fuda
BurgerGuyz@hotmail.com
You might have known it by another name, but now it's Just Fred's.
After a bitter battle where there was a lot of he said, she said - finally - it became Just Fred's.
And Just what makes Fred's tick is FAMILY.
Owner Fred Brown says, " Just Fred's is a family business," and considers everyone who works there part of a big family. "The customers are also part of the family." Fred says some people eat there five to six times a week, and the employees know them by name and talk to them like they are more than customers.
He added, "Just Fred's could not have been done without the assistance of the employees; Rick, (manning the grill); Amber, (the GM who does a little bit of everything at Just Fred's); Lylia, and Cindy, (who make all the soups and pies for scratch every day); and the rest of the associates."
Fred adds that this place "is the last of the true family restaurants." Weekdays they close at 8 pm and weekends at 3 pm, so the staff can go home and spend that quality time with their families.
He says, "One of the keys to holding the place together is that we use all local vendors - from beef brought in fresh four times a week; to select premium produce; to the freshest buns. In fact, the vendors also eat here quite often."
Fred says when you walk into the restaurant, he wants you to feel like you're home, adding he's a hometown boy who wants to take care of his "family."
We might be the BurgerGuyz, but when we walked into Just Fred's, we became part of their family. Cheryl Binion was our server, and treated us like we have been eating there every day.
Just Fred's showed up on our radar when they entered this past Battle of the Burgers as a long shot, and came out with four trophies -- Chef's Choice; 1st for Best Not a Burger Burger; 2nd for Bacon Cheeseburger and Classic Burger. So we knew they were serious about their burgers. We knew they were good, but after our review we were blown away at how good they actually are!
The regular menu offer 8 half-pound burgers: Classic, Cheese, Texas (melted cheddar, bacon, onions straws, BBQ sauce), Breakfast (ham, bacon, American cheese, over medium egg on grilled Texas toast), Chili Cheese (chili, melted cheddar), Philly (grilled onions, mushrooms, peppers, provolone), Patty Melt (grilled onions, melted Swiss on rye), and Mr. B's (2 1/2 lb. burgers smothered in grilled peppers, onions & mushrooms. Topped with American, provolone cheeses, 2 slices of bacon).
And if that's not enough choices, Wednesday is Just Fred's Burger Night, so they add 8 more burgers: Black-N-Bleu (creamy bleu cheese, crumbled bacon. topped with 2 strips bacon, Swiss cheese, lettuce, tomato, onion), Jalapeño Bacon Cheddar (stuffed with jalapeños & pepper jack cheese. topped with 2 strips bacon, cheddar, on a pretzel roll, lettuce, tomato, pickle, onion), Greens (stuffed with homemade Italian greens, provolone, fried hot pepper on grilled garlic bread. served with homemade spaghetti sauce), Wild Pitch (cheese, slaw, fries, BBQ sauce), Fiesta (taco seasoned burger wrapped and fried in a flour tortilla topped with pepper jack, sour cream, lettuce, pico de gallo, guacamole), Peter Piper's Pickled Pepper (Stuffed with pepper jack, banana pepper rings. Topped with 2 spicy fried pickle spears, provolone, ranch dressing, lettuce, tomato, onion on a soft pretzel bun).
They also have a Vegetarian Black Bean Burger and a Portobello Burger for the non-meat eaters.
Just Fred's featured another special burger. As you walk into the eatery, there is a hand-written wall of specials, and on this night it was the Vermont Apple Pie Burger (1/2 lb burger topped with cinnamon apple slaw, salted caramel sauce, cheddar cheese, on a cheddar bun). We ordered one to split amongst us, and we all thought it was delicious and should be considered a dessert burger. JT said, "You can get your dinner and dessert in one sandwich."
You can side your burgers with some fresh-cut crispy fries, add a splash of vinegar, and complete a great meal.
I had the stuffed Greens Burger, and was amazed how tender the greens were. The perfectly cooked burger came out between two pieces of grilled garlic bread, and when you bit into the burger, all the flavors complemented each other very well. With each bite, you could savor the greens, the hot pepper and the nicely seasoned beef. It was like they were all working together to please your palate. This is one of the best burgers I've had, and plan on making many repeat visits.

Scott had the Wild Pitch and said,"This is one of those burgers that you don't have to add anything to as you enjoy the delicious flavors. That's how you know you have a great burger."
Spatman had the Peter Piper Pickled Pepper Burger, and said, "The burger came out well done, just the way I like it. This combination exploded with taste from the first to the last bite and left my taste buds wanting more. This burger and pretzel roll held up nicely to the end. With great service at a great price this burger experience rates a 4 1/2 out of 5 on my wet-nap scale. Definitely worth a return visit."
JT noted, ""Talk about a tough decision! This is the most unique burger menu we've seen in awhile. Some awesome creations! Mad scientist burger chef, Rick Lohr is really on his game! I just couldn't pass up the Fiesta Burger. Who doesn't want to try a burger wrapped in a tortilla and deep fried? It was amazing, as was the Vermont Apple Pie Burger that I sampled!" He also remarked, and we all agree, "Fred has something special going on here!"
Just Fred's put in a strong showing for the coveted Burger of the Year Award. They definitely earned all their accolades with their great homemade products. We recommend having any of their burgers, and you'll agree these burgers are amazing, and you, too, will become part of the Just Fred's family.
Keep reading the Valley food section each Wednesday for the best food the Valley has to offer.
If you know of a burger that should be on our hit list, send the info to mvbrb@hotmail.com, or on our Facebook page: BurgerGuyz.