Youngstown walks against heroin in rainy weather
RELATED: • Valley addict: I'm not a monster, but system has given up on me
• Heroin epidemic puts pressure on schools to get antidote
By BRANDON KLEIN
bklein@vindy.com
YOUNGSTOWN
Walk Against Heroin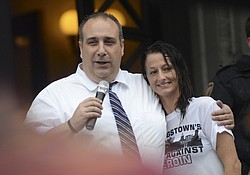 Gallery
Heroin was the short-term solution to all of Anthony Dailey's problems for the past eight years.
But the drug just made things worse for the 27-year-old Salem resident.
"I lost everything to heroin," he said. "It ruined my life."
Dailey has been clean from the illegal and highly addictive opioid drug for more than 80 days. He was among the participants in the Youngstown Walk Against Heroin on Saturday afternoon.
The light-to-moderate rain showers did little to deter the hundred or so people who walked from Community Corrections Association Inc. at Market Street and Delason Avenue to the Mahoning County Courthouse downtown.
Participants huddled together on Market Street, some under umbrellas, as they listened to several speakers in front of the courthouse. Speakers included parents who lost their children to heroin addiction and recovering addicts.
"It's an epidemic," said keynote speaker Leonard Campanello, a police chief in Gloucester, Mass. He co-founded the Police Assisted Addiction and Recovery Initiative, which aims to bridge the gap between police departments and opioid addicts seeking recovery.
Heroin use has increased among men and women, most age groups and all income levels across the nation, according to U.S. Centers for Disease Control and Prevention. Between 2002 and 2013, the rate of heroin-related overdose deaths nearly quadrupled, and more than 8,200 people died in 2013.
Trumbull and Mahoning Counties had 104 drug-overdose deaths in 2014, most of them attributable to heroin, health officials reported.
Nicole Walmsley, the walk's organizer, was selling T-shirts and bracelets to participants to cover costs and to support Solace of the Valley, a local organization that deals with addiction-related issues.
She said she hopes the event will cause change in the Mahoning Valley and show that local law enforcement cares. Police departments that participated in the event included Youngstown, Austintown, Beaver, Hubbard Township and New Middeltown.
"Youngstown does care," Walmsley said.
She organized another walk in Ravenna in June that brought out a similar turnout.
The Medina resident was a heroin addict for seven years, but has been clean for the past two years. She said the late Judge James C. Evans of Mahoning County Common Pleas Court gave her a second chance by sending her to CCA.
"This city is the one that saved my life," she said.
More like this from vindy.com