GM execs driven to fuel Valley United Way's Day of Caring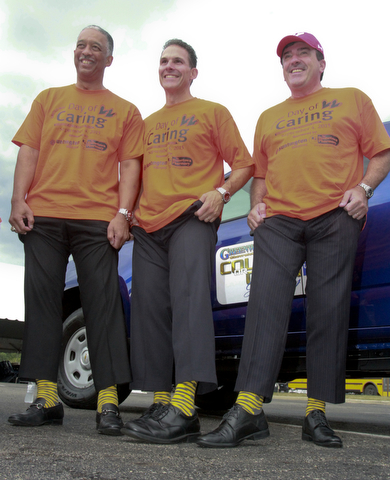 ---
By BRANDON KLEIN
bklein@vindy.com
YOUNGSTOWN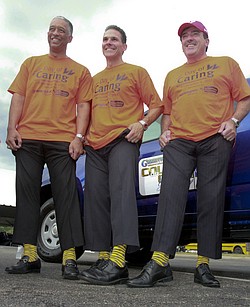 Photo
William D Lewis The Vindicator From left, Arvin Jones, GM North American manufacturing manager; Steve Notar Donato, GM Lordstown plant manager; and Alan Batey, GM North American president wear special socks for United Way of Youngstown and the Mahoning Valley's Day of Caring.
John Wroblewski was named head coach of the Youngstown Phantoms in July, but on Friday morning he was just one of the volunteers clearing debris and junk from blighted homes on East Auburndale Avenue.
"To see the community rally around this is awesome," he said.
Volunteers sported orange shirts to recognize United Way of Youngstown and the Mahoning Valley's 18th annual Day of Caring. About 700 volunteers came out for the kickoff breakfast at the Covelli Centre before heading out to do service projects in conjunction with United Way's 16 partner agencies.
"It's our largest [event] ever," said Bob Hannon, United Way president and chief professional officer.
The event kicks off the 2015 United Way Campaign. Hannon announced that United Way raised $845,818, or 33 percent, of its $2.6 million goal for the campaign.
Alan Batey, General Motors president of North America, arrived from Detroit on Thursday night to speak at the kickoff. He announced that this year GM will match contributions to United Way from employees across the nation including those at the General Motors Lordstown Complex, where the best-selling Chevrolet Cruze is built.
"It's when we give that truly makes a difference," he said.
Last year, the Lordstown plant raised $145,000 for the United Way of Youngstown and the Mahoning Valley and $121,000 for the United Way of Trumbull County, said United Auto Workers Local 1714 President Robert Morales, who represents the fabrication plant workers.
Hannon said GM was its biggest supporter. About 30 GM employees attended the event.
"That's a beautiful car," Hannon said.
The event brought together volunteers from 54 businesses and organizations. There also were 55 students from Boardman, Valley Christian and Summit Academy schools. About 400 United Way volunteers helped revitalize the South Side neighborhood in partnership with the city and the Youngstown Neighborhood Development Corp.
"We can't do it alone," Hannon said.
Those who donate $5 a week, or $260, to the campaign are entered into a drawing to win a Chevrolet Colorado or $15,000 cash donated by the Greenwood Chevrolet dealership in Austintown. Five finalists are picked from both the United Way of Youngstown and Mahoning Valley and the United Way of Trumbull County. The drawing is done in January or February.
The event was sponsored by Huntington Bank and Hometown Pharmacy.
"At Huntington, we believe in doing the right thing," said William Shivers, the bank's Greater Akron/Canton region and Mahoning Valley region president.
"We've gone from funding organizations to really impacting community needs," said Garry Mrozek, chief executive officer at Hometown and who serves on United Way's board.
More like this from vindy.com