Quality ingredients bear fruit at the Lime Tree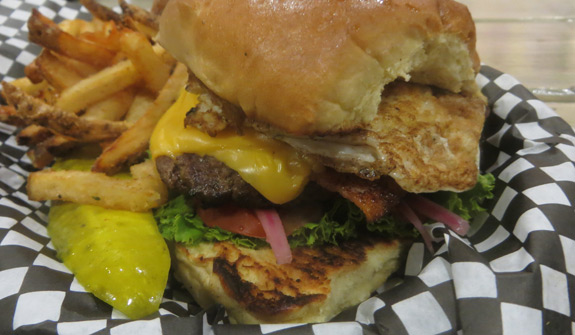 ---
If You Go...
The Lime Tree Sandwich Gallery
187 W Market St
Warren, Ohio 44484
Phone: 330-395-5463
Hours:
Monday: 11am - 4 pm
Tues - Thurs: 11am - 8 pm
Fri - Sat: 11am - 10 pm
Menu: Build Your Own Burger ($6.99 - $8.49, plus .50, $1 or $2 per topping)
Website: www.limetreesandwich.com
Rating: 3 stars
By Anthony M. Fuda
BurgerGuyz@hotmail.com
It takes a lot of time, patience and quality growing materials to grow a healthy, fruit-bearing lime tree.
The same goes when you make a great burger. In the restaurant business if you want to put out a great burger, you have to work with high-quality ingredients and put time into it.
And that is exactly the thought process at the Lime Tree. Kristin McLennan, co-owner of The Lime Tree (with Travis Taylor), says, "We take quality very serious." She says they also believe in "keep it simple, but do it right."
Walking into the restaurant, you see a spacious area with paintings adorning the walls. There is also a 20-foot long community table where you can host almost any event, and a perfect place for a Burger Review.
"What impresses me the most about the Lime Tree is the atmosphere and the cleanliness. Whoever was assigned to renovate the 100-plus year old building did their job," JT said.
We were welcomed by our server, Patrick Matey, and he made sure we had everything we needed during our burger feast.
The menu follows their quality and keep it simple code, and offers seven burgers, with a choice of a 1/4 lb or 1/2 lb patty. They are: Downtown (fried egg, American cheese, bacon, lettuce, tomato, pickled red onions), Courthouse (arugula, fig jam, caramelized apples and onions, bleu cheese), Black & Bleu (Cajun seasoned, lettuce, tomato, onions, bleu cheese), House (lettuce, tomato, onion, pickles, choice of cheese), BBQ (lettuce, tomato, onion ring, American cheese, BBQ sauce), Mushroom & Swiss (sautéed mushrooms and onions, lettuce, tomato, Swiss cheese, mayo), and Zesty (lettuce, tomato, onion, house pickled peppers, pepper-jack cheese, chipotle aioli).
They are phasing this menu out, but you can still order these burgers as part of the Build Your Own Burger (BYO) menu, just paying for the individual toppings.
The Build Your Own option makes the number of burgers you can create almost endless. Included in the BYO is cheese, tomato, onion, pickle, and mayo. The $0.50 toppings are: extra cheese, fried egg, mushrooms, cranberry ketchup, grilled onion, ranch, arugula or mixed greens, onion rings, caramelized apples, kraut, and special sauces. The $1 toppings are: bacon, fig jam, fresh slaw, cheese sauce, gravy, and braised red cabbage. The $2 toppings are: pulled pork, roasted veggies and gyro meat.
The burgers are nestled between a toasted brioche bun and sided with seasoned French fries and a pickle spear.
If you are a fan of craft beers, they have a number of them available to complement whichever burger you choose.
I went with a half-pound Downtown Burger and enjoyed the combination of flavors. The burger had a strong char to it and came out medium well, where I usually like it medium and more pink inside, but the fresh toppings made this a good burger. The egg was cooked a nice once over and oozed out as I attacked my burger, and made each bite a true delight. The toppings tasted like they were picked right from the garden as soon as I ordered my burger. Anytime you can get lettuce and tomato this fresh, it really adds to the flavor of the burger. Combine all of that with a couple of crispy pieces of bacon, and you have the makings of a solid burger meal.
Scott chose the Black & Bleu and said, "The bleu cheese was prevalent, but had to fight very hard with all the seasoning on the meat. And the Cajun seasoning added a different dimension to the cool bleu cheese."
Spatman had the Mushroom & Swiss, and said, "The well seasoned half pound burger patty combined with the sautéed mushrooms and onions, and smothered with swiss cheese and mayonnaise was a taste sensation for my taste buds that didn't stop till the last bite. A really good burger, the Mushroom and Swiss is a must try. A 3 1/2 on my wet nap scale."
Eric, always looking spice in his burger, went with the Zesty, saying, "It included lettuce, tomato onion, house pickled peppers, pepper jack cheese, and aioli. For some extra "zestiness" I added some chipotle mayo. The all round flavor of my burger was wonderful. The beef was cooked medium well perfectly. The bun had a very fresh taste to it. Although the bottom half had a rough time holding up against the onslaught of toppings, it didn't have a big impact on my burger experience. As for the aioli, I was unfamiliar with what it was when I first noticed it on the menu but was intrigued by the name alone. A quick search on Bing let me know it's a sauce made of garlic, olive oil, lemon and egg yolk. I can honestly say it was a very tasty addition to an already enjoyable hamburger."
JT had the 1/4 lb Downtown, and said, "I am a procrastinator when it comes to picking my toppings from a "build your own" menu, so I ordered the 'Downtown' burger from the old menu. At other establishments it might be called the Breakfast Burger. I chose the 1/4 pound version, medium-well. Even though Patrick explained that quarter pound burgers aren't cooked to order, due to their thinness, I stuck with the lighter patty, which proved to be a bit dry. But, the thick cut bacon, egg and very fresh toppings made the burger enjoyable. Maybe the next time I visit All-American Comics, (just a few doors East), I'll stop in for an ice-cold can of beer and give the half pounder a try."
If you are in downtown Warren and looking for something different, stop by the Lime Tree and enjoy a burger, just the way you like them. The Lime Tree also has events like Paint Nite, an evening of Jazz, or local bands -- and you can always just check out the art gallery featured throughout the restaurant.
Keep reading the Valley food section each Wednesday for the best food the Valley has to offer.
If you know of a burger that should be on our hit list, send the info to mvbrb@hotmail.com, or on our Facebook page.
More like this from vindy.com