Wick Tower grand opening continues downtown momentum
THE WICK TOWER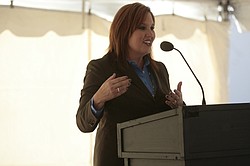 Gallery
The Wick Tower officially opened today with apartments and extended stay rooms available in downtown Youngstown
By KALEA HALL
khall@vindy.com
YOUNGSTOWN
The late Attilio Marchionda told his son, Dominic J. Marchionda, to have patience.
Attilio's son had plans to leave Youngstown, where he was born and raised.
But Attilio, an Italian immigrant steelworker, convinced his son otherwise in 1984.
"It was all about family and community," Dominic Marchionda, CEO of NYO Property Group, said Monday at the ribbon cutting for the multimillion-dollar project to turn the 100-year-old structure at 34 W. Federal St. into the Wick Tower apartment complex with extended-stay housing units. "He truly believed in the long run this was the place. He believed in Youngstown. I wish he could be here."
If not for his father's influence, NYO's project to revitalize the Wick Tower downtown may never have come to fruition and the momentum to bring back downtown wouldn't have continued.
His father reminded him: "Youngstown is a great place to raise a family, and if you have enough patience, it will come back."
"Thirty years later, here we are," Marchionda said.
A large crowd gathered next to the tower prior to Monday's event to hear about the project that took more than 18 months to complete.
"It's important for me to acknowledge it was a collaborative effort from the city and the state of Ohio that brought this project to fruition," Marchionda said.
In 2014, the city's board of control approved a financial package for the Wick Tower that included a $2.6 million loan with 3 percent interest to be paid back within 18 months, a grant of up to $500,000 for water and wastewater improvements, and a 100 percent, 12-year real-property tax abatement.
The state will provide $3.7 million in tax credits, and the federal government will give about $3 million in tax credits, which will be used to pay back the city.
The project had its challenges in the efforts made to make sure the historical pieces of the building were kept intact, but the reward of doing so makes it all worth it, Marchionda said.
The tower brings 35 apartments downtown and 14 extended-stay housing units. It also will bring a new restaurant downtown. The name of the restaurant hasn't been announced.
"In my mind, [the tower] will contribute to the revitalization that will make this city great again," Marchionda said. "I wholeheartedly believe we are going to be one of the greatest comeback stories of any small city, and it's going to be all of our story to tell."
To Mayor John A. McNally, the Wick Tower continues the momentum downtown.
"The momentum will not stop with this project," McNally said.
U.S. Rep. Tim Ryan of Howland, D-13th, reminded the crowd about the partnership it took to complete the project – a true Youngstown characteristic.
"Everyone checks their egos at the door for the most part, and we get it done," Ryan said. "I think people from outside the Mahoning Valley are really starting to see what's happening here."
Lt. Gov. Mary Taylor knows this area, other areas of the state and even Ohio may not always have best reputation, but that's changing.
"What's helping is we are all talking about it," Taylor said at Monday's ribbon cutting. "I think you are right: The momentum is behind the city."
Marchionda knows the city hasn't come full circle, but he believes in the city, like his father, and he sees the enthusiasm people have for it.
The next project for NYO is the Stambaugh Hotel Project, where the Stambaugh Building, 44 E. Federal St., will be converted to a 120-bed hotel with a restaurant and banquet facility.
"We will make that project happen," Marchionda said.
More like this from vindy.com