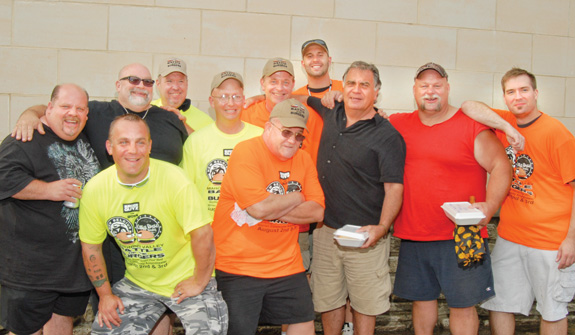 ---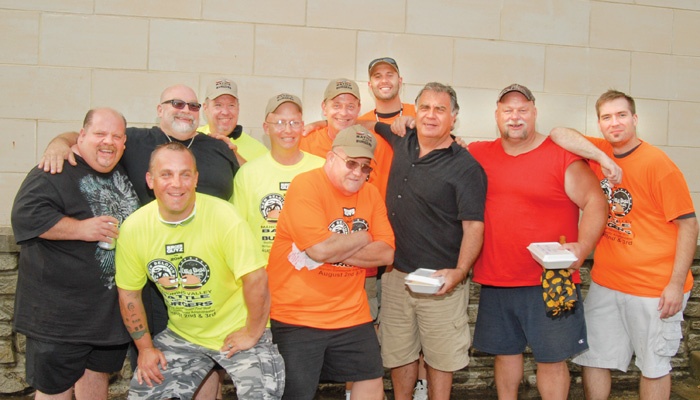 Photo
The crew of the "Fat N' Furious" television show and the Burger Guyz will team up Saturday for two events in downtown Youngstown: a car show and the Battle of the Burgers II. In the front row are Jim "Knuckles" Murphy and John Spatar (arms crossed). In back, from left, are Chuck Kountz and Tommy Christmas (from "Fat N' Furious"), Scott Long, Anthony Fuda, JT, James Chizmark, Andy Pivarnik and Steve McGranahan (from "Fat N' Furious") and Eric Tranovich.
By ANTHONY M. FUDA
YOUNGSTOWN
Two great competitions will take place together next weekend.
The second annual Battle of the Burgers and the Youngstown Thunder Car Show will take place as part of the Burgers, Beards and Brews festival on Friday and Saturday on North Phelps and West Federal streets in downtown Youngstown.
The Battle of the Burgers will take place Friday from 3 p.m. to midnight, and Saturday from noon to midnight. The car show will run from noon to 4 p.m. Saturday, and will be judged in person by three members of the cast of "Fat N' Furious: Rolling Thunder": Tommy Christmas, Chuck Kountz and Andy Pivarnik.
"Fat N' Furious" is the Discovery Channel reality series in which the above Mahoning Valley residents rebuild hot rod cars. The fourth member of the show, Steve McGranahan, who has always been a celebrity known as "the World's Strongest Redneck," won't be able to make it to Saturday's event.
Proceeds from the Battle of the Burgers – which is a project of the Mahoning Valley Burger Review Board – and the car show will benefit the Rich Center for Autism.
As the weekend show nears, Christmas, Kountz, Pivarnik and McGranahan took time to answer questions in this interview:
On being a celebrity:
Kountz: It's been an amazing experience! And it makes me feel good that it is bringing a positive thing back to the area.
McGranahan: This is my second time around. I just stay being me, sign autographs and take pictures with fans. I love my fans.
Pivarnik: Honestly, I really do not think about it. It's cool and at times a bit odd that strangers stop me by name, that I have no idea who they are. In addition, it is humbling to have myself "out there," because I don't see myself as that important.
Christmas: I feel great that I am part of something positive in our community and a part of possibly changing lives around the world.
On how your life has changed since the show became a hit:
Kountz: It is cool and humbling at the same time when I'm out and people come up because they notice me. I especially enjoy when little kids come up and want to talk to you. It gives you a new sense of responsibility to be a good example and role model.
McGranahan: I took a great vacation for the first time in 23 years with my beautiful bride. The church, school, and corporate gigs have picked up a lot.
Pivarnik: The big change is, as I mentioned before, being noticed and recognized by people I do not know.
Christmas: My life is pretty much the same. Its just unbelievable that so many people recognize me wherever I go.
On using your fame to give back to the community:
Kountz: We always try to give back by doing certain charity events and supporting things that are close to our hearts, such as autism, the military or multiple sclerosis, to name a few. We really try to investigate the charities that we get involved with to make sure they are legit and that the money goes where it's supposed to go. One thing we have learned quickly is that everyone wants you to support their charity, but you just can't. So we really try to be as smart as we can with the time we give so it has the best effect.
On to cars. What was your first car?
Kountz: I had a Ford Granada! Bought it off of our insurance man! Ran great until the frame busted pulling out of the McDonalds on Mahoning Avenue! Drove it around like that until I got the money to get another. It was weird driving straight, but the car looked like it was sideways.
McGranahan: Brown Chevette.
Pivarnik: My first car was given to me, it was a 1963 Chevy Impala with a three speed on the column. The car had an in line six that burned oil so bad, that when I got on it from a standstill it put out a plume of smoke that would have made James Bond proud.
The first car I purchased with "my" money was a 1964 silver Buick Riviera – love the car. Still to this day, one car goal that I have is to get another Riviera, but a 65 this time.
Christmas: My first car was a 1970 Chevy Nova.
What is your dream car?
Kountz: For classic muscle, it would be a 66 GTO with maybe a 467 engine. I will build me one hopefully sooner than later! And as far as newer, it would have to be the elusive Dodge Challenger Hell Cat. Something about 700-plus horsepower that makes me smile. I would love both cars to be painted in the new Viper Stryker Green!
McGranahan: Anything old. A '60s convertible. I like style when I cruise.
Pivarnik: That would be a Ford GT 40. It is the most-beautiful car that I know of. Being that they are untouchable, I'll gladly take the redone Ford GT that came out a few years ago. Then again, they are way up there in cost. So, that being said, I will settle for a Viper.
Christmas: My dream car is a '41 Willys with a big block and a blower.
When did you know that cars were more than just a hobby?
Kountz: My dad was a mechanic for over 40 years. He would always say "Son, do something different, unless you enjoy having busted knuckles and grease up to your hairline. I took his advice for a while, but could never fully get away from it, so I just gave in. My dad passed away in 2000 from lung cancer. I miss him very much, but I know he would be proud and would be getting a kick out of all this!
Christmas: When I built my first motor and started it up for the first time, I knew then this is what I want to do as a job.
What is your favorite burger?
Kountz: I would have to say Martini's burger with the apple glaze. It blew my mind the first time I had it. I really wasn't expecting it to be so good because of the apple, but I was wrong!!
McGranahan: Medium burger, Swiss and mushrooms with BLT.
Pivarnik: When it comes to burgers, I prefer wild game: bison, elk, even salmon, turkey or duck.
Christmas: Burger with greens.
More like this from vindy.com