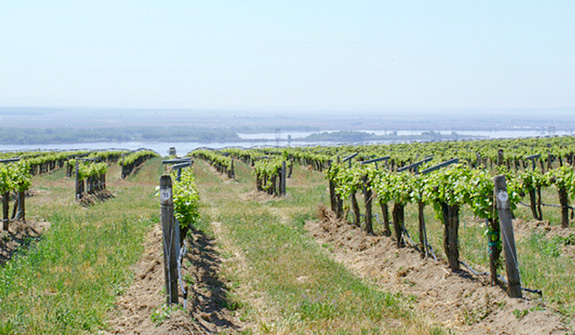 ---
If You Go...
What: Wine Academy: A Washington Wine Adventure
Where: Avalon Golf and Country Club at Squaw Creek
When: 7 p.m. June 25
Tickets:330-539-5008 or www.myvalleyvino.com
By: Brian Fry
I recently visited Washington State as part of my Pacific Northwest wine tour that started in Willamette Valley, Oregon (see March 25, 2015, edition). We began the Washington part of the adventure with a breathtaking drive along the Columbia River Gorge to the town of Paterson.
Columbia Crest Winery sits on a rolling hillside above the gorge in Washington's Horse Heaven Hills American Viticultural Area. Columbia Crest is one of the largest commercial wineries in the United States, and the size and scope of the operation became clear as we toured the massive facility.
Columbia Crest has built a reputation for producing some of Washington's best values. Several of its wines have hit Top 100 lists over the past few years, and it consistently offers quality well above its price points.
Two favorites from our time in the tasting room were 2012 Columbia Crest Reserve Syrah, $18, and NV Michelle Sparkling Brut, $15.
Out next stop was the quaint city of Walla Walla with its wonderfully vibrant and historically preserved downtown. The city is a great example of how the wine industry can breathe economic and social life into a community. The downtown is home to a dozen tasting rooms for local wineries and lots of great shopping and restaurant options, as well as numerous hotels.
There are more than 30 wineries surrounding the city with an easy drive. I was privileged to visit Pepper Bridge and receive a detailed tour with founder and managing partner Norm McKibben. He is considered one of the forefathers of the Washington wine industry. There were three wineries and 40 acres of vines planted in Walla Walla back then, and the growth has been remarkable since.
We also had a great tasting with Winemaker Danny Gordon and Marketing Director Katie Sadler at Tamarack Cellars. Gordon provided great insight into the specific challenges presented by a typical Washington State growing season. He has been with Tamarack from the humble beginnings in 1998 when they made 300 cases.
Two excellent wines from Walla Walla are 2011 Pepper Bridge "Trine" Bordeaux Style Blend, $50, and 2012 Tamarack Cellars Firehouse Red, $19.
Our next stop was Yakima, which has seen tremendous growth in terms of acres of vines planted and the number of wineries built or under construction. We had the good fortune to visit Owen Roe Winery and meet owner David O'Reilly, who was an informative and gracious host.
Our tasting lineup was phenomenal, and we enjoyed the special treat of tasting some future vintages right out of the tank and barrel.
A standout from the Yakima Valley was 2013 Owen Roe Dubrul Vineyard Chardonnay, $28.
Our last drive in Washington was incredible as we went through the Cascade Mountains on our way to Woodinville, a northeastern suburb of Seattle.
Woodinville is a huge collection of tasting rooms in a small geographic area. It was created to allow people to taste Washington wines without having to drive the remote areas of the state.
The crown jewel of Woodinville is the palatial estate of Chateau Ste. Michelle. It is Washington's largest winery, a global juggernaut with winery ownership in several other countries, and an amazing collaboration with Italy's famous Antinori family.
Chateau Ste. Michelle's portfolio is so deep and I was in the capable hands of Brigitte Hefferan, who guided me through a tasting of the portfolio. She even introduced me to CEO Ted Baseler, who was nice enough to spend a few minutes with me. He provided some great insight into both the Washington and international portfolio.
Two favorites from the Chateau Ste. Michelle tasting are 2013 Chateau Ste. Michelle "Indian Wells Chardonnay," $20, and 2012 Chateau Ste. Michelle "Cold Creek Vineyard" Cabernet, $45.
Overall, I loved my experience in Washington. There is a fair amount of driving to do if you want to experience the different AVAs, but it is well worth it, and the scenery is absolutely amazing.
If you can't make it to Washington any time soon, pick up a few of these wines and enjoy them in your home as a way to begin your own Washington wine adventure.
More like this from vindy.com