Tweens celebrate anti-Valentine's Day at library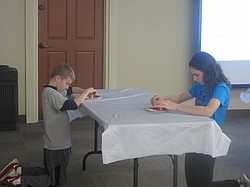 Photo
Neighbors | Natalie Wright.Two participants of the Love Stinks event at the Boardman library faced off in a candy stacking challenge Feb. 13.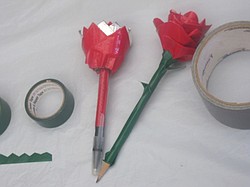 Photo
Neighbors | Natalie Wright.One of the activities that participants at the Love Stinks program could do was making duct tape rose pencils and pens.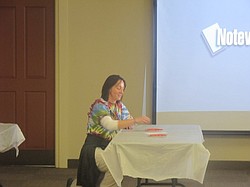 Photo
Neighbors | Natalie Wright.Boardman librarian Allison Graf demonstrated how to play one of the Minute To Win It style games at the Love Stinks event for tweens Feb. 13.
The Boardman library was the location for the anti-Valentine's Day event for tweens, Love Stinks, on Feb. 13.
According to librarian Allison Graf, Love Stinks was an opportunity for participants to escape the overly love-filled tones of the time of year and have some fun.
"It's cold outside, so we wanted to showcase our ice-cold hearts," Graf joked. "We knew the kids in this area would be off school and we thought it would be fun to have something for them to do."
The event offered several different activities for those in attendance to participate in, including anti-Valentine's Day Mad Libs, Minute To Win It style contests, shooting marsh mellow arrows at pictures of cheesy romance novel covers, creating anti-Valentine's Day cards, duct tape rose pencils and pens and more.
Graf said that the event is part of an effort to attract more children to come to the library and see what it has to offer.
"The reason we do any of these programs is that we want kids to know that the library is a place to have fun, not just a place for books," Graf said. "To see what we will offer next, check out our monthly happenings."
Information on the events offered at this and other branches of The Public Library of Youngstown and Mahoning Valley can be found online at www.libraryvisit.org.
More like this from vindy.com