Goodwill Junior Group prepares for its annual antique auction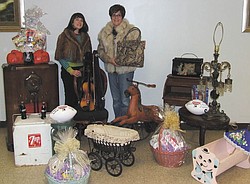 Photo
SPECIAL TO THE VINDICATOR: Junior Group of Goodwill volunteers Laurel Chevlen, left, and Kathy Gerberry display items to be auctioned off when the group conducts its annual antique and collectible auction Friday and Saturday at Stambaugh Auditorium. The gala on Friday will feature a jewelry sale, a live auction of new items, a basket auction, a silent auction, a vintage clothing sale and a basket raffle. Saturday's event will feature the antique and collectible auction of items collected through Goodwill donations.
Staff report
YOUNGSTOWN
The Annual Junior Group of Goodwill Antique and Collectible Auction will take place Friday and Saturday at Stambaugh Auditorium, 1000 Fifth Ave.
George Roman Auctioneers will preside.
Auction proceeds will support Goodwill's training and employment services for people with disabilities and other barriers to employment. Areas served are Mahoning, Trumbull, Columbiana, Mercer and Lawrence counties.
Aim NationaLease, Akron Children's Hospital Mahoning Valley, B&I Management Co., Farmers Trust Co. Fleming Leasing, Gasser Chair Co., Gateway Health, Hill, Barth & King, Huntington Bank, Murphy Contracting Co., Packer Thomas, PNC Bank, Republic Services, Robert L. Smallwood Jr. CPA/Beard Pension Services, Simon Roofing and Vallourec Star are sponsoring this year's auction.
A patron party from 6:30 to 9 p.m. will kick off the event Friday. Among the features will be a collectible jewelry sale, an auction of new items, such as a ride on the Goodyear Blimp, Ohio State football tickets, an Ohio State pub table set from Gasser Chair and Buster Douglas autographed boxing gloves.
The evening will feature a basket raffle, silent auction, basket auction, 50-50 raffle, gift card tree raffle, vintage clothing sale, hors d'oeuvres by Kravitz Deli, pastries and a cash bar.
Some of the jewelry offered will be an assortment of pearl necklaces, watches by Joan Rivers and other designers, gold chains and pendants, rings with gemstones and cubic zirconia, amber earrings, vintage Monet, Trifari and Coro necklaces and bracelets, and Lucite and Bakelite pieces.
Tickets for the Friday patron party are $25 per person and can be bought at the Goodwill office, 2747 Belmont Ave. in Liberty, at any of the eight Goodwill stores or through Goodwill's website at www.goodwillyoungstown.org.
Tickets must be bought in advance, and the deadline is Monday. Tickets bought after the deadline will cost $30, if they are available. Friday ticket holders will get in free on Saturday with the ticket stub.
Saturday's event will feature the antique and collectible auction of items collected through Goodwill donations. A preview will begin at 10 a.m., and the auction, at 11. The collectible jewelry sale will open at 10.
Admission will be $2 at the door.
Among auction items will be collectibles and antiques such as furniture, dolls, pictures and frames, cameras, clocks, radios, comic books, loaded jewelry boxes, glassware, vintage toys and games, depression and carnival glass and sterling silver items.
For information about the auction or buying tickets, call Goodwill's marketing department at 330-759-7921 ext. 1207.
More like this from vindy.com