DeBartolo York will lead annual Pink Ribbon Tea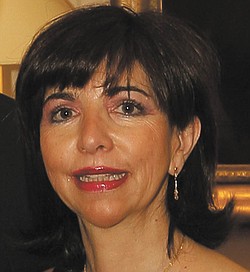 Photo
Staff report
YOUNGSTOWN
Denise DeBartolo York, a Mahoning Valley native and local philanthropist, will serve as the honorary chairman of the Junior League of Youngstown's 21st annual Pink Ribbon Tea on Aug. 17 at Stambaugh Auditorium, 1000 Fifth Ave.
The tea has served as an outreach event to provide advocacy, education and awareness to women who are breast cancer survivors.
Barbara Banks, co-chairman of the tea, describes it as a celebration of life with a luncheon and entertainment by Cahlua & Cream, a husband-and-wife duo from Florida.
Invitations are being extended through the use of tumor registries from area hospitals and cancer centers. The Junior League will host survivors free of charge thanks to sponsors and financial supporters.
All survivors of breast cancer and those diagnosed outside the Valley are welcome to attend. Call Janice Tattrie Fagert at 330-651-0714 to request an invitation.
The doors will open at 11 a.m., and the program will begin at noon.
Pat Greene, the event's co-chairman, noted that DeBartolo York, as an NFL franchise owner, is a strong advocate for the NFL's Pink Ribbon awareness program.
DeBartolo York brings a long career in sports and business to her role as co-chairwoman of the San Francisco 49ers. She combines her passion for building a championship team with a commitment to being a good citizen of the community.
Since her father, Edward J. DeBartolo Sr., bought the 49ers in 1977, she has been an integral part of the team. The 49ers raced to 44 playoffs and five Super Bowl victories.
Earlier in her career, DeBartolo York served as president of the Pittsburgh Penguins Hockey Team. Under her leadership, the Penguins were revitalized and transformed into a championship team, winning the Stanley Cup in 1991. She is one of only 12 women to have her name engraved on the cup.
DeBartolo York is an active member of the Pro Football Hall of Fame Committee, where she helps to oversee the NFL's ongoing support of the museum, which honors professional football's greatest stars.
She also provides support to education in the Valley and in California for at-risk youths.
She is committed to cancer-related causes, including The Serenity Garden, the Joanie Abdu Comprehensive Breast Care Center and A Way With Words Foundation. DeBartolo York is married to John York, a cancer pathologist.
The Yorks, of Canfield, have four children and one grandchild. She and her family have served the Valley as generous supporters of children, education, health and the arts. She and her husband will be recognized for their contributions to the battle against cancer.
Members of the Junior League of Youngstown plan and organize the Pink Ribbon Tea, which began in 1994 under the leadership of Susan Berny. Early on, the event was associated with the Ladies Professional Golf Association Tournament, which took place locally.
This year, registrants for Panerathon who identify themselves as survivors will have the chance to request an invitation to next year's tea.
The Junior League of Youngstown is an organization of women committed to promoting volunteerism, developing their potential and improving communities through the effective action and leadership of trained volunteers.
Its mission is exclusively educational and charitable. The organization, established in 1932, is a member of The Association of Junior Leagues, International.
For information on the Junior League of Youngstown visit www.jlyoungstown.org.
More like this from vindy.com