Youngstown plan meets opposition
By Denise Dick
Youngstown City Schools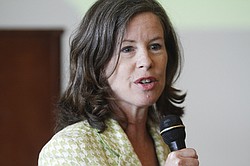 Gallery
A meeting concerning the future of Youngstown City Schools was held today.
Youngstown
Tammy Shingleton likes the services and programs available to her five children enrolled in the city schools and worries those will be lost under a plan to appoint a chief executive officer to operate and manage the school district.
Her oldest child has a 4.0 grade-point average at Rayen Early College Middle School.
"If they take that away, he won't be able to go to YEC [Youngstown Early College]," Shingleton said. "My son could graduate with an associate's degree and his high school diploma."
Shingleton was one of more than 200 people who attended a meeting Monday at William Holmes McGuffey Elementary regarding legislation approved last month by the state Legislature. The legislation would disband the academic distress commission and appoint another commission in its place. That commission would appoint a CEO to run the school district.
Emotions ran high.
Two of Shingleton's other children are special-education students, she said, and one of them doesn't respond well to change.
The CEO would have the authority to reopen collective-bargaining agreements, fire administrators and reconstitute school buildings.
Those provisions, as well as the way the legislation was devised behind closed doors and rushed through, have evoked the ire of teachers, city school board members, legislators, union leaders, parents and community members.
Monday's meeting was organized by state Sen. Joseph Schiavoni of Boardman, D-33rd, state Rep. Michele Lepore-Hagan of Youngstown, D-58th, and Mayor John A. McNally.
Schiavoni is concerned that the CEO isn't accountable and that the legislation doesn't require the individual appointed to the position to have any educational background.
After the meeting, Schiavoni acknowledged that school board members aren't required to have backgrounds in education either, but he makes a distinction: "At least in that particular situation, voters get an opportunity to decide whether or not that's important," he said.
In the new plan, only five people – the newly constituted academic distress commission – would make that decision, Schiavoni said.
He said ways to stop the bill from taking effect are limited. "The only way to stop it is to stop the governor from signing it or a referendum," he said.
Gov. John Kasich is expected to sign it this week.
Schiavoni urged people to call the governor's office.
A hashtag – #ouryoungstown – also has been established to enable people to voice opposition via social media.
Schiavoni said a way to address the issue is to come up with an alternative plan. "We want to build the school system up rather than tear it down," he said.
Thomas Humphries, president and CEO of the Youngstown/Warren Regional Chamber, who organized the committee that developed the plan, took the brunt of anger from audience members. His comments drew a smattering of boos.
Opponents of the plan who were in the audience shouted that the plan is an attempt to privatize public education in the state and allow charter schools, run by for-profit companies, to replace public school districts.
Humphries said that for years the city school system has struggled academically. It's a problem all of the state's eight urban school districts face.
That's 300,000 students among those districts.
"I believe something has to change to help these kids," Humphries said.
Jackie Adair, a city school board member, said the way the legislation was approved is undemocratic, but she agrees that something needs to be done.
"Do you know the definition of insanity?" she said. "It's doing something over and over and over again and expecting a different result. We've done that."
She advocates extending the school day and the school year to allow more instruction time for students.
Patricia Bowser, an employee of Programs of Promise at Wilson, said she's charged with calling the homes of students when they don't come to school. Often parents don't know where their children are, she said.
She also sees teachers who are crying at the end of the school day. Those are the people who need to have input in the formulation of a plan to help the city schools, she said.
Others said poverty is at the root of the academic problems facing the city schools and that issue should be addressed first.
State Rep. Denise Driehaus of Cincinnati, D-31st, was the sponsor of the original legislation that was amended to become the Youngstown Plan. She voted against it.
Driehaus' original legislation created community learning centers similar to what's in place in her district. The centers connected to public schools involve parents, teachers, school administrators and community members who come together to decide what wraparound services that center should include to help the community, she said.
In her district, the center offers a dental clinic, mentoring, after-school programs and mental-health counseling.
Dan Cipriano, a city schools teacher, also decried the lack of teacher involvement in the plan.
"If you want to know what's going on, you go to the people on the front line – and that's the teachers," he said.
The district was under the supervision of a state-appointed academic distress commission for five years but academics didn't improve, Cipriano said. "I think we have been set up for failure from the get-go," he said.
More like this from vindy.com