Burgers survived years of change More to Masury's Moe's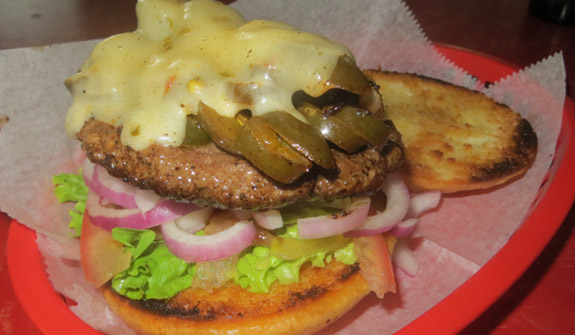 ---
IF YOU GO
Where: Moe's Place
Address: 1516 Standard Ave., Masury
Phone: 330-448-7929
Hours: Monday through Saturday, 7 a.m. to 2 a.m.; and Sunday 11 a.m. to 2 a.m.
Menu: 8 burgers ($6.25 to $7.95) and Challenge Burger ($14.95)
Facebook page: Moe's Place
Rating: 3.5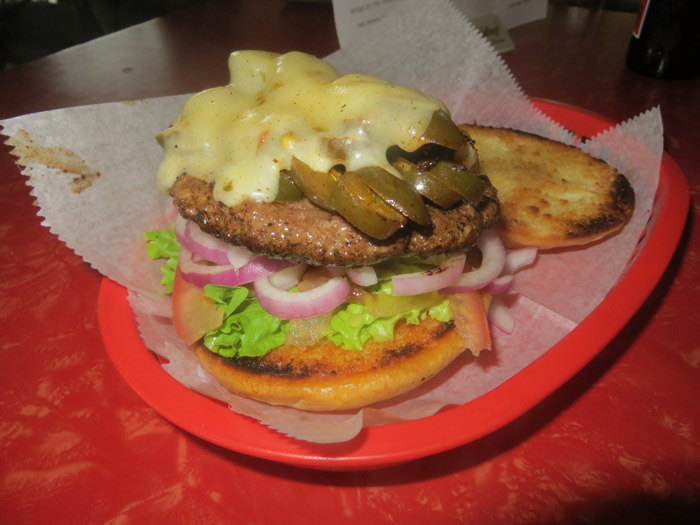 Photo
The Jalapeño Burger is just one of eight specialty burgers to choose from at Moe's Place in Masury.
By: Anthony Fuda
In the shadows of the old steel mills sits a little bar is Masury. The bar has been around since the 1940s, moving from owner to owner, finally settling on Moe's Place, named after Moe Hejazi, who bought the establishment four years ago.
Once the community was hopping with mill workers, and this bar was the meeting place before and after work. Today the mill sits idle, but the burgers survived.
And they survived because of chef, and burger creator, Jason Meszaros. Moe hired Jason to create an exciting menu -- and we were here to see what he could do with the burgers.
Jason said they use fresh beef from Shenango Valley Meats. A 90/10 blend of ground chuck which is ground daily, and then hand formed into half-pound patties. We could tell the quality of the beef in each burger.
There are eight burgers on the menu, and each burger packs its own wallop: Hamburger; Cheeseburger; Jalapeño Burger; Patty Melt; Cowboy Burger (seasoned and blackened beef, BBQ sauce, lettuce, tomato and an onion ring); Swiss Mushroom (sautéed mushrooms, Swiss cheese, lettuce, tomato, and we're told a lot of people add bacon); The Duke (onions, mushrooms, spicy Chicago steak sauce, lettuce, tomato, provolone cheese).
They also offer what is soon to be a Challenge Burger for $14.95 -- The Brutus (one-pound burger, sautéed jalapeños in hot wing sauce, bacon, hot pepper cheese, lettuce, tomato and onions). This burger turns into a challenge when you add two pounds of hand-cut fries and put a time limit of 30 minutes to finish everything. Look for the challenge burger in the near future, but in the mean time, you can order a non-challenge Little Brutus (a smaller portion of fries and no time limit).
You can order a side of fries ($1.50) and we highly recommend them. They are fresh cut, crispy and very plentiful. They definitely complement these burgers.
Our waitress, Barb Black, took care of us during the meal and made sure everything was just the way we wanted it.
I contemplated a couple burgers, but eventually had to try the non-challenge Brutus. Being an Ohio State alumni, this burger was calling my name. The burger had to be brought out impaled with a knife to keep the double decker from falling over. The beef was seasoned well, and the spicy heat was just right and the bacon was cooked nice and crispy. The two patties were blanketed in hot pepper cheese. The jalapeños and hot wing sauce provided me a good kick; to make me want this full pounder enough that I finished it off with just a little room to spare. I filled in what little space was left in my stomach with the fresh cut fries, which were cooked perfectly. I don't think I could do the full challenge, but the smaller version of The Brutus was perfect for me.
Chiz also went with a heat burger, and remarked, "Moe's place was delicious. I was served a Jalapeño burger medium, topped with pepper jack cheese. Below the burger sat the freshest lettuce, tomato, red onion and pickle. I added mayo... But it most def was not needed!!! The Burger itself had a classic taste to it and was seasoned just right. All my delightful toppings were smashed between a seemingly award winning fresh made buttered bun. In closing, my burger was simply wonderful. The chef is a great man, trying to provide a great meal. Thanks again for serving us, Moe's place!!!"
Knuckles saw the Duke and knew that was his burger, saying, "Walking into Moe's Place reminds you of that bar that everyone in that area goes, but virtually unknown to those that don't, but Chef Jason's Burgers can change that! I ordered the "The Duke", adding bacon for my burger and as always, to be cooked Medium Rare. When my burger arrived, the Burger looked amazing the way it was presented. A nice char on the burger and smothered in grilled onions and mushroom with provolone flowing over it, topped with multiple slices of crispy bacon on a locally made grilled bun!
Cutting into the burger, I noticed the burger was cooked Medium and after taking my first bite of the burger, I could immediately taste the fresh beef blending with the grilled onions and mushrooms sitting on fresh lettuce and tomato, which made for a 'nice' burger.
I added a tad bit of additional salt and pepper to my burger to bring out the full flavors of the beef and toppings. The only downfall of this burger was the bottom bun. The top bun was very soft, with a slight grill crunch, but the bottom part of the bun took this burger down a notch as it was over toasted and somewhat 'crunchy'. (After our review we told Jason of the bottom bun issues and he said they will be corrected).
Although the bun detracted this burger a bit, this burger gets a respectable 3 1/2 knuckles and I would happily return to Jason's Grill at Moe's Place for a second go of their fresh burgers and wonderful toppings!"
Spatman said of his Cowboy Burger, "This was a good 8 ounce beef patty well seasoned, well done and blackened outside yet juicy inside and smothered in sautéed onions and melted american cheese, topped with BBQ sauce, bacon, lettuce, tomato and a crispy onion ring placed on a toasted bun. It looked very appetizing. I gave it a 3.5 out of 5 on my wet nap scale."
JT commented about Moe's, saying, "One of the things I love about being on the Burger Review Board is that we visit some neighborhood bars that we otherwise would have never known existed. Even though Moe's is handicapped by it's obscure location, they have enough local fans to bombard us with messages about their favorite burger joint. The locals know they can get a good burger here. Now we know it, too!
While we were digesting our burgers and tallying our scores, we looked around Moe's and saw four pool tables, and some APA awards on the walls. They take their pool seriously here. Tuesday is free open pool. Monday, Wednesday and Thursday are league nights. Thursday, Friday and Saturday they have a DJ and karaoke every week.
During football season, you'll be able to find the Browns or Steelers game on whenever they play, and Jason says, "There is some sort of food available during the games, from sloppy joes to burgers, to chicken on a spit."
After our meal, Jason stopped by to make sure everything was to our liking and even chatted some baseball, making us think that Burgers should be a part of the National Pass time (baseball) instead of hot dogs.
The steel mills may be gone, but it is still worth the trip to Masury and Moe's Place for some great burgers. And you might even pull Jason away from the grill and talk some baseball while you enjoy those burgers.
Keep reading the Valley food section each Wednesday for the best food the Valley has to offer.
If you know of a burger that should be on our hit list, send the info to burgerguyz@hotmail.com, or on our Facebook page BurgerGuyz
More like this from vindy.com