U.S. Rep. Tim Ryan: My view on abortion has changed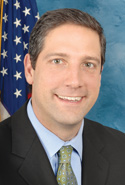 ---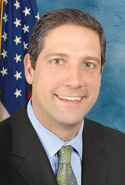 Photo
YOUNGSTOWN
U.S. Rep. Tim Ryan said his changed view on abortion — going from pro-life to pro-choice — has nothing to do with politics and reflects "where my heart and mind are now."
Ryan of Howland, D-13th, wrote a column in Wednesday's Akron Beacon Journal about his decision.
"Today, I am a 41-year-old father and husband whose feelings on this issue have changed. I have come a long way since being a single, 26-year-old state senator, and I am not afraid to say that my position has evolved as my experiences have broadened, deepened and become more personal. And while I have deep respect for people on both sides of this conversation, I would be abandoning my own conscience and judgment if I held a position that I no longer believed appropriate."
In a Wednesday interview with The Vindicator, Ryan said he tried to work with those who are pro-life, but "their positions are pretty extreme."
Specifically, Ryan said many who are pro-life oppose the use of contraception, which would reduce the number of unwanted pregnancies and abortions.
Ryan successfully won a seat in the state Senate in 2000 and his first term in the U.S. House in 2002 as a pro-life candidate, who supported abortions only in the cases of rape, incest or if the life of the mother was in danger.
Ryan said Wednesday that as a Catholic he was pro-life, but "I didn't give it a whole lot of thought" when he was younger and starting out in politics.
After meeting with women and families about abortions over the years, his position "evolved over time" and "softened."
When asked about criticism from pro-life supporters that he's doing this to position himself for a 2016 U.S. Senate run or a 2018 gubernatorial bid, Ryan said, "They haven't paid attention to my voting record over the years. People will say that because they're mad at me, and that's fine. It's a sign of maturity and honesty to change your mind."
Ryan said he's been writing the column for several months, and had it published to "clarify that I've changed my position."
As for running for Senate next year, Ryan said he'll have a decision in a few weeks.
Mike Gonidakis, president of Ohio Right to Life, said of Ryan: "We seemed to lose him a few years ago, but we hoped he would return. No one should be surprised the congressman changed his position shortly before his expected big announcement that he'll run for the Senate. It's climb-the-ladder politics to garner favor."
Gonidakis also called Ryan "a political opportunist" and "self-centered."
Ryan received the Ohio Right to Life endorsement in 2002, but the organization dropped him to the "preferred" candidate in the 2006 election, and hasn't endorsed him since.
Democrats for Life of America removed him in 2009 from its national advisory board. Officials of that group said at the time that Ryan had abandoned the cause.
Gonidakis said of Ryan's announcement: "He's not only alienated the pro-life movement, but the pro-choice side will look at him with suspicion for flip-flopping."
Celeste Ribbins, spokeswoman for Planned Parenthood Advocates of Ohio, disagreed with Gonidakis' assessment.
"You can see [Ryan] soften over the years," she said.
"I don't think this is a political tactic. It's a wonderful opportunity for someone in Congress to take a leadership role on this and show that someone can have a change of heart."
She also said pro-choice backers will embrace Ryan.
"I believe people can be open to a genuine and honest conversation on abortion and how people's beliefs have changed," Ribbins said.
"We're really excited and grateful that not only has he examined his opinion and stance on abortion, but made a public announcement on it. To have Congressman Ryan publicly state his belief is humbling to us. We know how deeply and personal a decision like this is."
More like this from vindy.com