Published: Wed, January 7, 2015 @ 12:00 a.m.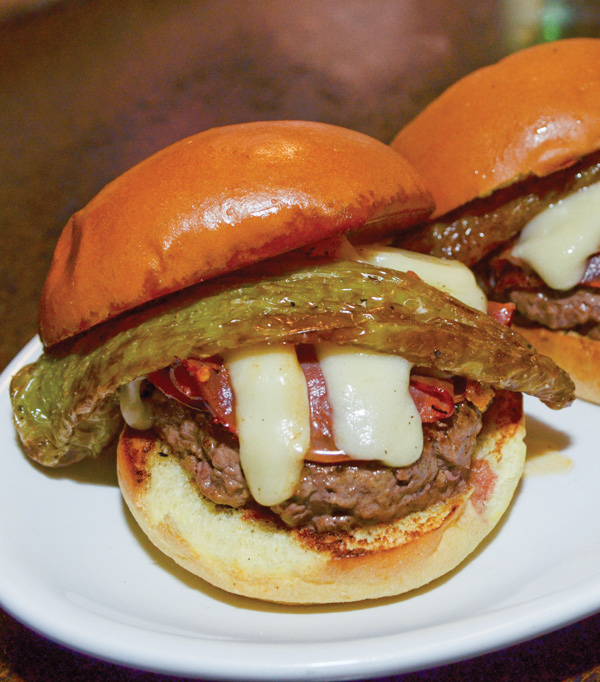 Photo
The Italian Burger from V2 is one of the specialty burgers offered occasionally, it features capicola cheese, aged provolone cheese, and fried hungarian papers
When You Go...
Where: V2 Wine Bar Trattoria
Address: 100 W. Federal St. Youngstown, Ohio 44503
Phone: (330) 742-5595
Hours: Mon - Wed (11 am - 9 pm), Thurs - Fri (11 am - 2:30 am), Sat (12 pm - 2:30 am), Sun (12 pm - 8 pm)
Menu: 3 burgers, 3 specialty burgers ($8.50 - $10.00)
Website: V2byVernon.com
By Anthony M. Fuda
mvbrb@hotmail.com
Ever have a favorite restaurant you frequent often; and then find out the owner has a second restaurant just as good, and featuring something you truly enjoy?
We found that in Vernon Cesta's two eateries. He first opened Vernon's Cafe in Niles, and then after that became successful, he opened the perfect restaurant for us -- V2, a restaurant serving quick foods like sandwiches, salads, pizzas and burgers.
We couldn't resist when our fans suggested we try another great restaurant in Burger Alley (Federal Street in Youngstown houses two previous Burger of the year winners in Martini Brothers Burger Bar and O'Donold's).
There's a lot to live up to when your neighbors hold a number of burger awards, but V2 did just that. There was a steady flow of people coming in and out of V2 while we were there, and they all had that satisfied glaze in their eyes as they left.
We settled in to this cozy restaurant, and our waitress, Swan Bleacher, was very fun to banter back and forth with throughout our meal. She recently moved here from England and kept our attention at first with her accent, but she also was a great waitress.
The menu offers three burgers: V2 (hot peppers, fontina cheese, onions, golden BBQ sauce, lettuce, tomato); Black & Bleu Burger (apple wood smoked bacon, caramelized onions, bleu cheese); Boursin Mushroom Burger (boursin cheese, wild mushrooms and marsala syrup).
All the burgers are placed on a nicely grilled brioche bun and sided with V2 pasta salad. You can substitute fries for $2 more.
GM Shawn Eckonen said they blend chuck, brisket and sirloin (all fresh from Catullo meats) and hand make each of their burgers. We could tell by the tenderness of the beef they picked the right cuts know how to create a great burger with them.
After we finished eating and tallied our scores, chefs John Masters and Ben Pearch brought us a plate of fried Cajun polenta and three of V2's specialty burgers to try: Breakfast Burger (coffee rub, apple wood smoked bacon, American cheese, fried egg, Bailey's Hollandaise sauce, on a grilled croissant); Italian Style Burger (capicola, aged provolone, fried Hungarian pepper, on a brioche); and a Turkey Burger (caramelized onions, apple wood smoked bacon, apple/cranberry slaw, fireball apple glaze, on a pretzel bun). Yes, I know it says turkey above, but this was cooked so well and seasoned just right you forgot there was not beef in this burger).
John says they are trying these three burgers on the specialty menu first, and if they go well, they will be added to the burger menu. After our sampling of the three, we agreed these should already be on the regular menu. (If any of these burgers are not on the specialty menu when you go, just ask, and they will make them for you.)
Along with the burgers, we were treated to a plate of fried Cajun polenta and were blown away by the pronounced seasoning. It was not overpowering, making you keep grabbing for more.
I ordered the V2 burger and was very pleased with the taste of the beef alone. It was seasoned well and the three meat blend produced a burger that almost melted in your mouth. The fontina cheese added a nice flavor, combining with the hot peppers to put that little kick, and rounding out a perfect bite. The brioche bun kept everything together, holding in all the juicy flavors, so you didn't lose any of the taste.
I also sampled the three specialty burgers and thought they all had a little something to please almost anybody. The Breakfast Burger with the bacon and egg; the Italian with the capicola and hot pepper; and the Turkey -- yes, I said Turkey Burger, has the right mix of toppings with the slaw and glaze to keep the meat juicy and the flavors popping.
Chiz had the Boursin Mushroom Burger, and noted, "I was extremely impressed with V-2's mushroom boursin cheese burger. It was a work of art that tasted even better than it looked. My burger was cooked to a perfect medium, topped with mushrooms, boursin cheese (if you are unfamiliar with this cheese, it tastes like a mix of garlic and cream cheese), sandwiched between a delightful toasted brioche roll. Beside my burger was lettuce, tomato, and pickle which was extremely fresh. This has been one of my favorite places we've visited so far. After I finished my whole burger, french fries... they brought out 3 more burgers to try. I do not have the specifics on these burger specials (I'm sure Anthony will touch on them), however, it was an "Oh My Goodness!!!" moment! Upon arrival my eyes lit up similar to when I first met my beautiful wife... and that's saying something!!! (I'm banking on the fact she doesn't read this... Ha-Ha.) The special burgers seemed to be more distinct, more different, and just all around more creative. Dynamic is the word I'm looking for. The breakfast one with the coffee grounds,egg, and bacon, A++. Turkey burger with the applewood chutney, A++. The Italian burger with the fried hot pepper, A+. I really loved that when I finished my burger, I was happy. Then I ate another burger via sampling the "specials", and was even happier. I asked if I could stay the night and watch over the fresh Catullo's ground beef, the grill, and all the ingredients. I think they were on to me though.. and knew I would clear them out! Ha-ha! V-2 is sure to provide you with burger bliss!!!"
Knuckles also had the Boursin Burger, but with a little hesitation, "Being unsure of the cheese on this Burger, Swan, our server, graciously brought the Burgerguyz a sampling and we were all impressed by the very flavorful, creamy cheese, so I went for it!
I ordered it medium rare. Upon delivery of the Burger, I was immediately impressed by the presentation. The thick tri-beef blend (Ground Chuck, Round and Brisket) topped with the wild mushrooms & Boursin cheese filled the light, buttery & puffy Brioche, and then I took my first bite...
This is where the upscale shines! The creative combination of the wild mushrooms, creamy Boursin & Marsala syrup melded perfectly with this juicy, medium well burger and the flavors were astounding! V2 obviously knows how to take a burger and move it to the next level and this 4 1/2 knuckle Burger shows how they do that!"
After this review, our choices became more difficult in deciding which burger restaurant we should go to first on Federal Street. V2 did more than hold their own, and are worth a trip downtown for their burgers alone.
4 1/2 stars
Keep reading the Valley food section each Wednesday for the best food the Valley has to offer.
If you know of a burger that should be on our hit list, send the info to mvbrb@hotmail.com, or on our Facebook page BurgerGuyz