Cruze sales down in December but strong in 2014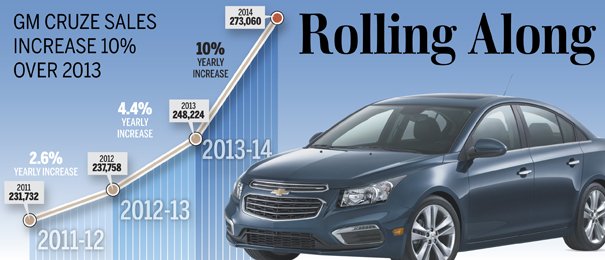 ---
YOUNGSTOWN
Despite recalls in 2014, General Motors Co. closed the year on a high note, according to figures the company released Monday.
GM dealers delivered 274,483 vehicles in the U.S. in December, up 19.3 percent compared with a year ago, making it the company's best December sales in seven years. GM delivered more than 2.9 million vehicles in 2014 compared with more than 2.7 million in 2013 — a 5 percent increase.
Retail sales were up 23 percent and fleet deliveries were up 6 percent, according to the company.
Lordstown-built Chevrolet Cruze sales declined by 2 percent from last year with 17,800 sold this December compared with 18,162 sold last December. The Cruze, however, had its best-ever annual sales in 2014 with 273,060 sold — a 10 percent increase from 2013 with 248,224 sold.
Glenn Johnson, president of United Auto Workers Local 1112, said he was happy with the rate of production over the last year.
The 10 percent increase in deliveries in 2014 "just speaks volumes about the Cruze," he said.
Johnson, who represents workers in the assembly plant, said overtime schedules will allow workers to have more discretionary income to help the economy.
"We're looking forward to all the good things in 2015," he said.
"GM closed 2014 on a very high note, particularly in light of a year of really bad recall news, with a better December than analysts had forecast. GM's impressive December performance was almost across the board — from strong pickup truck and utility sales to even some stellar sales performances by small cars," said Michelle Krebs, a senior analyst for AutoTrader.com.
"While the strong volume numbers are encouraging, GM's real success story comes from making these gains without excessive reliance on incentives or fleet sales. Consumers were a big part of GM's growth in 2014," Kari Brauer, a senior analyst for Kelley Blue Book, said in a statement.
The impact of lower gas prices on consumer preference also helped GM's 2014 sales.
"We find consumers are reactive to gas prices," said Eric Lyman, vice president of industry insights at TrueCar.com.
Preferences have shifted over to SUVs, and pickup trucks, which GM has released new models in these segments, he said.
GM's pickups were up 43 percent from last year in December with 87,000 deliveries. "Timing can be everything," Lyman said.
Other factors that have influenced the industry are the job market recovery and high consumer confidence.
Although compact cars such as the Cruze face competition from compact SUVs, Lyman said coming-of-age Millennials prefer cars that are practical, and fuel efficient. The Cruze also performs well in fleet deliveries, such as those to rental-car companies, governments and businesses.
"The Cruze is sort of a sweet spot ... for business travelers," Lyman said.
More like this from vindy.com