---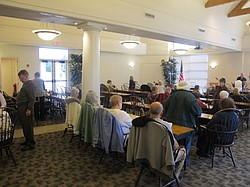 Photo
Neighbors | Tim Cleveland.A large crowd gathered at the Austintown library to hear a presentation by Jim Amey about the memorabilia he has collected from Idora Park.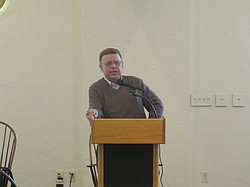 Photo
Neighbors | Tim Cleveland.Friends of the Austintown library vice president Doug Wilcox introduced Jim Amey before Amey's talk about the history of Idora Park and the artifacts he's collected.

Photo
.Neighbors | Tim Cleveland.Jim Amey of the Idora Park Experience museum displayed a small amount of the memorabilia he has collected from the park during his presentation at the Austintown library.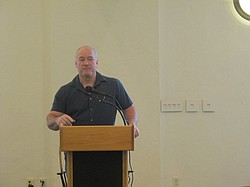 Photo
Neighbors | Tim Cleveland.Jim Amey and his wife Toni have spent more than $250,000 over the past 20 years collecting memorabilia from Idora Park for their museum, the Idora Park Experience.
By TIM CLEVELAND
Fans of Idora Park were treated to a presentation on Nov. 24 at the Austintown library by Jim Amey, who along with his wife Toni have been collecting memorabilia from the park for the past 20 years, and spoke about their museum that displays the artifacts, the Idora Park Experience, located at 4450 South Turner Road in Canfield.
"The whole idea is to keep the memory alive and also to preserve any artifacts we can find from Idora Park," Amey said.
Amey said the museum will only be open three weekends per year. It has been open twice this year and won't open again until spring. He said he and his wife appeared before the Canfield zoning board seeking to be open 12 times per year but were at first limited to being open twice per year before the board allowed an extra weekend.
Amey said he's not sure exactly how much memorabilia he's collected from Idora Park over the years.
"It's hard to say," he said. "We have wild cat cars, we have jackrabbit cars, we have rocket ship, caterpillar cars, tilt-a-whirl. It goes on and on. We have one entire ride, it's the kiddie land train; we have the entire train and tracks.
"We've got the soldiers that guarded kiddie land. A lot of kiddie land rides, parts of rides, original signage. We've got a pretty huge collection. I'm probably forgetting three-quarters of the things."
Amey said the idea of collecting Idora Park artifacts began when he and his wife saw the remnants of the park.
"Walking through there in 1994, we saw the devastation," he said. "I had been away for a long time in the military; I retired in 1993. We saw the devastation of Idora Park. It was here since 1899 and it should have been here in 1994. When I saw what it looked like and how everything was destroyed, it was very upsetting but there wasn't anything I could do, other than start my collection."
Amey said he's spent more than $250,000 collecting the memorabilia, which includes the building the museum is located in.
The history of Idora Park spanned nearly 100 years. The park opened in 1899. It expanded from picnic grounds to racing and animal displays. Merry-go-rounds and roller coasters then came in. The park ended up being 26 acres.
The end began on April 26, 1984 with a fire that started just as the park was getting ready for its opening. The fire started from a welder's torch that ignited the Lost River ride. It spread and destroyed much of the Lost River and the Wildcat rides, which was the park's premier ride.
The park's popularity was already waning as it had been up for sale the prior couple of years. Despite the damage, Idora Park opened for that season and closed for good on Sept. 8, 1984, with a picnic.
More fires followed that burned down additional parts of the park. The final fire was in 2001 which burned down the ballroom.
"It was in some financial straits, anyway," Amey said. "It was a great place for kids and families."
Amey said his collection began with just one item, a light fixture from one of the rides. He said he's traveled far and wide to build it up.
"I took one item and after that I started searching for larger items, more and more of them and finding them, acquiring them, searching all over the place," he said. "We've gone to Miami, we've been to Alabama on another tip, Indianapolis, we've been to Wisconsin, Minnesota. We got one item from Houston. We've been all over trying to find these things.
"It's important to our history, I think."
Amey had a small fraction of his memorabilia on display during his presentation at the Austintown library. Among the artifacts were masks that survived from the Lost River ride, Idora Park cigars, a license plate topper, the light fixture that was the first item he saved, original artwork from 1923 that advertised the new swimming pool, and Christmas ornaments.
Amey said that since he and Toni retired last year, they were hoping to sell some of the memorabilia to offset the cost of running the museum. He encouraged anyone interested in purchasing any items to go to the museum's web site, theidoraparkexperience.com.