Published: Wed, February 4, 2015 @ 12:00 a.m.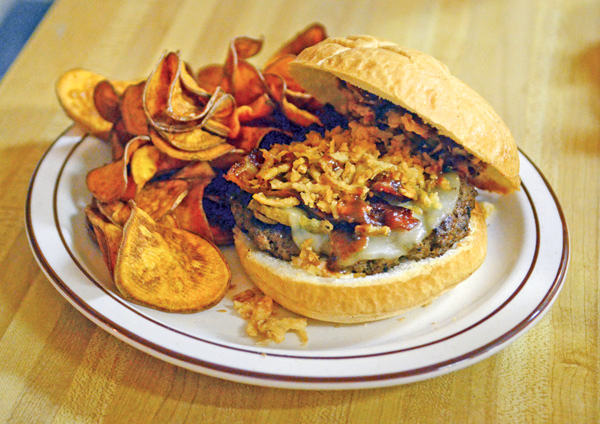 Photo
The David Grohl Alley Burger featuring a 1⁄2 lb burger with mushroom, bacon, horseradish sauce and provolone cheese with a side of sweet potato chips.
When You Go...
Where: Courthouse Grille
Address: 176 N. Park Ave., Warren
Phone: 330-469-6269
Hours: Monday through Friday, 9 a.m. to 2 p.m.
Menu: Seven burgers (prices range from $6 - $9)
Facebook:Courthouse Grille
By Anthony M. Fuda
Here come the judge ... here come the judge ... straight over to Courthouse Grille to make his verdict on a burger.
A special evening session was set so we could render our decisions on these burgers. Normal hours are 9 a.m. to 2 p.m. Monday through Friday.
A good chunk of their business comes from the Courthouse and local business traffic around the square looking for a great tasting, homemade breakfast or lunch.
We accepted our call to jury duty to try the seven burgers the Grille has to offer. All of the burgers are 1/4 pound patties, except for the David Grohl Burger, which is 1/2 pound: The Deputy (barbecue sauce, bacon); The D.A. (chili, cheese); The Judge (fried egg, cheese); The Jury (Swiss cheese, grilled mushrooms); The Super-Hero (grilled pepper & onion, A-1 sauce); The Court Reporter (hand made veggie burger); and the David Grohl Alley Burger (mushrooms, bacon, horseradish sauce, provolone cheese).
All the burgers come with your choice of fresh-cut fries or sweet-potato chips. You also can add lettuce, tomato and onions.
Owner Lynne Villers said each day, they showcase one of the burgers on the daily menu, but if you are craving any of the burgers they make, just ask. The Grohl Burger is always on the menu for people with hearty appetites.
We had a special table set up for our large group, and Katie Badanjek helped to take care of us. She is also the baker and makes all of the homemade desserts.
Katie is also the creator of the Grohl Burger, which was unveiled at the Dave Grohl Alley Festival.
The third lady in the Courthouse group, Sabrina Shamblin, is the main chef and did an awesome job with today's burgers. The burgers are each made fresh daily with a secret house seasoning. If the burgers are any indication of her talents, everything on the menu deserves high court status.
Villers said, "The special thing about Courthouse Grille is that we are three women who aim to please the customer with good quality food at an affordable price and great customer service for the working people of downtown Warren."
We sat down and deliberated over the menu before making our decisions. After placing our orders, the burgers arrived and were put on trial.
I had the David Grohl Alley Burger and enjoyed every bite. The hearty bun held together a half-pound of perfectly seasoned bliss. The burger had a nice juiciness utilizing all the ingredients. Each bite brought out the delicious horseradish and bacon flavors. These flavors were enhanced by the mushroom and provolone cheese, and when combined, made for an excellent burger. I added the sweet-potato chips, and they were crispy, but held that sweet-potato flavor.
Chiz also went with the Grohl Burger, and said, "The Courthouse Grille's largest burger weighed in at a hefty 1/2 pound. This delicious gem came with a special homemade bun that contained all the juicy ingredients used on this specialty burger. It was topped with A-1, big pieces of bacon, and french-fried onion straws and some delightfully grilled mushrooms. As if that wasn't delicious enough, my favorite part was below the burger. It had fresh lettuce, tomato, onion, pickle and provolone cheese with a creamy horseradish mayo. This burger was BOMB, and should be as famous as Dave Grohl himself soon!!!"
Eric chose the burger known as The D.A, which is a quarter-pound burger with chili and cheese. "I figured if it works on a hot dog, surely a hamburger would be as tasty, and it definitely was. The beef maintained a great taste that was not masked by the topping, instead complementing it nicely. The bun held up perfectly with no hint of sogginess. I added jalape ±os to give a little extra kick which really enhanced the burger experience. The chili itself had an amazing flavor, and I have no doubt it is just as wonderful on its own. Overall, this is a very enjoyable hamburger that I have no objection to."
Spatman put the Super-Hero on the stand, and took it to court like Matlock cross-examining a witness. "This 1/4 pound beef patty was coated with A1 sauce and grilled to order, which for me was a tasty medium-well. From the first to the last bite, I was pleasantly surprised. Adding a hearty side of fair fries, this meal rates a 41/2 out of 5 on my wet-nap scale."
JT had the Deputy and said, "Jackpot! I love finding a place like this with a great burger. Perfect location for the downtown Warren lunchtime crowd. I like the fact that they serve 1/4 lb. burgers as I am still sticking to my New Year's resolution. The meat was deliciously seasoned, the bacon was crisp, and the house BBQ sauce was just enough to really enhance the flavor of both. The crisp sweet-potato chips are a tasty option for a side. We've got to talk Lynne into staying open late a few nights a week to give more people a chance to try these awesome burgers!"
After devouring all the evidence, we deliberated a little longer before giving our final verdict.
We find the Courthouse Grille guilty of excellent burgers with great flavor and sentence everyone who reads this to try one of these juicy masterpieces.
If you know of a burger that should be on our hit list, send the info to mvbrb@hotmail.com, or on our Facebook page BurgerGuyz