Mr., Mrs. Rouser celebrate 50 years of marriage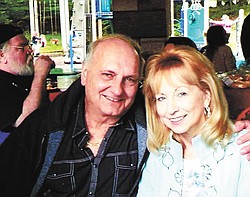 Photo
Mr. and Mrs. Grant Rouser Jr.
YOUNGSTOWN
The 50th wedding anniversary of Mr. and Mrs. Grant Rouser Jr. of Youngstown was celebrated with a dinner on Oct. 9 at Mojo's Restaurant in Austintown.
The family gathered at the home of the couple's brother- and sister-in-law, Ron and Kathy Rouser, for dessert.
The Rousers' daughter, Christine, of Kingston, Ontario, Canada, celebrated with the family at a later date.
The former Mona Brocious exchanged vows with Mr. Rouser on Oct. 9, 1965, at St. Columba Cathedral in Youngstown.
They are members of St. Christine Church in Youngstown.
Mrs. Rouser was a sales associate at various retail stores and is now retired.
Mr. Rouser retired from General Motors Corp. in Lordstown in 2007.
He is a U.S. Marine Corps veteran.
More like this from vindy.com