Barrel33 Small plates, BIG FLAVOR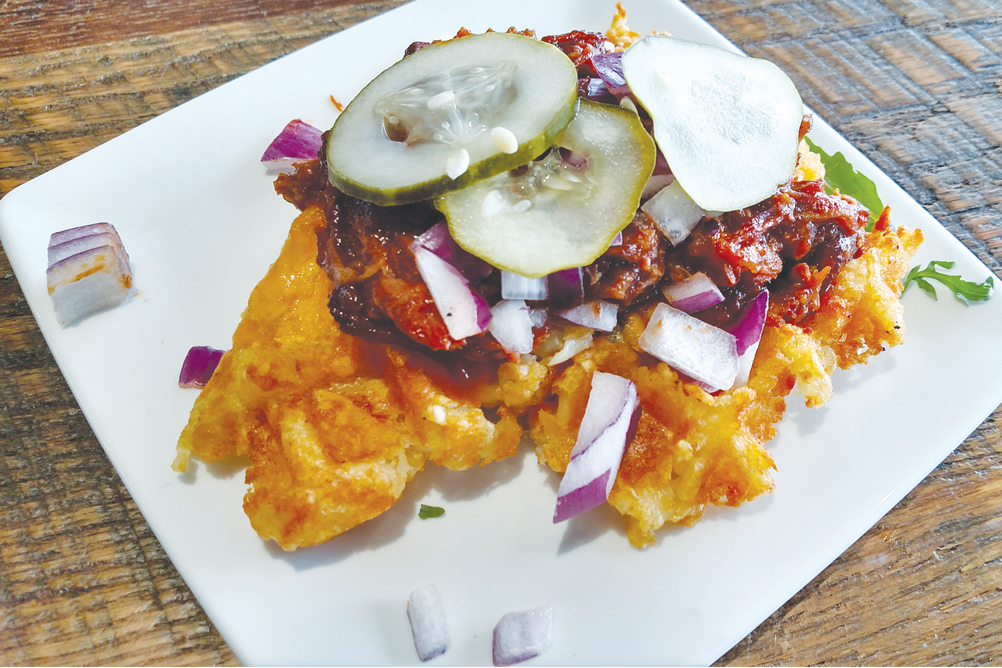 ---
If You Go...
Barrel33
Address: 8208 E. Market St., Warren
Phone: 330-395-9463
Web: www.barrel33.us
Hours: 11 a.m. to 9 p.m. Monday through Thursday; 11 a.m. to 11 p.m. Friday and Saturday; and 11 a.m. to 7 p.m. Sunday.
Signature Dish: Toffle
Signature Drink: Barrel aged cocktails
Mark Rhodes is a confident man.
The owner of Barrel33 decided to complement his wine business with the addition of a bistro. "The Valley needed something different, and I think we are able to provide a unique dining experience to our patrons through an eclectic menu and a small plate concept," he said. "The focus is on quality ingredients".
At the time of our recent visit, Barrel33 was opened just four weeks. The current menu was developed by Rhodes and Chef Eric Carcione and as they indicated, will be a work in progress.
Barrel33 features a number of vegetarian, vegan and gluten-free selections, as well as twists on some classic dishes.
We began our meal with two starters. The first plate featured a duo of Deviled Eggs. One set was a Buffalo style, featuring celery, carrot, blue cheese and hot sauce, while the other was topped with bacon, cheddar cheese and chives. Both of us love eggs in any style so these were a great way to start.
The second starter was a Cheese and Charcuterie Platter served on a slate slab. The featured meats were spicy capicola and salty soppresata served with an 18-month aged Gouda and a 24-month Irish cheddar. The cheese and meats were accompanied by assorted olives, pepperoncini, grapes, olive oil and stone ground mustard. A beautifully presented dish with quality ingredients perfect for sharing.
We next moved on to what has been a popular item on Barrel33's menu — tacos. We sampled both the Blackened Cod and Blackened Tofu. Both are served on a warm corn tortilla and topped with white corn and black bean salsa, red cabbage slaw and a lime cilantro crema. While we enjoyed the cod, the tofu tacos were a wonderful surprise. The tofu is marinated in soy sauce then crisped up in a cast iron skillet. The saltiness of the soy contrasted well with the sweet corn salsa. The tofu was creamy but had texture from the blackening process. The cod tacos are finished with a crema sauce, while the tofu has a lime-cilantro vinaigrette topping. We would challenge anyone who says they don't like tofu to try these. They will make you a believer.
Next was the Turducken Bratwurst. Turducken is a deboned chicken stuffed into a deboned duck stuffed into a turkey. This bratwurst is made up of all three meats and locally sourced from Dandelion Farms in Leetonia. This is served over smashed Yukon gold potatoes along with a sauce of cranberries, orange and tawny port. It's a comforting dish of creamy potatoes, tart cranberry and mild spice and gaminess from the sausage. A nice twist on "bangers and mash."
Barrel33's menu features an item called "Toffle." You might be asking yourself, what is Toffle? It's the creation of Mark Rhodes and is essentially tater tots cooked crisp in a waffle iron.
We opted to try the pulled pork version. This recipe starts with a brined pork shoulder that gets cooked by sous-vide method, a process where the meat is placed in an airtight bag and cooked in a water bath maintained at a constant temperature. This process helps the meat cook evenly and retain moisture. The pork is then finished low and slow in the oven. The whole process from brining to final product takes about 56 hours.
The Toffle starts with the crisp waffled tater tots on the bottom, then topped with shredded cheddar, pulled pork, BBQ sauce, pickle slices and chopped red onion. This dish is well balanced and delicious. The pork is tender and the sauce is slightly sweet. The potatoes are crispy and the tangy pickles along with the bite of the onion rounds out the dish. This pairs well with one of their many craft beers.
And speaking of drinks, we would be remiss not to mention the cocktail menu at Barrel33. As with the food, the focus is on quality ingredients. We were provided two to sample – a bourbon brulee and a Barrel-aged Manhattan. Barrel aging softens harsh edges and provides a smother flavor profile in the cocktail. Mike started with the brulee while Mark couldn't wait to tap the bunghole on the small barrel and taste his first cask aged Manhattan. These were simply amazing.
Toward the end of our tasting, Chef Carcione insisted we try the lobster and Grilled Asparagus Risotto. Who were we to argue? We are both big fans of risotto but have found the execution of the dish in our area sometimes hit or miss. This dish was superb. Chef takes arborio rice and cooks it slowly in veggie stock, heavy cream, butter, white wine and parmesan. This is topped with the asparagus and the cooked lobster. The rice was creamy with a slight bite. The lobster and asparagus were cooked properly. This was decadent and rich —exactly what you would expect from lobster risotto.
We glanced over the dessert menu and couldn't leave without trying the Popcorn Pots de Cr ®me. Served in a mason jar, it is a buttered popcorn-flavored custard topped with a luscious caramel sauce and sea salt. It was not overly sweet and was the perfect finish to an exceptional meal.
Barrel33 is a great spot to try with a group of friends. Order up an assortment of small plates to share and indulge in a premium cocktail or two. You won't be disappointed.
More like this from vindy.com