Published: Wed, December 16, 2015 @ 12:00 a.m.
If You Go...
Just Fred's
1472 Churchill Hubbard Rd
Youngstown, Ohio 44505
Phone: 330-759-2789
Hours: M - F: 7 am - 8 pm
Sat - Sun: 7 am - 3 pm
Menu: 8 burgers on the regular menu, and 8 more on Just Fred's Burger Night (Wednesdays)
$5 - $9.95
Facebook: Just Fred's
Rating: 4 1/2 stars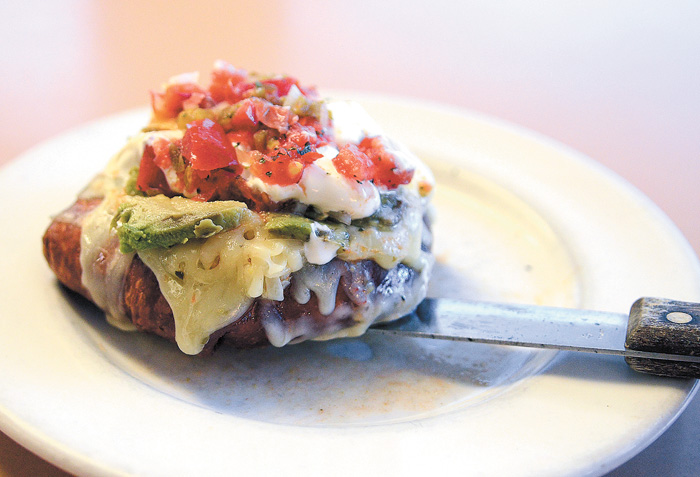 Photo
The "Fiesta Burger" at Just Fred's features 1/2 lbs taco seasoned burger wrapped in fried tortilla and topped with sour cream, pepperjack, lettuce, guacamole and homemade pico de gallo.
By Anthony M. Fuda
BurgerGuyz@hotmail.com
related story: Liberty restaurant is all about family Just Fred's is just delicious
They came out of nowhere and ended up Champions, with some of the Mahoning Valley's most celebrated burgers of 2015.
It was "Just" an invitation to help the BurgerGuyz fill an open space at the Battle of the Burgers - and they walked away with four awards, including the Chef's Choice Award.
If the people of the Mahoning Valley thought that highly of Just Fred's at the Battle, WE immediately scheduled those burgers for a review.
And they more than lived up to their accolades!
So, after a 4 1/2 star review, it was a somewhat easy choice that Just Fred's took home the 2015 Burger of the Year Award (BOtY). There was some tough competition, but Just Fred's prevailed. The rest of this year's 4 1/2 star burgers are: High Pointe, Krakatoa, Courthouse Grille and V2.
For the Award presentation, owner Fred Brown hosted a private (invite-only) party featuring the BurgerGuyz and the customers who keep Burger Night going each week. The restaurant was packed with people and food, and with this being the first non-bar to win the Burger of the Year Award, Fred said, "It's overwhelming and a dream come true." He said Just Fred's had to fight for everything. "I was told a year and a half ago the restaurant would never work."
We're glad he didn't listen to the naysayers.
Fred gives most of the credit to his staff, Amber, Lylia, Cindy, "Burger Queen" Cheryl, and the rest of the crew -- and especially the creator of the burgers - Head Chef Rick Lohr.
Lohr says about winning the BOtY, "The feeling of pride overwhelms me. I take pride in my burgers and I'm glad that it shows. But I'm always looking to improve and innovate. I still have lofty goals I would like to achieve but this shows me that I am on the right track."
The "Burger Queen," Cheryl Binion, said she received the nickname after the first article came out (Sept. 23), "One of our regulars saw the article and since my picture was in it, holding 3 plates with these giant burgers, he started calling me 'Burger Queen.' When other regulars heard that, they loved it! It just stuck!"
The "Burger Queen" added, "Burger sales have increased by a landslide. Sometimes I get new customers who tell me they've never been here before but they hear the burgers are good and they ask what burger is my favorite! (Which of course is the greens burger!) I had a request for our stuffed Jalapeño Bacon Cheddar Burger, but to double the patty like our Mr. B's Burger. When the burger came out of the kitchen, I was seriously scared to carry the plate to the table! This burger was HUGE! The customers love the burgers. When I ask how everything is tasting on a Wednesday Burger Night, some people can't answer right away because they're so busy eating the burgers! As Burger Queen I would like to say get to Just Fred's and try one for yourself!"
General Manager Amber Vukovich said, "Since the review, burger sales have sky rocketed. They are the best selling items right next to our fish. All the feedback from our customers has been positive, and they look forward to finding out what our new Burger of the Month is going to be."
Why Fred's
In a word, what I liked most about Just Fred's, and what made them my choice for Burger of the Year - Everything! From the burger selection, to the superb service, to the perfectly cooked burgers themselves. All around, Just Fred's is the epitome of a Champion. Besides the regular burgers, Chef Rick showcases a Vermont Apple Pie Burger. Combining the delicious meal of a burger with the apple pie of a dessert, this all-in-one burger put me over the top and sealed the Burger of the Year Award for me.
JT said, "Just Fred's has impressed me since the Battle of the Burgers, this past June. By talking with Fred, you get that his passion is his customers. He loves them and takes pride in their satisfaction. He stocks the refrigerators and shelves as if they are coming to his home to eat; high quality everything. That, and hiring a guy who must be creating hamburgers in his head 24/7, proved to be a winning combination! Chef Rick has put together some excellent burger choices and always seems to have an idea for another one. The staff, which Fred gives the highest praise, are all super friendly to everyone that walks in the door. This is truly a down home' restaurant."
Scott commented, "This our 7th burger of the year, and we've been to more than 75 restaurants tasting all different kinds of burgers, and this burger ranks pretty high among the best! One key to a great burger is flavor, and Just Fred's burgers are packed with flavor. This is a well-deserved win for a great establishment."
BOtY Club
The burgers at Just Fred's received recognition from more than just the judges. Christian Rinehart, owner of O'donold's (the 1st BOtY winner-2009), said, "I'm glad to have a new champ into the fold and couldn't have asked for a better bunch of guys to win, and if you have not tried Just Fred's out get there soon, and I invite everyone to try out every year's champion and enjoy local restaurants." Head Chef at Lake Tavern, and 2012's BOtY winner, Dan Galbincea said, "We met Fred at the Battle of the Burger. Very nice guy - well deserved. Welcome to the club." Chef Mel and the crew at 2013's BOtY, Bogey's Bar & Grill, and the Valley's #1 overall ranked burger, said, "Welcome to the club Fred, and congratulations."
The rest of the year went a little like this:
High Pointe
Krakatoa
Courthouse Grille
V2
Dickey's
Hugger-Mugger
Leon's
4 Star Diner
Chad Anthony's
Moe's Tavern
Lime Tree
We like to recognize some of our best servers of 2015, and we definitely recommend asking for them when you go to any of these fine establishments: "Burger Queen" Cheryl Binion (Just Fred's), Swan Bleacher (V2), Maggie Carone (High Pointe), Corin McKinney (Hugger-Mugger), Natalie Conrad (Leon's), and Kelly Riebe (Chad Anthony's). Keep reading the Valley food section each Wednesday for the best food the Valley has to offer. If you think you know where the next Burger of the Year is, send the info to BurgerGuyz@hotmail.com, or on our Facebook page
BurgerGuyz