Chad Anthony's An Italian place that does burgers right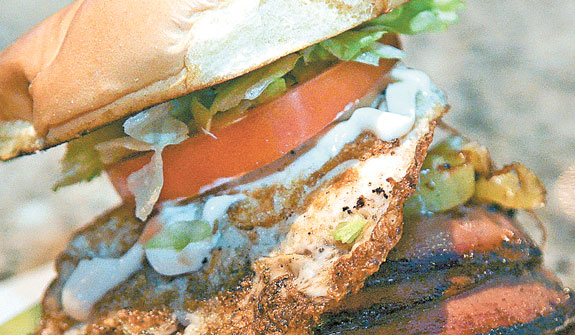 ---
IF YOU GO
Where: Chad Anthony's Italian Grille and Pub
Address: 1315 Boardman-Canfield Road, Boardman
Phone: 330-953-2344
Hours: Monday through Thursday, 11 a.m. to 10 p.m.; Friday and Saturday, 11 a.m. to 11 p.m.; and Sunday, noon to 8 p.m.
Menu: Two burgers on the regular menu and a BYOB menu ($8.99 to $10.99)
Website: www.chadanthonys.com
Rating: 4 out of 5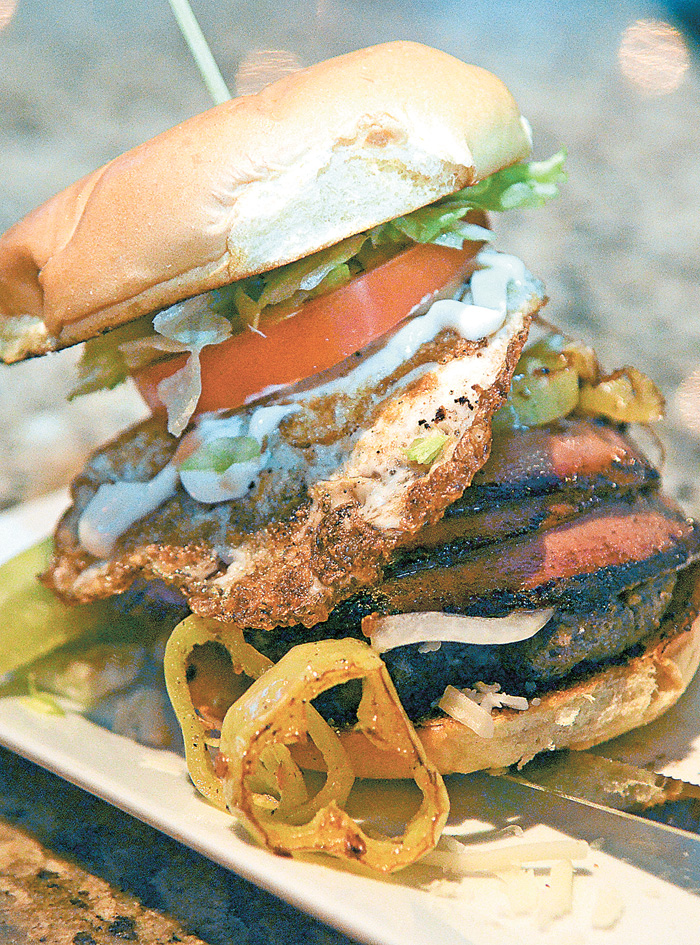 Photo
When the Burger Guyz recently visited Chad Anthony's in Boardman on Boardman-Canfield Road, one of the burgers they found on the menu was "The YO," above, which features fried bologna, fried egg, hot peppers, mozzarella cheese, onions, fresh romaine, tomato and mayonnaise.
by: Anthony Fuda
When you are deciding where to go out to eat in this area, the first type of restaurant that comes to mind is usually Italian, because there are so many. And if someone in the group doesn't want Italian, they are pretty much out of luck.
When we head to an Italian place for burgers, we usually find that they have one burger thrown in the six pages of Italian dishes. Granted, it is usually a great tasting burger, but one choice just leaves us wanting more.
Well, that has changed with the menu at Chad Anthony's. Not only do they feature a vast number of Italian meals, they have two burgers on the regular menu: the Original half-pounder (on a grilled sesame seed bun, lettuce, tomato, cheese and onions); and the Big Chad Burger (a half-pounder topped with fried cheese, bacon, lettuce, tomato and fry sauce). You can also get either burger in one-third pound size.
But what sets this Italian restaurant apart is the Chef-inspired Build Your Own Burger menu. First you choose your meat: (one-half or one-third pound certified Angus beef, one-third pound Kobe beef, turkey, salmon or portabella). Then you pick from six chef-selected toppings: Thai Me Up (Thai chili sauce, Asian slaw, pineapple, avocado, red onion); Napa Cobb (bacon, bleu cheese, avocado, romaine, tomato, balsamic vinaigrette); Fresco Caprese (mozzarella, basil pesto, balsamic glaze, olive oil, romaine, tomato); The YO! (fried bologna, fried egg, hot peppers, mozzarella, onions, romaine, tomato, mayo); Morty's Steak House (fried mashed potato, bacon, bleu cheese, A-1 cream sauce, romaine, tomato, red onion); and Don't Be A Crab (crab cake, roasted red peppers, sriracha-bacon mayo, romaine, red onion).
These burgers all sounded delicious, and are a little different from the standard burger menus.
And, for all the burgers, you get your choice of fries, salad, chips or pork rinds.
After finding out from our waitress, Kelly Riebe, that the Big Chad is the go-to burger, I had to give it a try. I ordered it medium and it came out cooked perfectly, and tasted just as good as it looked. The fried cheese completely blanketed the burger and added a twist. Each bite brought together fried cheese, bacon, fresh lettuce and tomato and just enough fry sauce to keep this burger honest. My only drawback was that the bun was overcooked, sometimes making the juicy beef fight for flavor dominance, but overall I would get this burger again.
Our newest addition to the burger crew, Johnny Barhoover, who we affectionately call, Johnny "Gotham", because of his love of Batman, ordered the Thai Me Up Burger. "It is everything a burger should be," said Barhoover. An explosion of flavor all piled on a fresh Kaiser roll. It's hard to pick a downside to this meal, but If I had it to do over again I would ask that the roll be toasted."
Knuckles chose a Build Your Own Burger. "The choices is where things got interesting," he said. "I began mine with a half-pound Angus beef (as always, medium rare) with a fresh Kaiser bun and then chose the chef's "Don't Be A Crab" topping, with a side of pork rinds.
"I was happy with the view of this land and sea creation, but when I cut into the burger I was most impressed. A beautifully grilled, extremely juicy behemoth under a warm, crisp crab cake! I was thrilled by the various tastes and textures coming from this burger.
"The flavorful, juicy beef coupled with the crispness of the crab cake and the freshness of the lettuce and onion blended perfectly and then the flavor from the Sriracha-bacon mayo punched me and I was floored. The downside of this burger, albeit small, is the Kaiser roll did not hold up well as it became a bit soggy. This may be due the extra juicy beef but all in all, this is definitely a four knuckle creation."
Eric picked the Napa Cobb, and noted, "I found the third-pound Angus beef prepared to a perfect medium well as I requested, and it has a great flavor from the first bite to the last. Although this burger was a departure from my normal selection of 'the heat,' I can say with absolute certainty that I was not disappointed."
Keep reading the Valley food section each Wednesday for the best food the Valley has to offer. If you know of a burger that should be on our hit list, send the info to mvbrb@hotmail.com, or on our Facebook page BurgerGuyz.
More like this from vindy.com