Cross-Guerrieri wedding plans are announced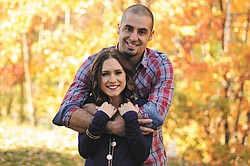 Photo
Amber R. Cross and Anthony J. Guerrieri
The parents of Amber Rae Cross of Mineral Ridge and Anthony Joseph Guerrieri of Girard are announcing their engagement and plans for their upcoming wedding. She is the daughter of Frederick Cross of Mineral Ridge and the late Debra Hanna, and he is the son of Tony and Tina Guerrieri of Girard.
A 2 p.m. open wedding is planned for Oct. 3 at St. Rose Church in Girard. A reception by invitation will take place afterward at Leo's Ristorante in Howland.
The bride-elect is employed by Girard City Schools as a fourth-grade math and science teacher at Girard Intermediate School.
She is a graduate of Youngstown State University, where she obtained a bachelor's degree in early childhood education.
The prospective groom works for AJ Construction of Girard, and he coaches basketball at Girard High School.
He attends YSU, where his major is physical health and education.
More like this from vindy.com