---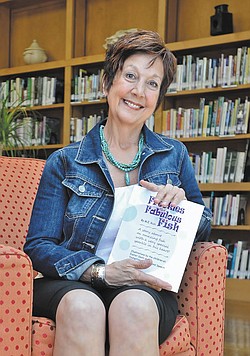 Photo
JEFF LANGE | THE VINDICATOR Children's author Mariellen Rich of Girard holds a copy of her inspirational book titled "Freckles the Fabulous Fish," which she says opens children's hearts to the possibilities of achieving goals and overcoming challenges.
By JoAnn Jones
"Writing for me is simply dancing on paper," said Mariellen Rich of Girard, author of an inspirational children's book called "Freckles the Fabulous Fish."
"I was teaching yoga and working with children in Columbiana," Rich said. "Freckles was an actual fish that the children would watch. While they would watch him, I would have conversations with them. The fish had them imagining a lot of things they could do. The fish was making a difference and making them smile."
The book, which features several illustrations by children at Easter Seals of Youngstown and Youngstown Hearing and Speech Center and other children, features an amazing, magical little fish that helps children to overcome challenges they may face, Rich said.
"It opens children's hearts to the possibilities of achieving goals and overcoming challenges," she added. "The fish is meant to give them a little sparkle in their hearts. This book is an inspirational dance in the heart of a child."
"Also, the mantra 'to believe' is ageless," she said, "and we all need to believe. To do that requires a bit of magic in your heart."
The illustrations, Rich said, show children that everyone is unique and everyone has their own interpretation of what Freckles looks like. The book includes a page where children are encouraged to draw their own Freckles and tell what he would do to help children.
One child, a 5-year-old who lives in Poland, drew his picture while at St. Pauls Church in New Middletown, Rich said. In his interpretation, Freckles "glows in the night so that children won't be afraid of the dark." He said he wishes "everyone had a Freckles because they would feel safe at night."
"The majority of the illustrations are by the Easter Seals kids," Rich said. "I wanted to honor each and every one of them because it's their interpretation of what a magical fish would look like."
Rich is no stranger to children overcoming challenges, because her granddaughter Lydia, who is 4, has juvenile idiopathic arthritis (JIA). Rich donates part of the proceeds of each book to the Arthritis Association with the stipulation that the funds are directed to juvenile arthritis (JA), she said. Through July she had donated $450.
"Lydia has been so brave through everything she has gone through," Rich said. "Her determination has inspired me. ... She's quite the little muse. From where she was when she was first diagnosed at age 3 until now, bless her heart, she has really come a long way."
"I don't think people realize how many children are affected by JA because it's almost invisible," Rich said. "Three hundred thousand children in the U.S. are affected by JA. You can't really see it from the outside, but the children are getting shots and taking medications. It's not like a broken leg or something like that, although some children do end up in wheelchairs."
Rich praised the efforts of JA physicians, specifically those at Pittsburgh Children's Hospital.
"Several of the doctors there I've met," she said. "They're doing amazing things with those children."
Rich, who grew up in Canfield, went to high school at Ursuline and attended Youngstown State University, said that being an inspiration to a child is especially important to her.
"We're all inspired by so many different things," she added. "I'll always be a child at heart, and that's what keeps me going."
And the grandmother of five certainly does keep going.
Two days a week she volunteers at the Dorothy Day House in Youngstown, where she helps people in need by serving meals.
"I met a young lady there five or six years ago," Rich said. "I saw her flourish and blossom, and she even graduated from YSU. Those people are an inspiration to me. You treat them with dignity and respect, and they are a blessing."
Rich has also helped out with the Angels for Easter Seals and the Beatitude House in Youngstown while she continues to teach children's yoga.
"Freckles" was her second book. The first one, "You Are Worth the World," was written as a mission project for children in Africa. Rich said she turned those books over to an orphanage there to use as a fundraiser. She self-publishes her books through lulu.com, where "Freckles" also can be purchased. Information can be found by searching "Freckles the Fabulous Fish" on Facebook.
Rich said she has two more books in the works.
"'My Sunshine Space' was inspired when I encountered a 4-year-old when I was walking my dog," she said.
"She was waiting for the school bus when all of a sudden acorns started falling from a tree near where she was standing. I told her it was raining acorns, and before you know it, my imagination was storming, and I couldn't wait to write everything down. Because of my experience teaching children yoga, I found it was appropriate to have the character, Lydia, turn a very rainy day in the sparkle of creative imagery.
The other book, she said, is being illustrated by her daughter Melanie.
"It's called 'The FAITH Book of Expressions,'" Rich said, "and it's more of a journal that children will be able to color themselves."
Rich said she has scheduled a book signing at the Learned Owl bookstore in Hudson as well as a book signing, reading and creative project at The Purple Cat. That date has not yet been determined.
"I never saw myself as a children's author," Rich said, "but I always knew my purpose was to make a difference in a child's life. My English teacher would be so proud."