Real food, real good and it's .... Right here at home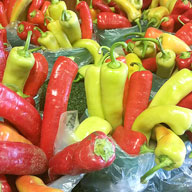 ---
By ERIC BARRETT
OSU Extension Service
CANFIELD
Local does mat- ter. It matters in everything from politics to food. Seeking out and purchasing local foods is one of the best ways you can impact your community and the local economy.
Purchasing local has nutritional benefits from fresh fruits and vegetables. It has personal benefits from knowing you are impacting a local farm or business. It has community benefits from turning dollars over more times within our own community, keeping money and jobs here in the Mahoning Valley.
Why should we Celebrate Ohio Local Foods Week here in the Mahoning Valley?
Agriculture is Ohio's No. 1 industry, contributing jobs for one in seven Ohioans, and more than $107 billion to the state's economy. (ohioproud.org) Let's keep it that way – and help it grow.
Ohio offers a unique proximity of metropolitan and smaller areas, linking rural and urban consumers, growers and communities to food produced on small, medium and large-scale family-owned farms (directmarketing.osu.edu). By purchasing local, you are encouraging more small farms, in both our rural areas and new urban farm locations in our city centers.
Ohio ranks in the top 10 states for direct sales to consumers represented by a wide variety of food products including but not limited to eggs, milk, cheese, honey, maple syrup, beverages, bread and other artisan products, fresh, frozen, canned and dried vegetables, fruits and meats (USDA Ag Census, 2012).
One in six Ohioans is food insecure and lacks access to fresh, local, healthy food. By shopping at farmers markets, you are encouraging more markets to expand into our food deserts. This helps expand access to local foods for everyone.
It's everyone's choice to support local foods. All Ohioans are part of the food system just by making daily decisions about what food to eat. So, make a choice to purchase local.
The Mahoning Valley has more on-farm markets and farmers markets than most other communities in Ohio. We have at least 10 farmers' markets in the Mahoning Valley from the Idora Neighborhood to Warren's Courthouse Square, and from Salem to the new Magic Market in Boardman.
We have numerous year-round markets throughout the area where you can shop 365 days a year.
So, take a couple of minutes this week to visit a farm market or farmers market. Say hello to an old farmer. Welcome a new farmer.
Seek out a farm near your home by way of your favorite search engine, a quick search on google maps or print out a listing from our local site at http://30milemealms.org
More like this from vindy.com