Help is available to kick addictions, recovering addicts say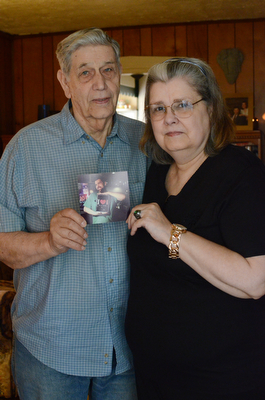 ---
5th and final story in The Vindicator series: PORTRAITS OF ADDICTION.
By JORDYN GRZELEWSKI
jgrzelewski@vindy.com
YOUNGSTOWN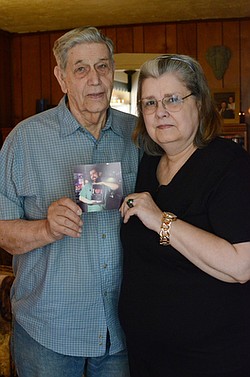 Photo
Donald LoGiudice and his ex-wife, Lorie LoGiudice, embrace as they hold a photo of their son Donny who overdosed on heroin earlier this month at the age of 28.
Cassandra West, 19, of Boardman tried to get help.
Donny LoGiudice, 28, of Boardman tried, too.
Both had gone to treatment facilities. Both died earlier this month.
Cassie committed suicide April 6. She left a letter saying she couldn't handle her drug addiction anymore.
Donny died April 2 of a heroin overdose, the day after he got out of a rehab center.
Their parents wish their kids had gotten the help they needed.
Cassie's mother, Jennifer West Roupe, recalls the tough-love approach she took when Cassie called her from a treatment center asking her to send a package.
"I said, 'I'd rather my daughter sit in dirty underwear than come home and find her dead one day.' They let her out three days later," Roupe said.
Donny's father, Donald LoGiudice, recalls the car ride home from the treatment place in Akron that Donny attended.
"He was so happy and cheerful, the best I've seen him in years," Donald said. "It's too bad the program wasn't two weeks long instead of five days. Because maybe he'd still be alive."
Short-term care doesn't cut it for opiate addiction, said Dr. Daniel Brown, medical director at Meridian Community Care.
"What's been shown repeatedly is that detox by itself — taking someone off the street, and making them go through withdrawal, giving them a brief period of time to be clean, and then putting them back on the street — fails about 93 percent of the time," he said.
"Right now the recommendation for treatment is at least 18 to 24 months for people who are chronic-relapsing opiate addicts," he said. "If I take someone off the street, put them on medication, initially their symptoms are gone. The withdrawal is gone. ... They stop using, but their lives are still a wreck."
Meridian, as well as other treatment facilities in the Valley, offers medication-assisted treatment in conjunction with other forms of treatment.
"We believe medication is only successful when paired with other types of treatment," said Larry Moliterno, president and CEO of Meridian.
That treatment includes an intensive outpatient program, adult residential programming and linking addicts up with the 12-step community.
The first call should be to a treatment center, said Brenda Heidinger, associate director of the Mahoning County Mental Health and Recovery Board.
"The first thing to do is look for the help that you need. So, to do that, you can call any treatment center. Ask to get in for an assessment appointment," she said. "Get them in for that assessment appointment first and let the treatment professional determine what level of care they need."
Eric Ungaro, president of Solace of the Valley, urges families not to give up.
"There's not a right answer, but you just have to keep searching for it. You have to just keep throwing stuff at the wall and just pray that something sticks," he said.
For Jessica, 24, and Christina, 36, whose names have been changed because they would speak only on the condition of anonymity, recovery is something they work on every day. Jessica has been clean for 18 months; Christina's been clean for six years.
"It's not until I got into treatment at 30 years old that I knew I had a disease," Christina said. She started treatment for her kids.
"It was either get help, try to overdose, or kill myself. And I looked at my kids and I realized that I deserve a good life, and they deserve a good life. It was just a brief moment that I was out of that state of despair," she said.
Jessica started treatment after she got nabbed for a felony theft charge. At the time, she said, she wanted to die.
"Before that, I didn't know there was help out there," she said.
To others struggling with addiction, she would say: "There is help out there. ... People will love and support you.
"Your loved ones want to see you live. They don't want to see you six feet down in a grave."
Christina urges other addicts to reach out for the help they need.
"I will be an alcoholic and a drug addict for the rest of my life, but today I choose to be a recovering one," she said. "Just get help — it can be done.
"You can get better. If I can get better, anyone can get better."