---
Wednesday, September 17, 2014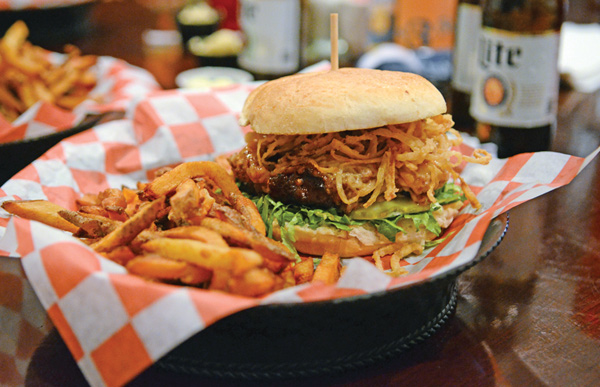 Photo
The Inferno Burger at Bojangles Road House Blues which is topped with green chili cheese grits, fresh jalapenos, and pepperjack cheese and costs $8.49.
If You Go...
Where: Bojangles Road House Blue's
Address: 48400 state Route 14, New Waterford
Phone: 330-846-0124
Hours: Sun. through Thurs., 11 a.m. to 9 p.m.; and Fri. and Sat., 11 a.m. to 10 p.m.
Menu: 12 burgers ($7.99 to $10.99)
Website: www.bojanglesblues.com
By Anthony Fuda
NEW WATERFORD
Road Trip!
For me, anything outside my neighborhood is about as far away as I want to drive. But when you start talking burgers — and great tasting burgers — then let's put the seat belts on and do some distance.
There are only two reasons I like to travel — good music and good food. And Bojangles Road House Blue's in New Waterford has a healthy combination of both.
It wasn't that long of a trip, traveling South on route 11, making a left on route 14 for a bit more, but that was just far enough for me.
We made it to Bojangles and found a great venue for local bands, inside and out; and a spacious restaurant and bar. We looked around and decided on a 10-person table secluded from the rest of the patrons. It was as if we were having all the burger brothers together for a family meeting.
Our waitress, Ashley Russell, took care of us throughout the evening, answering any questions we had about these gourmet burgers. Before we received a menu, she asked if we had been there before.
After our collective "No," she said the owners always give new patrons some of the corn fritters and green chili corn grits to sample. Sounds good, but we were ready for burgers. After picking her brain and studying the burger section of the menu, we made our choices.
The gourmet burger section has 12 tempting choices. Just reading them makes you want to order one after another. The flavor combinations all sound very good.
We were dazzled with Roasted Garlic Burger (sauteed mushrooms, roasted garlic, aged sharp provolone); Classic Cheese Burger (aged white cheddar, mayo, lettuce, tomato, pickles and onion); Blue Cheese Burger (blue cheese, sauteed mushrooms and caramelized onions); Philly Steak Burger (topped with thinly shaved smoked round, sauteed mushrooms, onions, bell peppers and provolone); Bacon Cheddar Burger (a 50-50 burger — percent black Angus beef, percent ground bacon and aged sharp white cheddar); Swiss Mushroom Burger (sauteed mushrooms and Swiss); Mid Western Farm Fresh Burger (bacon, two over easy eggs and cheddar); Teriyaki Burger (glazed with teriyaki sauce, topped with shaved ham, grilled pineapple ring and provolone); Chili Burger (open-faced burger, cowboy chili, diced red onions and aged white cheddar); California Burger (avocados, bacon, lettuce, tomato and pepper jack cheese); The Inferno Burger (green chili cheese grits, jalapeno, pepper jack cheese); and Rodeo Burger (glazed with a smoky sweet barbecue sauce, horseradish sauce, caramelized french-fried onions, bacon, melted cheddar and Swiss).
Each of the burgers starts with a blend of certified Black Angus top round and rib eye steak, which is ground fresh daily. Then they are formed into the 8-ounce masterpieces, placed between a nicely toasted bun and then you actually have a choice of 10 sides.
The fries were good and crispy. The coleslaw was perfectly cold and crunchy, and after trying the green chili cheese grits — amazing! — and corn fritters, which were crunchy and tasty, we could have made a meal just out of the side dishes. But the burgers beckoned.
After reading the menu, then re-reading it because of all the tempting choices, I decided on the California Burger. The burger came out nice and juicy, with just enough char flavor to savor in every bite. The avocado slices had a creamy flavor that meshed well with the crispy bacon and the light heat of the pepper jack cheese.
Overall, this is a burger I could enjoy time and time again. If the other burgers are as good as this one, there will be many repeat visits from me and my family.
"Now that's a burger menu," exclaimed JT. "I never had so much trouble picking which one I wanted, they all sounded so good! I chose the Philly Steak Burger and was not disappointed. Bo knows burgers!"
JT added, referring to our complimentary side of grits: "These are not your Grandmother's grits! I'm not a grits person, but I would eat these again ... and again!"
Jimmy "Knuckles" said: "The choice of Burgers at Bojangles had me wanting one of each, but ultimately I chose the Philly Cheese Steak Burger. As always, I ordered this burger medium rare and Bojangles provided us with samples of their green chili cheese grits and corn fritters with honey butter. These are not sides that you would typically expect, but wow were they Amazing!
"The Philly Cheese Steak Burger was grilled a perfect mid-rare with a pile of shaved top round with a nice balance of added toppings on a lightly grilled bun, which absorbed the flavors of the fresh ground beef and top round. This burger along with the sauteed mushrooms, onions, peppers and melted provolone, was love at first bite! If you have a chance to travel out to New Waterford to check them out, be sure to bring your appetite as this is a solid Four Knuckle burger!"
Chiz said: "I strayed away from my usual spicy ways and chose the Rodeo Burger. But this was no normal barbecue burger. This 8-ounce beast was cooked to a perfect medium and slathered with barbecue in the process. This created a sweet and smoky crispiness that left my taste buds in awe.
"And that was just the start of this delight. Added to this perfectly seasoned and glazed fresh meat patty was an excellent horseradish sauce, caramelized french-fried onions, bacon, and melted swiss and cheddar. These flavors battled it out for my taste buds' affection, only to find out that I was in love with the balance and mixture of the ingredients. Sweet, smoky, bacon, onion, and that horseradish had me in love.
"I cheated on all of those flavors on the second half of this burger and added a little of the house hot sauce. It was as if the pepper they used had a baby with Italian dressing ... one of my favorite hot sauces I've ever tried! I will be back again ... and again, and again! Their menu rocks! The pepper cheese grits and corn fritters were also to die for. Hopefully we forget we went here ... and can try them again next month! "
Spatman ordered the Rodeo Burger and said: "This half-pound burger was made of four ounces of fresh ground Black Angus beef and four ounces ground bacon glazed with their signature sweet barbecue sauce. The well-done burger was placed on a toasted bun and sided by french fries. I couldn't wait to dig in. From the first bite to last bite my taste buds wanted more. A great taste and a full but happy stomach, I rate it a 4 out of 5 on my wet-nap scale."
If you are looking for a quick getaway, make a pit stop at Bojangles. If it's the weekend, stop in and listen to some great local bands. Add a burger and your little road trip will be complete.
Keep reading the Valley food section each Wednesday to read about the best food the Valley has to offer. If you know of a burger that should be on our hit list, send the info to mvbrb@hotmail.com, or on our Facebook page BurgerGuyz.