Campbell parish donates playground to children of company homes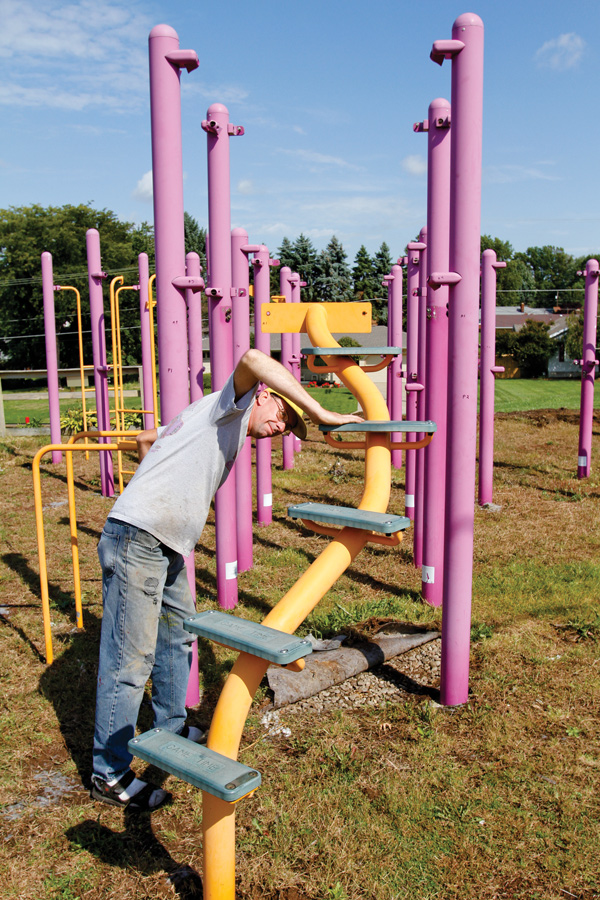 ---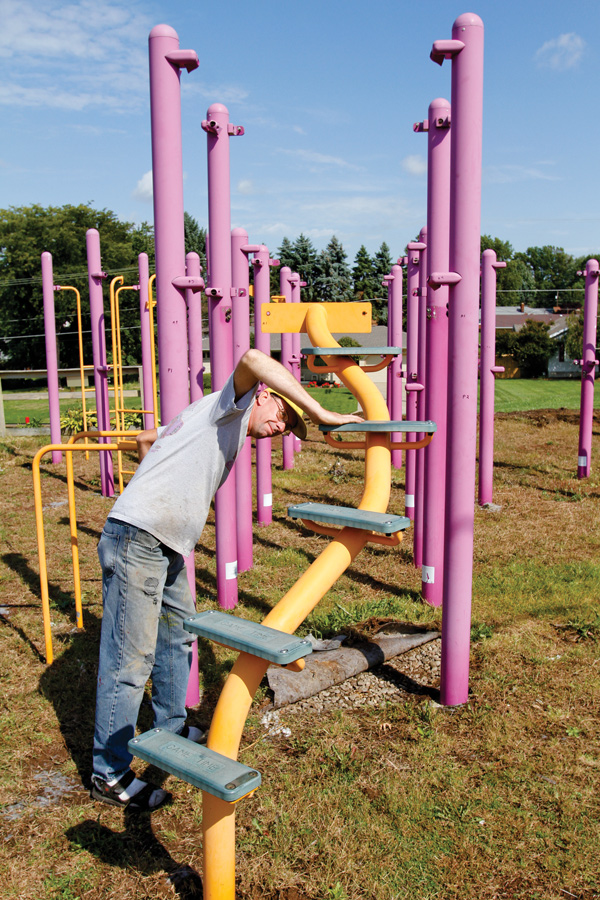 Photo
Tim Sokoloff, president of the Iron Soup Historical Preservation Co., inspects bolts before dismantling the last of the playground installed in 2003 on the grounds of St. Joseph the Provider, 633 Porter Ave., Campbell. Earlier this year, the playground's placement was deemed unsafe, so Christ the Good Shepherd Parish is donating the equipment to ISHPC.
By EMMALEE C. TORISK
CAMPBELL
A problem for one organization in the city has become a blessing for another.
By next spring, the 20 or so children who call the former Youngstown Sheet & Tube Co. worker housing complex home — most of them age 5 and younger — will have a playground of their own. It will be centrally located on a city-owned piece of property on Union Street, in front of the row houses on Andrews and Delmar avenues, and will feature a host of attractions: sliding boards, monkey bars, tubes in which to crawl around.
Perhaps best of all, it will come to them at no cost, having been donated by Christ the Good Shepherd Parish.
The children "are so excited," said Linda Gens, executive director of the Iron Soup Historical Preservation Co., which is working to preserve and revitalize the national historic site. "They keep asking, 'When are we going to get it?'"
The playground didn't work out so well for the parish.
Installed in 2003 on the grounds of St. Joseph the Provider, 633 Porter Ave., and funded through the Mahoning County Solid Waste Management District, it was condemned earlier this year.
Gens explained that the problem wasn't with the equipment itself; instead, it was with its placement.
For one, the playground was installed on a hillside. Thorny bayberry bushes lurked nearby, and sliding boards ended mere feet away from a stone wall. Glue and plastic pins were used to improperly put together the wall, while the lack of a drainage system caused it to bow out over time.
As is, the playground — valued at about $20,000, a figure that includes equipment from an outdoor fitness center also located on parish property — was a liability, Gens said.
She added that a couple of weeks ago, ISHPC was contacted by Keith Yeropoli of Campbell, who helps to care for the parish grounds. Yeropoli knew ISHPC had access to a backhoe — something that was too expensive to obtain otherwise — and also was well aware of the deadline for removing a majority of the playground: Monday.
Though ISHPC's backhoe was out of commission, a working one belonging to Ron Eiselstein, an ISHPC board member, was quickly found, and ISHPC signed on to help with the playground's removal. At the time, the parish planned to simply scrap the playground.
They "didn't know what [else] to do," said Tim Sokoloff, ISHPC president.
"Then, Keith said, 'Could you guys use this?'" recalled Gens. "We were doing it anyway. We didn't know we were getting it. ... As a community, you can get things done."
Sokoloff estimated that once all is said and done, ISHPC volunteers likely will have devoted a full week to disassembly, then an additional 30 to 60 days to reassembly. The tentative start of reinstallation is sometime in March, though much of that depends on community support and funding. ISHPC will start a Kickstarter campaign for the project in early spring.
Tony Matash, maintenance supervisor for Christ the Good Shepherd Parish, said though the parish couldn't afford to fix up the playground, he's sure the equipment will go to good use in its new home.
"I think we did the right thing," he said.
The children also will have the option of painting their artwork on pallets donated by Iron City Wood Products; the pallets will serve as fencing around the playground.
More like this from vindy.com