Goal is to provide events to enhance healthy lifesyles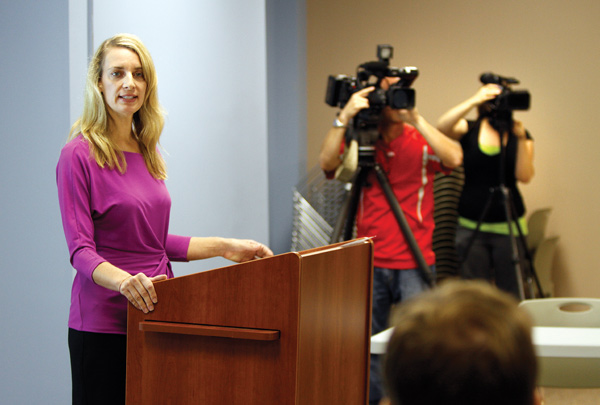 ---

Photo
Pam Lilak, executive director of the Downtown Wellness Community, explains to reporters that DWC is a movement to improve the health of people who work and live in downtown Youngstown and the city's surrounding areas.
YOUNGSTOWN
Downtown Wellness Community, a movement to improve the health and well-being of people who work and live in downtown Youngstown and the surrounding area, kicked off Monday.
"I believe we all have the right to be happy, healthy and well," said Pam Lilak, executive director of Downtown Wellness Community, during a press conference at the Youngstown Business Incubator to introduce the effort.
Lilak envisions DWC becoming a clearinghouse for health-related events it sponsors and activities of other organizations, as well providing a "community of support" for people trying to make lifestyle changes to improve their health.
"It is very difficult to make the lifestyle changes by ourselves. The idea of DWC is that we do it as a group and support each other," Lilak said.
The focus is providing businesses and people who live and work in the downtown Youngstown area easy access to health and wellness activities during the noon hour and after work.
But, Lilak said, events will be open to all people in the greater Youngstown community, she said.
Most importantly, DWC aims to establish a community of people who have common goals to live healthier lives, and hold each other accountable, she said.
Types of events, nearly all of which are free, include yoga instruction, meditation and mindful eating; lunch workshops; cooking demonstrations and "lunch-and-learn" events at local restaurants; weight loss, fitness classes, group walks and staircase challenge; and a speaker's series at which experts share knowledge.
Lilak said DWC also plans to work with other groups, companies and organizations with similar goals, and advertise their activities on the DWC Facebook page: Downtown Wellness Community.
"I think there is a large underground movement of people excited about this ... and looking for opportunity, direction and a pathway," said Dr. Kathy Padgitt, a nephrologist and partner in The Kidney Group and principal practitioner of The Center for Lifestyle Change.
More like this from vindy.com