September is perfect month to seed your yard Grow a new lawn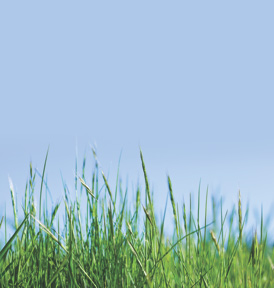 ---
By BILL SNYDER
OSU Extension Master Gardener Volunteer
If you are ready to plant a new lawn, the September is your best choice. Although April is also a good time, spring weed seeds are germinating in April and your new grass seedlings will probably have to compete with the young weeds more than grass plants seeded in September.
September is the ideal time to seed with cool season grasses, including Kentucky bluegrass, tall or fine fescue or perennial ryegrass. There is sufficient time to develop strong root systems and the young lawn will not have to contend immediately with brutal summer weather conditions. Select a seed mixture that is suitable for the conditions at your site. Site conditions and suitable seed mixture information can be obtained from numerous sources.
One of the keys to successfully growing a new lawn from seed is preliminary soil preparation. This involves testing the soil to confirm the presence of needed nutrients and measure parameters such as soil pH to optimize the growth of a thick, luxurious lawn. It is also desirable to eliminate weeds that may already be present in the existing plot.
For September success, take several soil samples from around the potential lawn and submit about a cup for a soil analysis. While awaiting the results, the existing weeds can be manually removed or killed using a general herbicide such as glyphosate (sold as Roundup or any number of brand names). Once the weeds are eliminated and you have supplemented the soil according to your soil test results, seeding can begin.
If your soil has a heavy clay texture, add organic material. This will help to improve drainage and will improve the soil's ability to hold nutrients. If your soil test indicates that the pH needs to be lowered, addition of peat moss will both lower the pH and add necessary organic matter. Mechanical cultivation of the soil as well as raking to achieve the final grade should precede application of seed.
Spread or broadcast seed at a rate recommended for your selected mixture. Assure good seed-to-soil contact by raking the freshly seeded area. Rolling the area is sometimes recommended, but in a very wet year, the risk of soil compaction may be too great. Cover with a layer of clean (weed free) straw and begin a watering regime. Straw will prevent rapid drying and help to keep the soil in place during initial growth. Light frequent watering is required at first and deeper and less frequent is suggested as the grass seedlings emerge. Given a choice, early morning watering is usually preferred. A nitrogen fertilizer may be applied once seedlings reach 2-3 inches tall. If mowing becomes necessary, remember never to remove more than one-third of the blade height at any time.
For more information: http://go.osu.edu/typeofgrass and http://go.osu.edu/lawnseeding.